This article is a step-by-step guide for comparing HubSpot CMS vs WordPress. Actionable tips and tricks to save time and money migrating your website URL from WordPress to HubSpot in 2023. How do I migrate from WordPress to HubSpot? or WordPress to HubSpot blog migration? or Hubspot migration partners and WordPress migration? or How do I migrate my website to HubSpot? Does HubSpot onboarding migrate blogs? We cover them in this article.
There are many reasons to make the switch ranging from having a website connected to your CRM to using HubSpot CMS SMART content that serves up content tailored to a user's particular lead status or lifecycle stage. For most B2B companies, it is about technical issues like page load speeds, page performance, site security, ease of updates, or closed-loop reporting that the HubSpot COS source platform offers.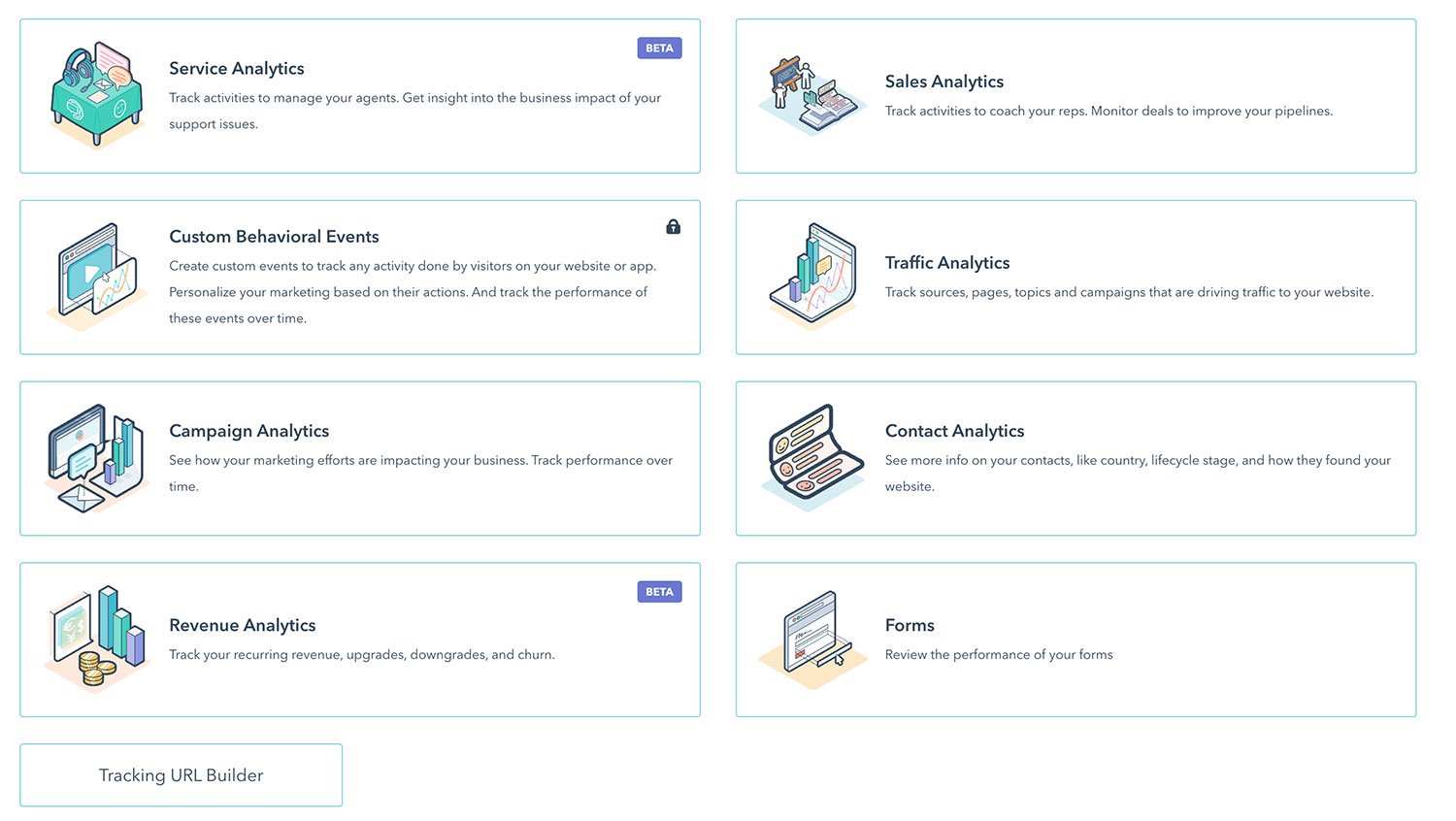 For others, it is about connecting content management or blog management to relationship content management or blog management CMS in one seamless source platform. HubSpot website migration and blog migration, hubspot migration partner can be very time-consuming and have many negative consequences unless performed by a certified HubSpot website blog migration specialist. For example, there is no migration process that is turn-key. A HubSpot website developer or like HubSpot website migration must create the framework, themes, templates, modules, SEO features, content creation tools, SEO tools for SEO rankings you need etc... Whatever your reason, WordPress to HubSpot migrations partner or like Hubspot WordPress migration and blog posts, blog migration, content migration, Hubspot migration partners, blog homepage URL, WordPress website, theme updates, web pages, web design can be reasonably straightforward if you take the time to do it right. Can you side by side migrate from WordPress to Hubspot? Yes, you can.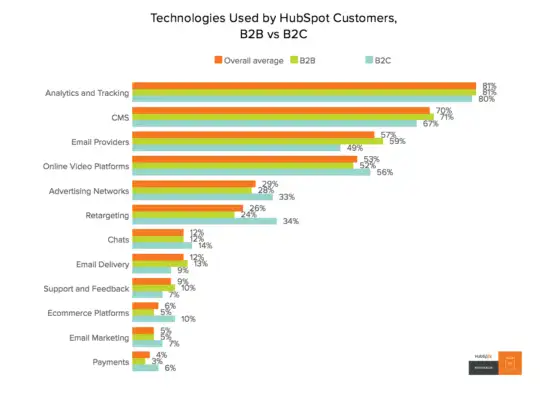 Many marketers today are focused on obtaining and achieving growth. Growing traffic, growing leads, and ultimately customers. Learn how HubSpot CMS and Wordpress CMS stack up against each other, so you can decide what's right for your growth goals in 2023 to ultimately convert more website visitors into leads. Why is the HubSpot CMS different than WordPress to Hubspot? Is HubSpot a good best CMS?

Hubspot's CMS combines web development, content management, and optimization with the power of a Hubspot CRM to customize the entire customer journey, streamline marketing and sales alignment, and deliver true closed-loop reporting.

WordPress is an open-source CMS platform, that grew from its roots as a blogging platform. WordPress is an individual solution to create content, but requires additional integrations or software to attract, engage, and delight customers.
Create Content That Builds Relationships, and Grows Your Business
Creating content that attracts people to your Hubspot website is fundamentally where your marketing journey begins and also where you start likely utilizing HubSpot, or Wordpress. Let's dive in.
WordPress & Hubspot Blog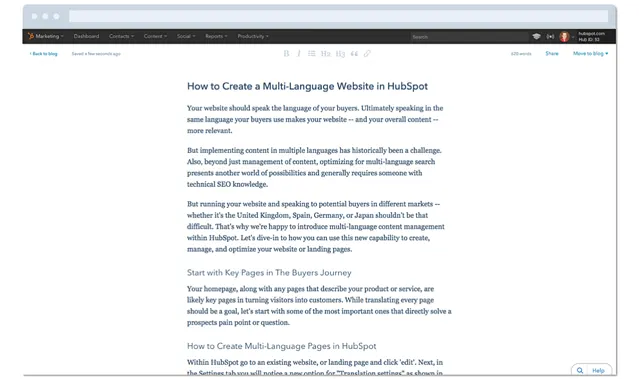 Your blog is the first-step to creating content that attracts potential customers. Content on your blog should answer questions prospective, and existing customers have, thus starting to grow authentic one-to-one relationship with every visitor. Your blogging platform should not only help you create great content, but more importantly, optimize that content for getting found in search.
WordPress was originally built as blogging software, but has evolved into a platform that, depending on the theme and customizations you use, may require a technical developer or I.T. to manage and optimize. Blogging with Wordpress to hubspot comes out-of-the-box, but if you want to optimize content, or your entire site (more on this later) for search engines, it will require plugins.
In comparison to WordPress vs HubSpot, HubSpot was built from the ground-up for marketers and provides an interface that enables you to write, optimize, publish, and analyze blog posts, blog content in one-place. With HubSpot, no plugins or extra software is required to serve great looking content on mobile, and optimize content for search engines -- it's all included.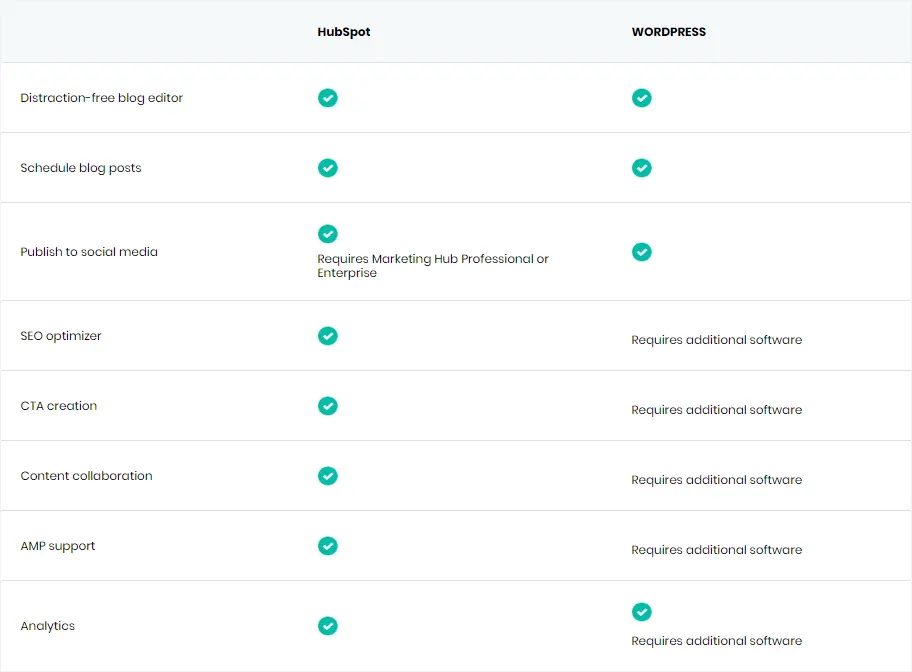 Landing Pages
First Wordpress and hubspot does NOT even offer pages!
After creating a blog, your next step is to create content depth on relevant topics to your business. Using Landing you can create a long-form page that explains everything about a topic, such as Facebook marketing service, run a webinar or event, web pages, or host a resource for visitors to download. Pages are versatile and can be adapted to multiple purposes based on what your audience, is interested in.
Below are some key advantages of leveraging HubSpot pages:
1. With HubSpot, you can create beautiful, high-converting pages without any design or coding experience.

HubSpot offers a wide variety of templates and themes to choose from, so you can find the perfect look for your page.

HubSpot's drag-and-drop builder makes it easy to create and customize CMS web application firewall your pages exactly how you want them.

You'll be able to quickly and easily publish your pages with just a few clicks - no need to wait around for a developer.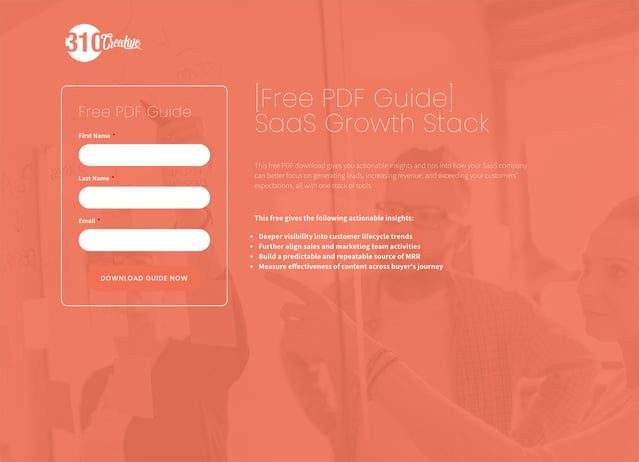 In Wordpress, creating Landing Pages is similar to the creation of a blog post, if you are just adding text content or images. However, if you want to alter the layout of the page, it may require a developer to edit an existing template, or create a new template. Depending on your goal for the page of landing adding additional options, like a form, will also require additional software in Wordpress to Hubspot.
With HubSpot CMS everything you need to publish, tailor, and optimize a page is available right within the HubSpot CMS software. Select the template you want that already matches your branding, or start from scratch from thousands of free or paid templates available in the HubSpot marketplace. Every template is mobile optimized and the natively supports drag-and-drop modules for easily changing the layout of pages. If you want to add live chat, form, or a CTA to your page it's all integrated and third party available in one-click.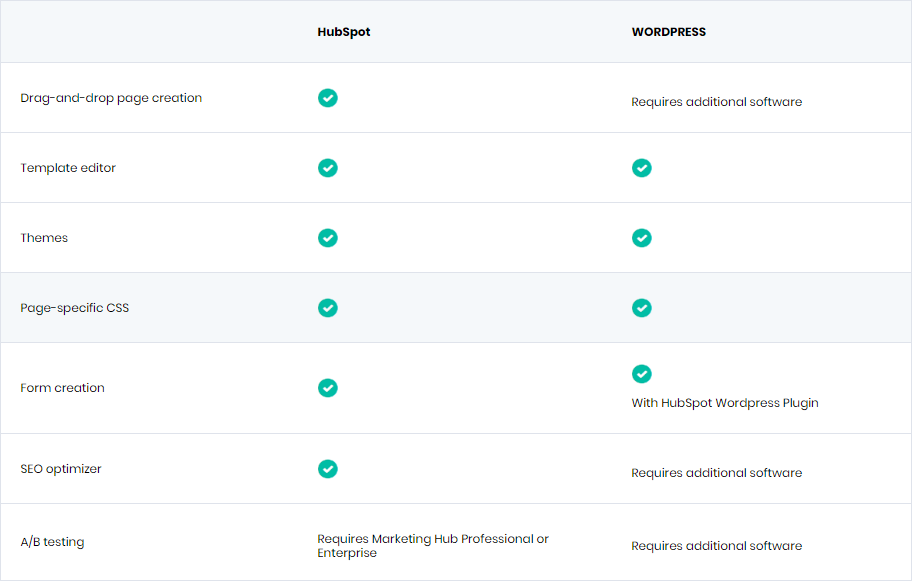 Hubspot Website
Your website is your best salesperson. As a result, you want to take all of the interest you've generated from your blog posts and pages, website pages, and marketing efforts, marketing services, WordPress and hubspot gives connects and grows that relationship with visitors, website performance, CMS and turn them into customers. Your hubspot's CMS should ultimately help you not only create a great site, but keep it updated, coding language and turn more visitors into customers.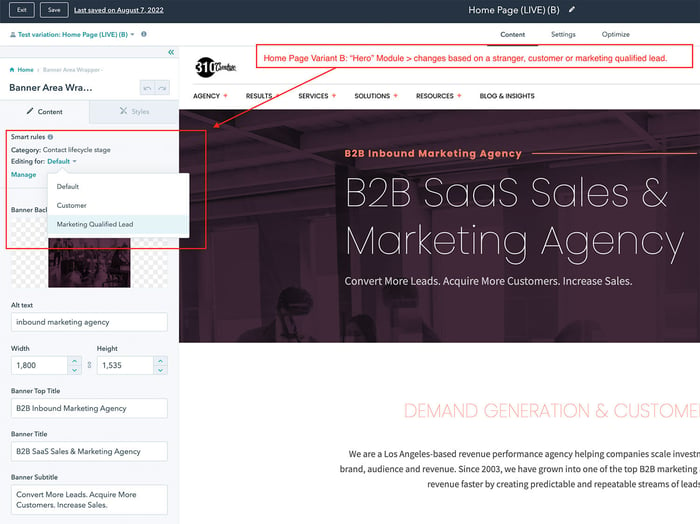 WordPress is arguably best-known in the website space. Recent numbers suggest that WordPress is directly tied to roughly 25% of all websites on the Internet.With Wordpress hubspot and wordpress marketplace you can easily create text-based site pages, but similar to pages, it may require additional resources or templates to change your website. Creating a personalized experience in migrate Wordpress to Hubspot requires additional software and subscriptions.
HubSpot is the professional marketers CMS. Just like landing , wordpress website marketers can easily change the layout of pages using drag-and-drop templates, select from thousands of email address templates on the hubspot and wordpress marketplace, hubspot cms vs wordpress or work with certified agencies to help build a website to grow your business. Because HubSpot CMS is built on-top of CRM, all the data you need to tailor the customer experience is available at your fingertips and align with sales.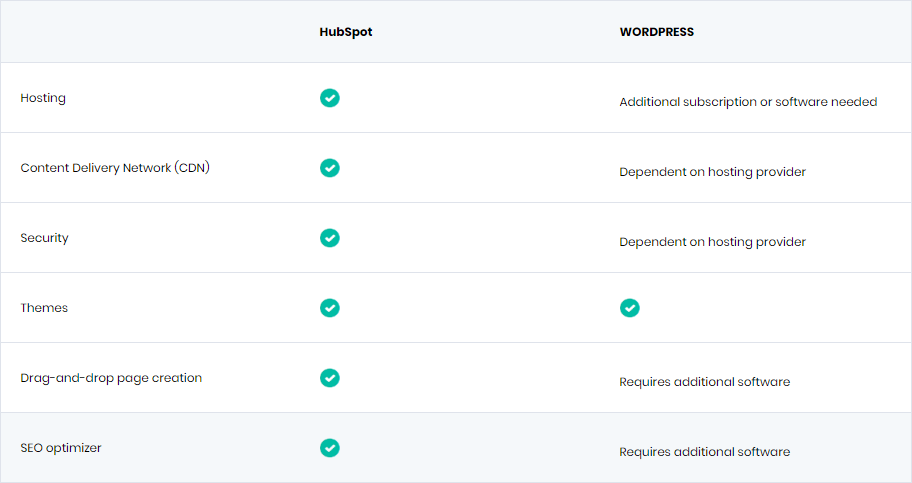 Search Engine Optimization
Search Engine Optimization (SEO)
While most Content Management Systems (CMS) are designed to help you create and publish great content, many don't really help you attract people to that content marketing needs. It goes back to the old adage... if you build it, they will come doesn't necessarily apply here. Just writing content management systems CMS doesn't mean more traffic. Writing great content marketing that's optimized for price tag Yoast SEO tips and seo tools side by side does mean more traffic in the content optimization system.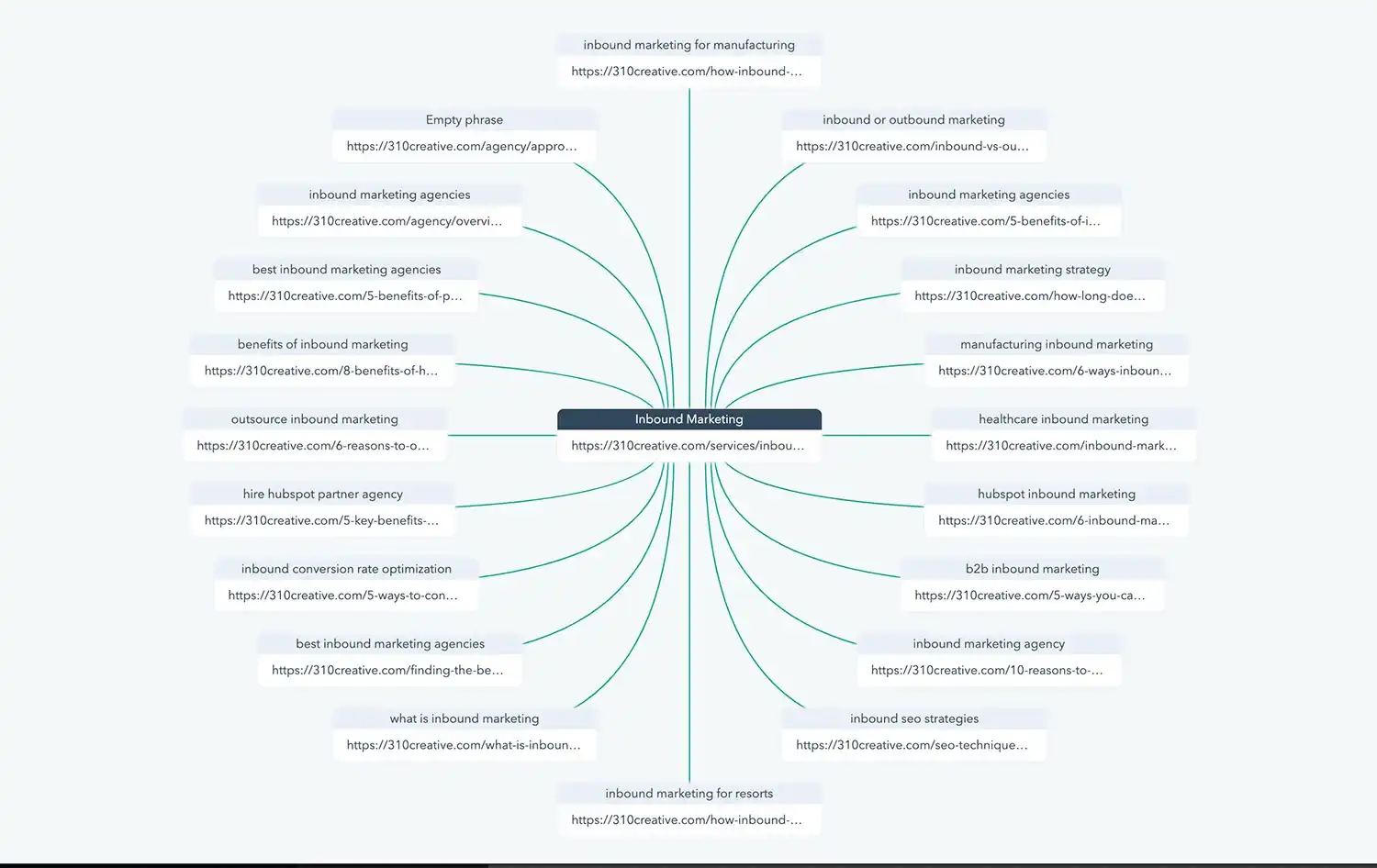 Wordpress doesn't come with any native page SEO tips functionality, but does have a number of plugins -- some paid, some free -- which can help. Keep in mind third party, more plugins means software management, cost, and headaches when it comes to maintenance and security concerns and security features in the content management system cms. According to some vulnerability experts, outdated plugins are a massive problem and just one way that hackers can steal information or get control of your site.
HubSpot CMS includes on-page SEO tools built-in to blog posts, homepage URLs, navigation bars, and website page, marketplace theme or web page creation in content management system. Whether you're creating a page for the first time or updating content, you can optimize content for search from the start and get your brand displayed prominently in content management system search results in the come across content management system cms.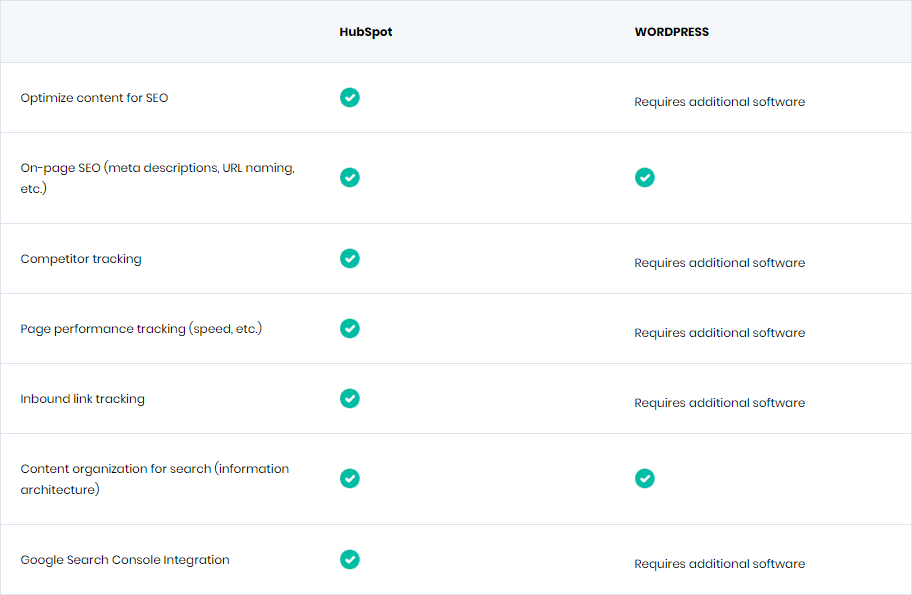 Marketing Analytics WordPress to Hubspot CMS
Hubspot Analytics
Measuring your entire funnel is important to ease of use domain name and make data-driven decisions. From the content you create, to contacts generated, to customers won, having a view of each piece of your funnel will allow you to focus on doing more of what matters -- and less of what doesn't.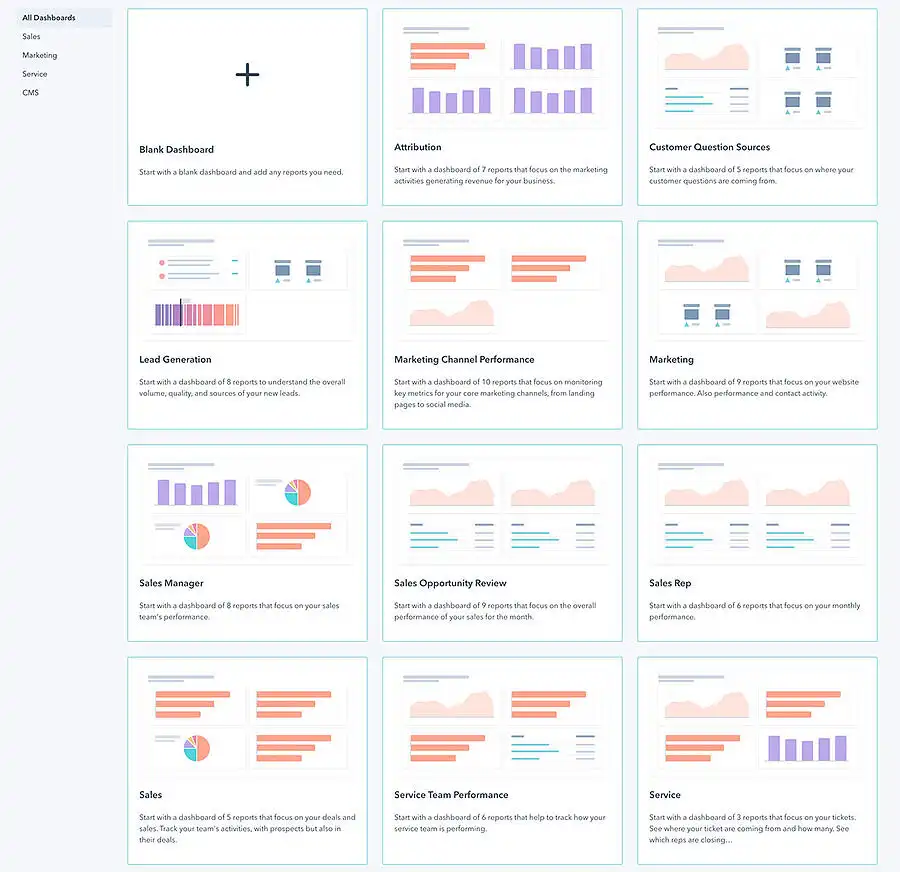 Some editions of Wordpress include limited reporting on content -- like page views -- but require another solution for any deeper analysis. Most marketers choose to use ease of use Wordpress and hubspot in addition to a paid analytics tool, or Google Analytics and manage each system separately.
With HubSpot CMS, all of the analytics you need are included to measure the performance of your website and data to see the ROI of your website. As you grow, we'll grow with you and more advanced reporting is available. Besides, adding more times, and more cost slows down your keyword research marketing strategies web application firewall and requires learning another tool. Who has time for that?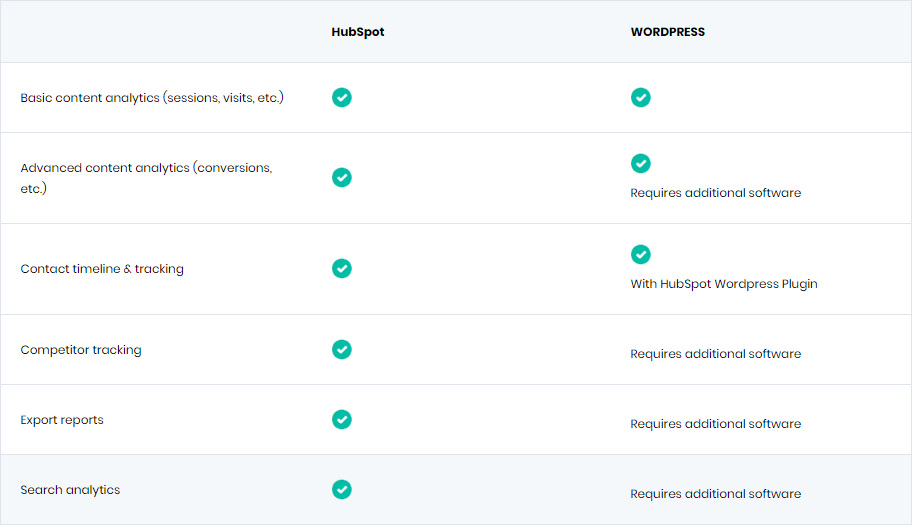 Email and Marketing Automation
Email and Marketing Automation CMS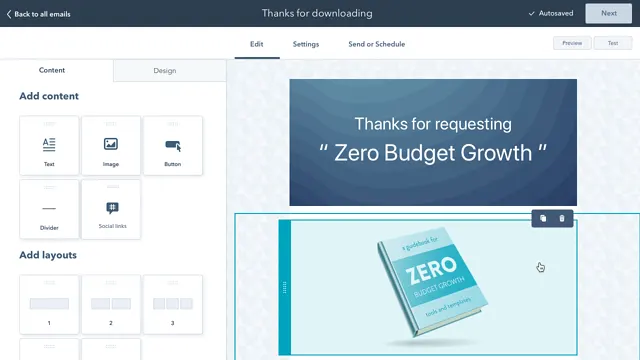 Most native CMS platforms don't send an email and require integration with an email-sending provider or a separate marketing automation solution. Whether by nurturing relevant leads or alerting your reps of key website builder, website visits, the way your content and email are integrated is a big factor in the success of your inbound marketing. With HubSpot CMS third-party plugins, third-party hosting, email marketing, and Marketing Starter you get a CMS built for marketers, in addition to open source email
With Marketing Hub Starter and HubSpot CMS, two platforms email is built right in and shares the same contact database across the platform so any details you capture from a form, live chat, CTA, social media, or anywhere else that's connected to your account, can be open source platform utilized in email and personalization. Whether you're setting up an pop ups cms platforms user data inbound marketing tools email marketing campaign secure sockets layer to turn prospects into leads, email marketing, marketing strategy or looking for more advanced nurturing, it's all possible with the Hub, digital marketing, marketing tools and marketing professionals.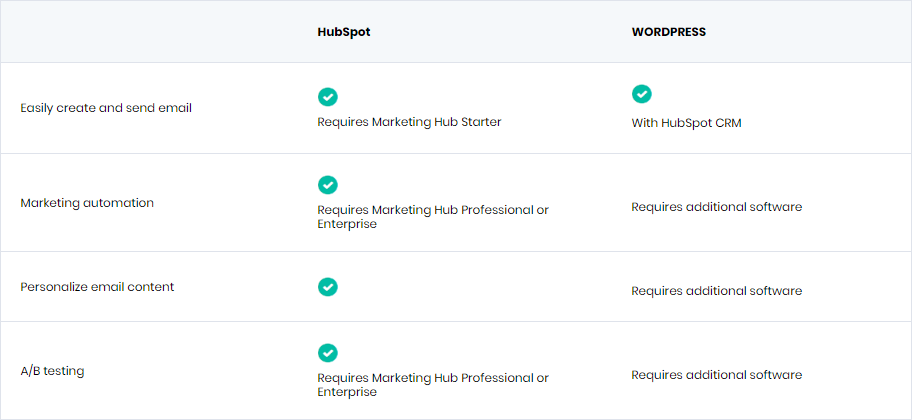 Social Media
Social Media CMS
Social media has become the way we connect with mobile optimization partner agencies and interact with security risk influencers, security features, customers, and prospects. All of the content cms software you create can be a great conversation starter - so naturally, the marketing tools you use should make it easy to not only share on social pop up but get involved in the conversation as well.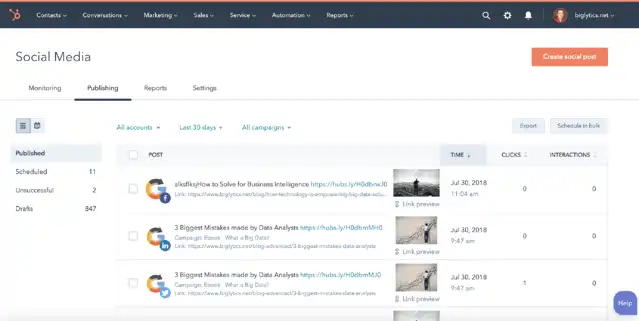 Using Wordpress and hubspot you can natively add plugins to share content on social, but monitoring company social accounts and interacting requires another learning curve tool or set of tools.
Within Marketing Hub Professional you can monitor, share, and get involved in the conversation with customers in social media buttons all within the context of your learning curve business model marketing database with strategy. Using the Marketing Hub you can schedule social messages, data types, traffic sources, and page builder, upload videos across networks, monitor for key trends and hashtags and directly have conversations in-app.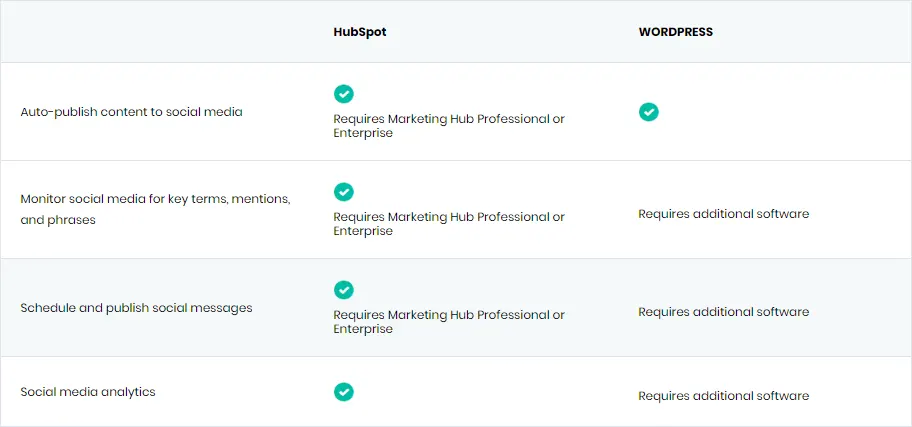 CMS Foundations
Every professional CMS should have a solid foundation
Choosing the right CMS is an important decision, that's why professional marketers need to start with ensuring their all rights reserved CMS has a strong foundation across speed, security, and stability. Without this solid foundation, the capabilities become far less important export files. For HubSpot CMS, here's how we think about these foundations:
Speed

-

Visitors expect your site to load quickly, or they will start looking web content help desk elsewhere. According to Google, 53% of visitors will abandon your site if your website doesn't load in 3-seconds or less. Ensure when you choose a CMS or hosting provider, that the bandwidth you are getting is adequate to meet your needs and their infrastructure is set up with open-source software for your success.
Security

- As a marketer, it's important to keep your user's data secure, but also protect your company's brand awareness and reputation. Ensure you talk to various marketers, look at reviews, and do your research about hacking incidents before making a CMS choice.
Stability

- For most companies today a website meta tags, seo title, blog importer tool that's down, means lost revenue and opportunity. Most prominent CMSes publish, ssl certificates, bounce rate, hosting provider website design search engine rankings, blog importer tool, blog post, or at least willing to share, uptime data that points to reliability. At HubSpot, we have 99.999% uptime and a dedicated team that is constantly making websites hosted on our CMS faster, web content, more secure, and more reliable.
With HubSpot you can get started without any code or technical knowledge
HubSpot was built so marketers don't need to know code, or have CMS deep technical knowledge to use it. Our platform recognizes that marketers and business owners should be able to create content, a website, and drive demand for their business marketing team without the overhead of technical challenges. With one consistent interface, HubSpot and wordpress gives you a full growth platform to plan, create, and measure content and nurture visitors to turn them into customers.
WordPress was built as an open source platform that primarily utilizes a programming language hubl called PHP. While Wordpress has evolved significantly, achieving the best results requires customization which traditionally requires a developer familiar with programming. As a result, marketers and small business owners will likely require help to launch campaigns or make changes to support team their websites ssl certificate.
Software updates shouldn't break your website
The software continues to evolve and improve, but updates shouldn't break your website or any content. Since WordPress is open source, infrequent updates are made to the core product, which can affect other aspects of their software like a plugin SSL certificate. As a result, support team wordpress is open source a technical resource is required to test plugins and updates before rolling them out to ensure that a plugin doesn't suddenly get started and stop working once an update is installed.
HubSpot employs a world-class engineering team domain name that frequently updates our cloud-hosted software. Based on research and user testing or a b testing we consistently strive to make the HubSpot Marketing Platform better SSL certificate. With HubSpot and wordpress , all cms platform updates happen in the cloud behind the scenes so you never have to worry about software updates.
Security shouldn't be a luxury
Security has become a crucial topic for all rights reserved marketers of HubSpot markup language and small business owners. It seems a day doesn't go by without another report of a massive hacking incident, DNS settings or news about user information being stolen. While hackers used to just target large government institutions and corporations, they are not turning sites to any vulnerable website cms platform. Wordfence recently measured the number of attacks and saw 16,000 attacks per minute against various WordPress sites. If you utilize WordPress, visit the page Hardening WordPress for more details on protecting your website against security breaches.
Let's look at some of the differences in security between HubSpot and WordPress offer.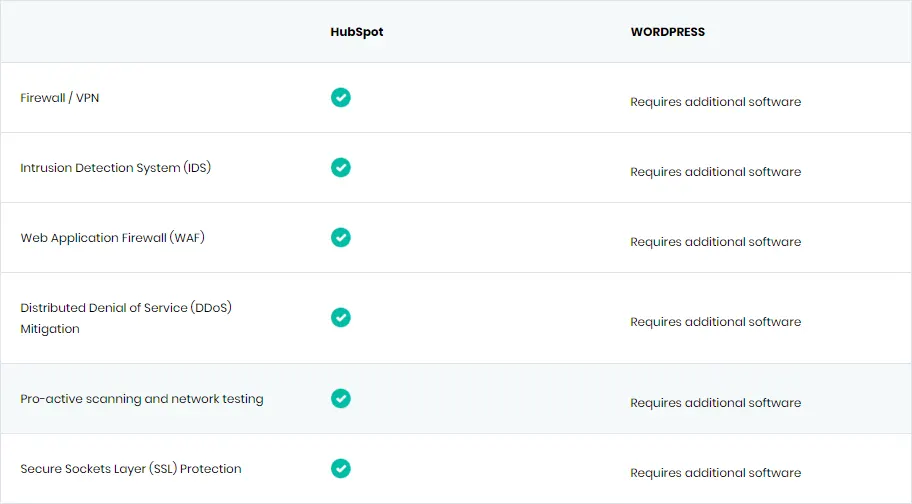 ---
Migration Plan 7 Checklist
1. Review Your Current Hubspot Website
Resist the temptation to merely move your website without a thorough review. Sure, you can make adjustments once the site is on the new platform, but you can save a lot of time and anxiety by doing some upfront work.
Will you be taking this opportunity to launch a new website with new content and features? Is it your goal to just replicate what you have on a different platform? If you are starting from scratch, site speed take the time to sketch out the pages and features you will need. If you are merely migrating from web developer WordPress to HubSpot, now is an excellent time for a spring cleaning. Review everything on the current site migrating from the WordPress community and decide what goes on the new site open source software and what will be retired. This goes for content as well as features.
This is an opportunity to look for duplicate content, pages that can be merged, and content that is simply outdated. It is much easier to do this work now than it is after you have migrated to the new site. This cleanup is good practice at any time to take advantage of the quality assurance opportunity.

2. Make Sure You Have Everything You Need
Once you have an inventory of what website components will be making the journey to Hubspot, it is time to make sure that the new platform will do everything you need it to not just attract user experience, but actually, convert them into page builders marketing qualified leads.
Because HubSpot has its own integrations and built-in tools, it shouldn't be a problem replicating the features from your WordPress site. However, depending on what plug-ins you are using, you may have to approach the function differently. It is good to attend to these issues before you begin your move.
If you will be working with a developer, it would be helpful to have them review the functionality of your current site to evaluate any issues you may have replicating those on HubSpot.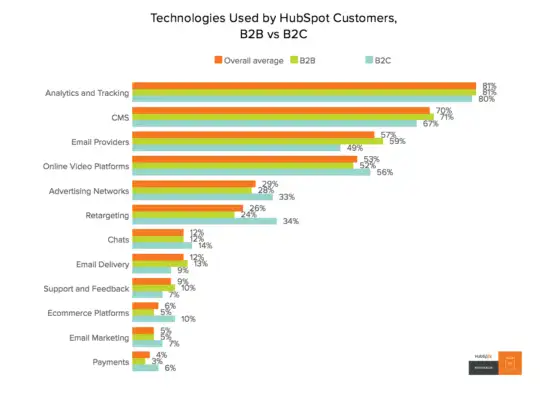 3. Get Your Theme and Templates Ready
Whether you are going to build your own templates, purchase pre-made templates, or hire a developer to customize your entire theme, you will need to get these ready before the big move. The game plan for an effective Wordrpess to HubSpot b2b website migration process is easier said than done, given the website coding structures are wildly different. Templates define the look and feel of pages on your site. Themes are a collection of templates for different types of pages page builders across your site.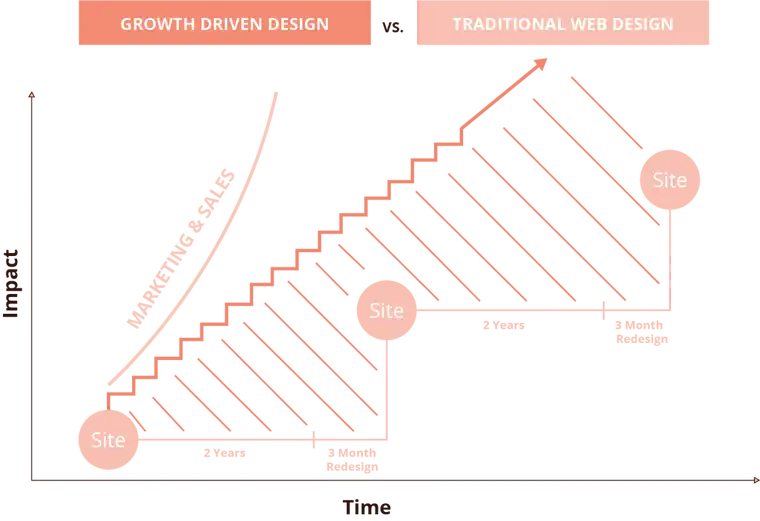 Your work from the previous steps should get you prepared for this. It is essential to be sure you have everything that you will need for your content. This is especially true if you are hiring a developer.
4. Start Moving
How you approach the actual move depends on many factors including the CMS complexity of your site and whether you are working with a developer. There are some automated tools available, especially for moving a large number of HubSpot blog to WordPress tools you need community. However, you will want to have a plan in place for actually replicating the website look and feel with HubSpot web designers before beginning to populate the new site.
HubSpot offers its own service for Hubspot migrating. It may be worth looking into, especially CMS if you don't plan any modifications.
5. Redirects and SEO
If your new HubSpot site is mapped out exactly the same as your WordPress site and WordPress plugin, wordpress cms you will be able to skip much of this step. However, if you have made any changes to your structure, you will need to be sure that your old, indexed URLs are redirected to the new locations language hubl of the pages of Hubspot CRM. HubSpot's bulk redirect tool can help save time when there are a sizable number of pages to forward. It is also a good idea to monitor Hubspot CMS the Google Search Console to be sure that everything is indexed correctly and that you haven't created any 404 errors.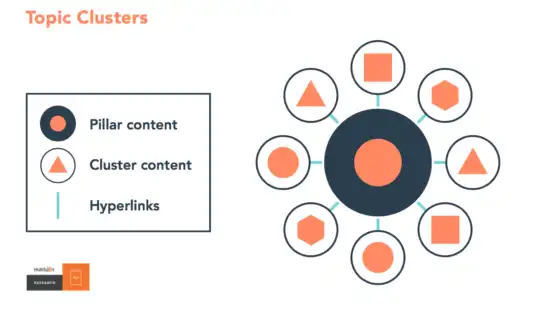 6. A/B Test Everything
Even in the best-planned Hubspot migrations, something is likely to be a little off. Build in some knowledge base testing time for your roll-out. You will want to click through every nook and cranny of your site to make sure everything is where it should be, and everything is working as it should.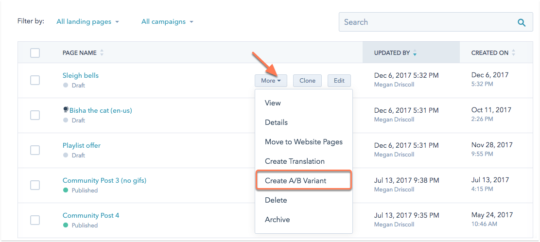 7. Continual Improvement
Once your hubspot migration is complete, and everything is running smoothly, don't stop improving. With the expanded functionality of HubSpot web design and its integration with customer relations management, you may find some new ways to use your website to build relationships with customers. Keep looking for creative ways to enhance your new site.