Let's all quickly get on the same page about what exactly inbound marketing is and also what the HubSpot platform does. First, inbound marketing is a technique for drawing customers to products and services via content marketing, social media marketing, search engine optimization, and branding. Second, HubSpot is used for inbound marketing and sales software. This helps companies attract visitors from many digital marketing channels, nurture leads, convert leads, and close customers.
So what are the next steps to implement an inbound marketing strategy for your business? You can opt for structuring an internal inbound department or hiring a specialized inbound marketing agency. Many factors can determine which way is best for you and your business. Below are some considerations that can help in deciding whether or not to hire an inbound marketing agency.
1. Already Have a Team of Specialized Professionals?
Internal expertise is certainly one of the most critical factors in this decision-making, and it's good to understand that not all marketers are ready for inbound. Inbound marketing is not synonymous with digital marketing, even if both of them approach Web communication. And it's impractical to think of marketers outside of the digital age.
However, the point is that inbound professionals are trained to follow a specific methodology. They use a replicable model of success to devise strategies, to create pieces and content, and to operate the integrated management tools—indispensable for a good inbound marketing strategy.
In addition, it's important to emphasize that inbound calls for a lot of dedication. It takes a mix of strategies, skills, a vein of entrepreneurship, vision and holistic perception, and a great passion for reading and writing.
It's also necessary to be able to handle new technologies and be open to learning constantly. Easy to find professionals with this profile, right? Last but not least, inbound marketing agencies ensure that the demands of scaling profitable inbound marketing campaigns are met with recurring high-quality design and content. Many people hire cheap labor, but this is a mistake, and it won't get the job done.
2. Can Your Company Wait for the Maturation Time of the Team?
We know that time is money. The integrated HubSpot marketing management tool has already been chosen and acquired, and now every month, that investment will be part of your budget, and it can't stand still; it needs to be set up, it needs to be fed with data, and it needs to start generating results. In addition to the learning time of the inbound methodology, your team will have to master the tool or will have to wait for the training period. Of course, you can hire someone with this expertise, but we still have just a few specialized professionals in the market, and this can be a difficult mission.
Well, going back to budget talk, in addition to the monthly investment in the tool, you can have investments in media, and all this already has to be running within this strategy, because when the leads are coming, they will need qualification, they will need to be handed over to sales teams, and they must also pass through the "delight" stage in order to become promoters of your brand. Each unworked contact is one more wasted chance of a return on this investment, and so your team's maturity time is extremely relevant. If you can't wait, consider outsourcing your HubSpot inbound marketing program to a leading inbound marketing agency that can help attract and convert new leads into customers.
3. Safety in Numbers
If your company wants to grow a certain amount in a certain time, it needs a scalable sales solution and an actionable roadmap. These need to be architected in conjunction with professionals who understand how to generate results for their demand.

While you may feel confident about having only one in-house person scaling your inbound marketing program ROI, that's a bad idea. Outsourcing to a HubSpot management agency partner gives your company access to a handful of certified HubSpot specialists who can contribute to the success of your inbound marketing program.
And having a handful of certified HubSpot specialists on hand is really a force multiplier. Because not only are you getting more manpower, but you're getting a wealth of experience (see the next section), which is then multiplied by having a group of professionals at hand.
4. The Wealth of Experience
By working with inbound marketing experts, you're working with a group of individuals who have worked with different brands over various enterprises. Inbound marketers have encountered various segments. The advantage of this experience is that they can utilize their past triumphs in order to tailor a program particular to your business and its needs.
A fruitful inbound marketing methodology relies on many inbound experts skilled in inbound strategy, marketing automation, growth-driven design, and sales enablement. In most cases, we see businesses invest a lot of money adopting and integrating the HubSpot COS platform and end up hiring a single HubSpot specialist.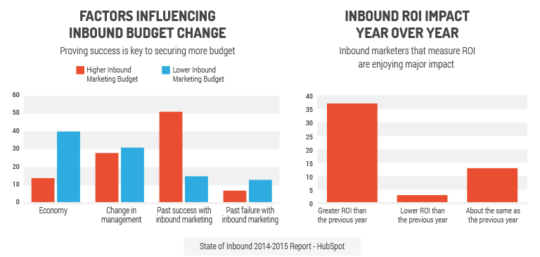 This is a huge obstacle to improving inbound marketing and lead-generation ROI. There is a fine line between churning out inbound marketing content and outsourcing results to a leading HubSpot management agency that actually has credentials scaling inbound marketing programs and lead-generation campaigns.
For the same cost of a single in-house HubSpot specialist, you can hire a certified HubSpot agency partner operating as a full-service inbound marketing agency. This allows your company to have access to a handful of HubSpot specialists, which would start at $4,000 per month and increase based on your inbound marketing campaign. This approach is critical to maximizing your HubSpot ROI and greatly contributes to the success of your company's efforts in lead generation, customer acquisition, and client engagement.