What Exactly Is Growth-Driven Design?
Growth-driven design (GDD) is a website redesign approach that aims to mitigate the risks associated with the traditional website redesign strategy: in particular, exceeding the budget, delivery after the deadline, and non-original tasks. What is growth-driven design for website? What is traditional website?
On average, agencies reported seeing 16.9% more leads after 6-months. (Source: S tate of GDD survey responses)
GDD has three main phases: strategy, launch pad, and continuous improvement.
First, in the strategy phase, you will develop how your site can solve your users' problems. Second, in the launch pad phase, you create a website that looks and works better than your current website but that is not yet a finished product.
The launch pad is the foundation on which you build a website, and later in Step 3, you can optimize continuous improvement. Starting a GDD website is faster and cheaper and produces better results.
These are the tools you can use in the GDD process to help yourself and your team. These tools are not necessarily for everyone, and you need to develop your own toolbox so that you and your team can work optimally. This is where the value of working with a growth-driven design agency becomes an invaluable resource.
Growth-Driven Design
Growth-driven design has multiple benefits. These include:
GDD minimizes the risk. The traditional design of a website can result in high upfront costs, considerable time investment, and complex customization. However, a GDD website can be launched quickly and is often available in a few weeks to a month, after which additional monthly adjustments can be made, depending on business priorities and users so that you can make data-driven and business-driven decisions about the direction of your website—rather than paying a fee and waiting months for a version that may be out of date.)
GDD allows continuous learning and improvement. Traditional Web design is often based on assumptions, such as how users interact, what features will resonate, and how effectively the site will be converted. In addition, traditional constructions often lack opportunities for periodic review and optimization. However, GDD

website

is based on the knowledge of users—and is continuously working to test, adapt, and evolve a site each month to improve it.
GDD w

ebsite

shares users' knowledge of marketing and sales. Information about user behavior can be shared with marketing and sales teams.
Your website is constantly improving with the help of one of the top inbound marketing agencies, rather than every three or four years.
Your conversion rate continues to grow as messaging, calls to action, and other key elements of the site are continuously improved.
Instead of subjectively making each design decision into a one-time project, real data is used to guide the

growth-driven design methodology

.
Your website is usually launched in four to six weeks instead of four to six months, so you can see the benefits faster and longer.
Your existing CRM and sales technology stack can be implemented.
Traditional Web Design
Traditional Web design is strongly based on the practices and trends that have worked in the past. Traditional design practices often make assumptions about results obtained without supporting data. The cost of traditional Web design is much higher in advance, and the time and energy needed to develop a traditional website can be compelling for any business.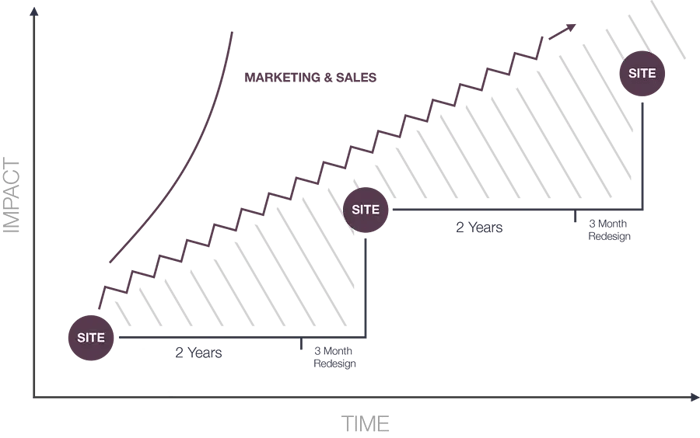 The problem is that if you create a static website based on old trends, it will remain in place for the next few years while the rest of the Web continues, and you can not make changes without spending more.
Traditional website design is the classic way to tackle website design and has many positive aspects, but this approach presents some challenges:
Time and resources. The design of traditional websites takes a lot of time and resources. A three-month redesign could take up to seven months as the needs of the website (and the client) change. For example, stakeholders will accept the models but will reverse course once the models are visible on a live interactive website. This results in the second iteration of subsequent templates and approvals that extend the project schedule.
Strategy. Remodeling the site can be challenging without a solid business strategy from the start. Many project promoters can get caught up in the website and forget that their website has a lead-generation tool and a virtual provider for them. Focus on two or three important business factors when redesigning your website.
Change of direction. When redesigning the site, new management can be added, and the management of the project could be modified. Even with clear planning and detailed project plans, unplanned roadblocks can prolong a traditional site overhaul and increase its budget.
Launch and finish. A long redesign of the website can be exhausting, and often the project team is happy when a website is launched. Unfortunately, starting a new website is just the beginning. The effectiveness of the new website must be evaluated and the results monitored. New content such as blogs, case studies, and infographics should be added systematically. Do not make the mistake of thinking that you can start a new website and not touch it two years after launch.
Traditional website design includes:
A complete design of the website from top to bottom.
Compiles all content, copies, and other design elements in their complete form, perfect for final development and launch.
Creates website templates to maximize the effort of adding future pages to follow a specific format.
Usually takes 12 to 16 weeks or more, depending on the size of the build.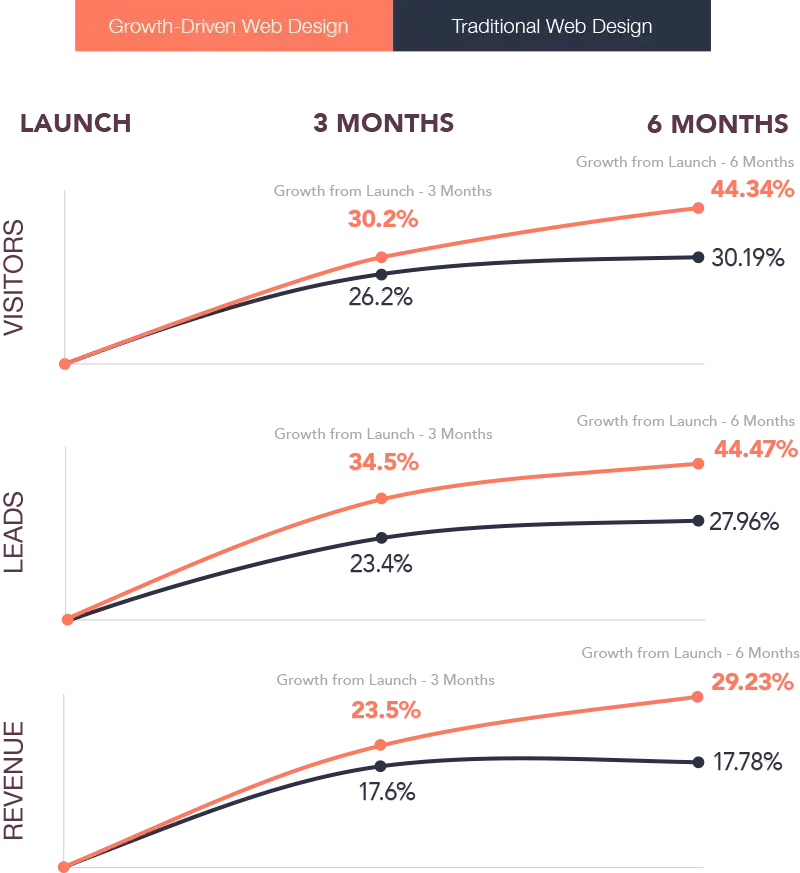 GDD Website Conclusion
GDD website improves upon the traditional redesign of the site simply because it is less risky and more results-oriented. It's just a lot more complete and cautious than doing a traditional design for a website that will not be updated for a few years.
Redesigning your company's website without leveraging GDD methodologies can be a waste of time and money when measuring your marketing ROI. Working with a HubSpot developer to plan and implement growth-driven methodologies into your company's next website redesign will ensure that your website's content never becomes obsolete and that your buyer persona has a unique experience to help move them through your sales funnel most effectively. To do this, you must always test, monitor, and update your website design in the monthly sprint cycles that follow the initial redesign of the first month of a typical year. This is an ongoing process, which is why we recommend partnering with one of the top inbound marketing agencies in order to ensure your company's inbound sales, inbound marketing, and ongoing GDD strategy is not just being managed but is, more important, is optimized to maximize your company's inbound marketing ROI.