Inbound marketing is a more profitable approach to generating leads, acquiring new customers to grow your revenues. The best news in 2018 is that inbound marketing is less expensive than traditional marketing.
75% of inbound organizations believe their marketing strategy is effective. (HubSpot)
We may be a bit biased towards inbound marketing VS traditional marketing since it's what we specialize in, but we can say with confidence that inbound marketing provides the most effective ROI for your company's marketing budget. This is a long-term strategy that will undoubtedly pay dividends year after year when it comes to lead generation, customer acquisition and client engagement.
In this post we're going to address 5 of the major benefits of Inbound Marketing:
1. Brand Building
We are all constantly connected to the web—be it from our home or on the go with smart-phones; our world is only getting more connected each day. As our cars, speakers, lights, streets, etc.. are all getting connected to the 'Internet of Things' having a digital presence for your brand is essential.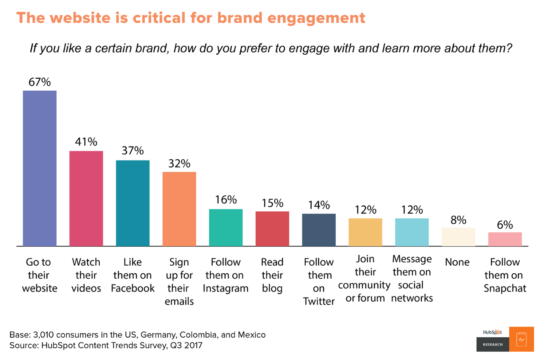 Creating amazing content isn't all that hard (if you know what you're doing) and it is so incredibly valuable to your positioning as a company. Having the proper content in place not only the easiest and most popular way people learn (see reason #2 below) it establishes your brand as a thought leader.
Having the right inbound marketing strategy for your company regardless of industry: Legal, B2B, SaaS, Entertainment, E-Commerce or far beyond. Is what sets your brand up as a thought leader in your industry.
Having great content makes you seem like your company is a credible player in the industry. This builds the foundation for the most important piece of any prospective customer, trust.
2. Persona-Drive Content is King
Not all content is created equal, thus not all content converts equally. Your business does amazing work, has happy clients, and is proud of your product/service. However, no one outside of your small bubble of internal/client facing understands what is happening in your business!
61% of marketers say improving SEO and growing their organic presence is their top inbound marketing priority. (HubSpot)
That great work and happy clients isn't bringing you any leads—on its own. That's why you need to create content to show new prospective clients that you are great!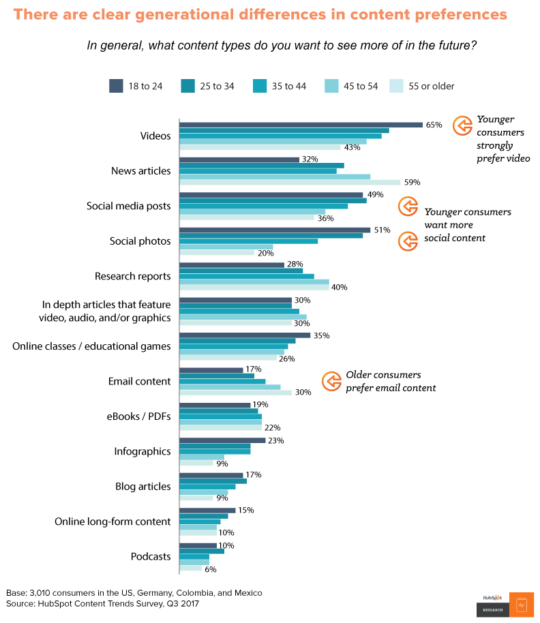 In modern society, we consumer an amazing amount of content be it news, social media, entertainment, OR now in the form of creative advertising embodied as inbound marketing. This is how people digest information nowadays, and the best content is really just advertising! However, it's pretty easy to see which are 'ads' and which are true representations of your brand. Authenticity is key, you need to make sure your content is relevant and authentic.
One of the best pieces of GREAT content, is that because it lives on the digital spehere—it's easy to share not only with your audience but for your audience to re-post and share themselves! Building and sharing content on an inbound strategy build brand awareness so people know who you are and recognize your company elsewhere in the world.
One of my favorite examples of this is GoPro. GoPro actively asked people who used their cameras to send in footage—and therefore got authentic content, created by real-users and made it viral with sharing features. The videos for GoPro commercials that ran on primetime cable—are almost exclusively User Generated Content (which takes inbound marketing a level deeper).
3. Cost Effective
If you're a business owner, on a marketing team, or just curious about how to grow your business—inbound marketing is the best ROI (visit our ROI Calculator) when it comes to spending your marketing budget.
Inbound marketing on your own, or by working with a digital marketing agency like 310 Creative, puts you ahead of the curve. Especially compared to pay-per-click advertisements which are really expensive and hard to measure how successful they will be ahead of time.
One of the other benefits that keep inbound marketing as one of the most cost-effective ways to spend your marketing dollars is that it helps you by watching your competitors and making sure that you never fall behind. These can even include major publicly traded corporations, by watching what they do and making sure your inbound marketing strategy is relevant you can actually use their $$$$ major spending to enhance your own brand image in almost a marketing jiu-jitsu.
4. Generating Quality Leads
Every business is looking for new customers, and many will go to crazy lengths to get new leads. The problem is that often putting as many lines in the water is possible, doesn't bring back quality leads—in essence, you catch a lot of trash when you're looking for marlin.
Inbound marketing, when executed properly brings you customers that are not only quality leads but they are ready to buy! These are customers who have followed your funnel from the top and have pre-selected themselves as high quality leads that are worth your time.
Where often pay-per-click will cost you money and even more importantly cost you wasted time by your sales people wading through tons of unqualified leads that you have PAID FOR!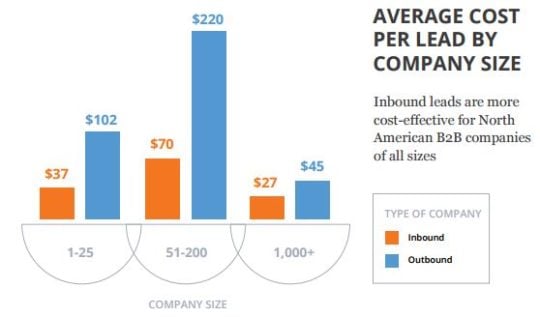 One great piece is that these new leads aren't just temporary, if you run a proper inbound marketing campaign then you have already set yourself up for long-term relationships. Inbound marketing is a marathon, not a sprint.
Inbound marketing ROI takes time. You might be asking, how long does inbound marketing take? Maybe they buy, maybe they wait, but you've built the trust to keep that customer around in the future. And what's great about these relationships is that inbound leads are more likely to leave positive reviews—and cyclically positive reviews lead to more customers!
5. It Is The Future!
Last but not least, again, we're maybe a bit biased, but more than 100,000 business already using HubSpot now see that inbound marketing is the future! The current content consumption trends show that e-books, downloads, videos, white papers, blogs, and all sorts of inbound marketing are much more effective and create better ROI.
One of the reasons is that we live in a globally connected society, where content is available 24/7 and if you have a proper inbound marketing strategy even older content will be updated and kept relevant to the future.
Your brand reputation on the internet is timeless, it does not disappear or come from nothing—and the better your strategies are today the better positioned you are in the future.
An inbound marketing strategy that is built by a smart team who understands your goals is going to be truly 'future-proofed' and will grow with you. Our digital marketing agency based in Los Angeles uses what we refer to as 'growth-driven design' what that means is that we look at how EVERY single visitor moves about your digital presence, where they came from, what they searched, what they click on, what they spend the time to read, etc…
We then use this data to automatically redesign your pages in perpetuity to make sure you can get more done with less resources, which allows you to focus on what matters, growing your business!