This article gives b2b companies effective and actionable best inbound marketing strategies that you can easily implement into your best B2B inbound marketing tactics.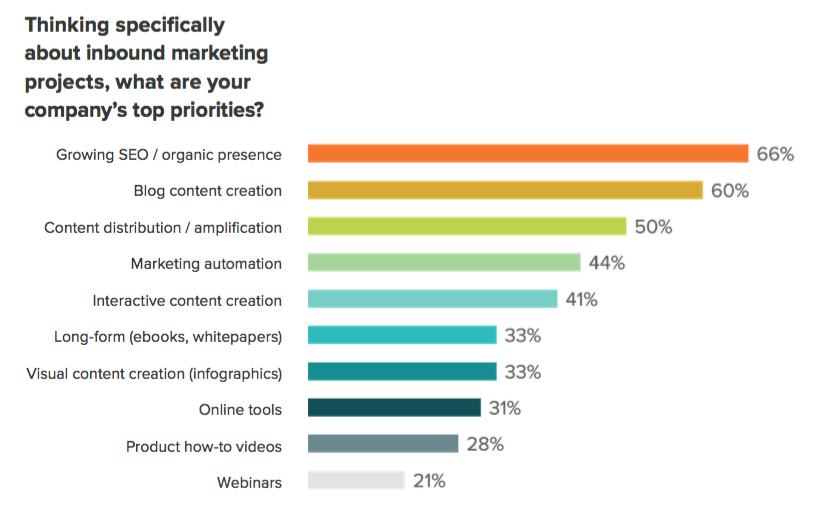 In 2022, the best inbound marketing strategies are one of the most important things your business should be measuring. While this can take many forms, often times measuring conversion rates weekly or monthly based on data-driven decisions can give an overarching visibility into how much of your website traffic are converting into form lead for submissions. As outlined in the video below, a strong inbound marketing plan will create more meaningful inbound marketing results with a better ROI than traditional outbound marketing.
76% of marketers use inbound marketing approach as their primary strategy.
Inbound Marketing VS Outbound Marketing
Inbound marketing ideas and B2B marketing strategies center around a scalable and repeatable playbook for leveraging the inbound marketing best practices to attract the interest of ideal buyers to your website, convert website traffic into leads, and ultimately, nurture those leads into customers.
68% of B2B customers prefer to research independently online.
While some types of businesses continue to find marketing success with b2b outbound marketing tactics and strategies, the inbound marketing ROI continues to diminish. It has not fallen far enough, however, for everyone to completely give up on the old-fashioned methods, such as television ads and cold calling.
Still, savvy B2B marketers are putting more focus and investing more resources into inbound marketing vs outbound marketing. When you define Inbound marketing it turns the tables on traditional marketing methods by attracting and leading customers to you, rather than going out, broadcasting your message, and hoping to capture the attention of customers.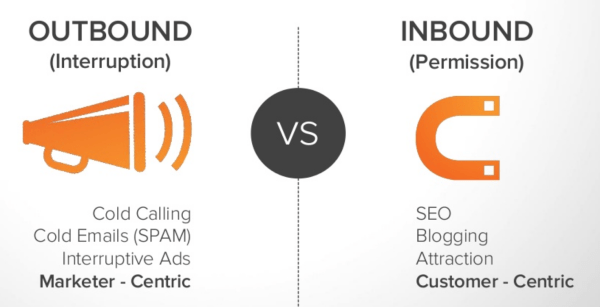 The inbound marketing ideas are to seek out the people that are already searching for what your organization has to offer and position your business's content to make it easy to find. Inbound marketing helps you identify the problem and present your product or service as the solution.
Even if you are already implementing an inbound approach to your B2B marketing strategy, it is helpful to continue to study the latest research and trends to make sure your approach is as effective as possible and continuously optimized to reach your ROI goals. Sometimes, using a free inbound marketing ROI calculator is great for managing expectations for your inbound marketing efforts outlined in the infographic below.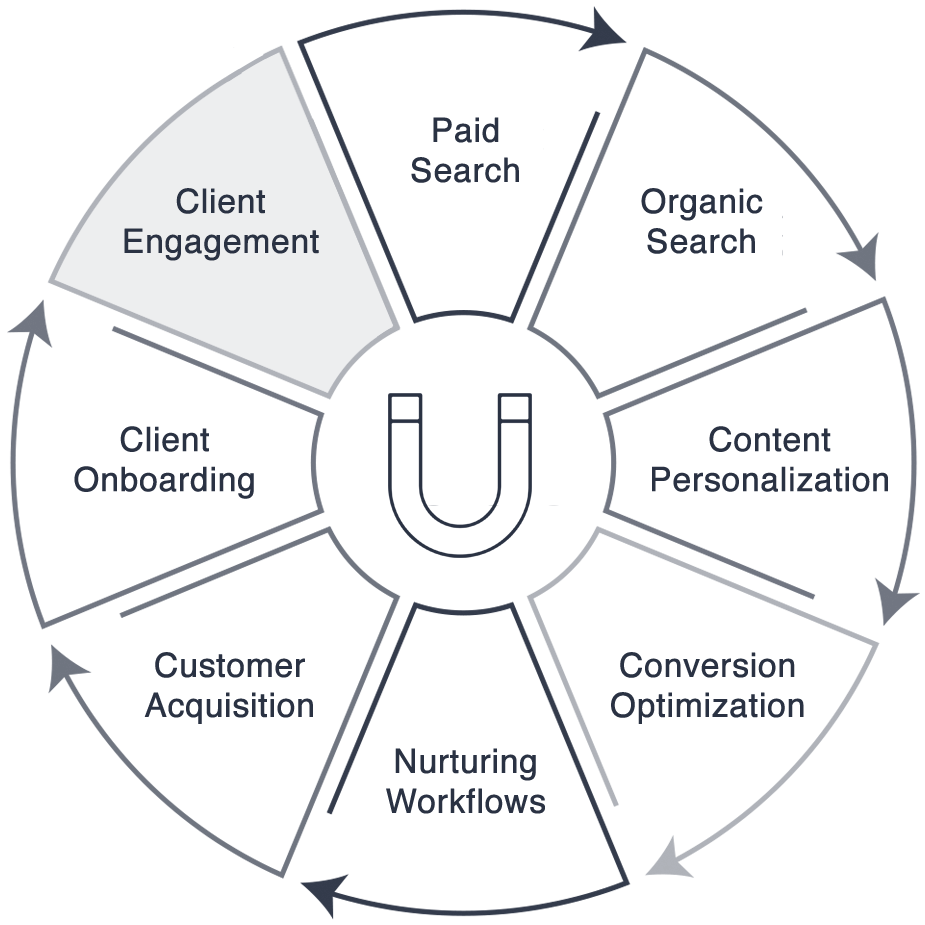 Furthermore, marketing experts of 2022 are ditching the outdated format of the marketing funnel and adopting the more suitable flywheel structure. The flywheel, introduced by HubSpot co-founder Brian Halligan in 2018, is a momentum-building framework of attracting, engaging and delighting customers. Implementing your inbound marketing plan into the flywheel structure will accelerate the growth of your business.
We've broken down the process of achieving success with your b2b inbound marketing strategy into the three phases of the flywheel: attracting the right audience, converting visitors into leads and nurturing leads into customers.
Top 14 Best Inbound Marketing Strategies & Tactics
Outbound methods, such as billboards or television commercials, cast a wide net with hopes to capture the attention of potential customers. Inbound methodology is a more targeted approach.
The initial phase of your inbound strategy is attracting visitors to your website using the best inbound marketing platforms such as HubSpot so that they can learn more about what you have to offer and so you can have the opportunity to convert them into marketing qualified leads hand hand off to your sales team.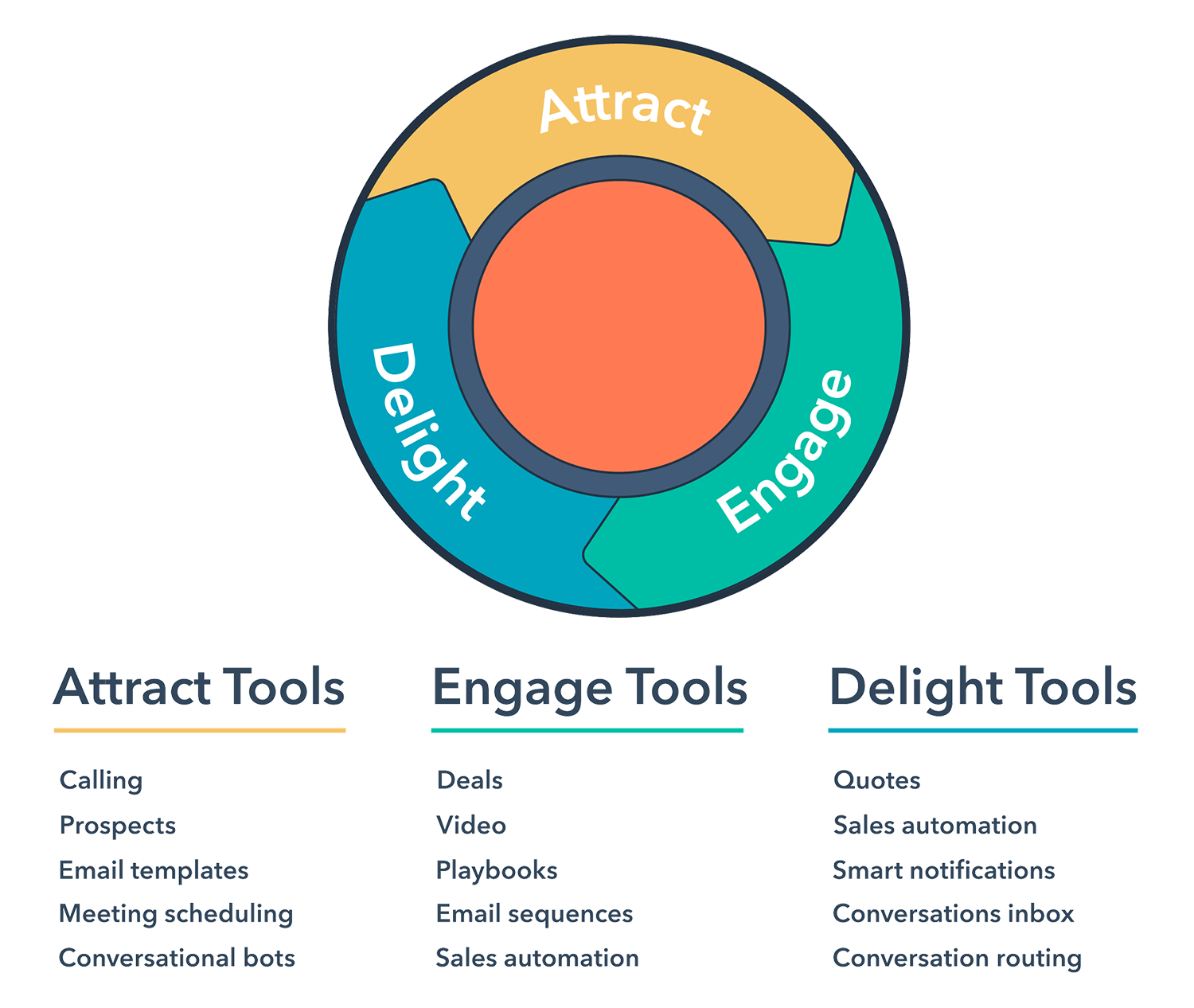 Attracting visitors begins with evaluating the current status of your marketing efforts, knowing what defines a potential customer for your business, creating content to target that buyer persona, and then positioning the content so that it reaches them.
1. Candid Content Audit
Prior to developing your strategy for attracting potential customers and driving traffic to your website, it's wise to evaluate your key performance indicators, or KPI's and the methods you already have in motion, to see what is working for you and what might be working against you. This is typically referred to as an inbound content audit to measure the effectiveness of your content marketing efforts.
A content audit starts with doing an overall inventory to account for all of the different assets your business is executing in order to grow organic search traffic more effectively. From there, you and your team can review the KPIs obtained and recorded from your already existing SEO link building, content strategy, paid search, and other inbound strategies.
47% of B2B buyers view and consume at least 3 to 4 pieces of content before deciding to speak with a sales tam member.
This initial data gathering strategy allows you to evaluate the effectiveness and quality of your inbound content strategy to determine if you need to rethink your content creation approach. It will also show you any content gaps in your persona-drive content output in support of refining your B2B SEO strategy in 2022.
The following is a list of key data points to gather in order to audit your technical SEO performance.
Page Title

Target Keyword

Meta Description

Page Headings Used

Inbound Links

Images Present

Image ALT Tags

Date Last Updated

Page Visits (measure for at least three months, if possible)

Page Entries and Exits

Page Bounce Rate

Average Time on Page

Broken Links



The following is a list of key data points to gather to audit your content marketing performance.
Word Count

Type of Content (article, blog post, informational page, landing page, infographic, etc.)

Content Condition (out-of-date, green, etc)

General Topic

Assigned Tags or Categories

Author

Content Owner (as in, who is responsible for editing it)

Number of Comments

Number of Social Shares

Accessibility on Desktop and Mobile Devices

Call to Action

Associated Sales Funnel Stage

Link Building Strategy

Conversion Data



A content inventory and audit will give you a clear overview of where your previous inbound strategies have positively and negatively impacted your ROI. With a full understanding, you can implement new strategies to improve your SEO performance, content performance, and the overall customer experience.
You can also conduct a campaign audit. This involves a deeper look into how your previous campaigns have performed to evaluate the results of the content and messaging used. A campaign edit will help you determine what strategy and objectives should be reused – and what should be kicked to the curb.
2. Defining Your Ideal Customer Criteria
Any successful B2B inbound marketing strategy begins with a thorough understanding of the audience. To draw potential customers to your website, begin a relationship, and eventually make them a customer, you must start with an understanding of their needs, challenges, and goals.
The first step of your inbound strategy should be conducting research in order to define your ideal customer profile, or ICP. An ICP is a company (for B2B businesses) that would benefit most from using your product or service. It is someone that experiences a problem you have the solution for, and that has the highest probability of becoming a customer.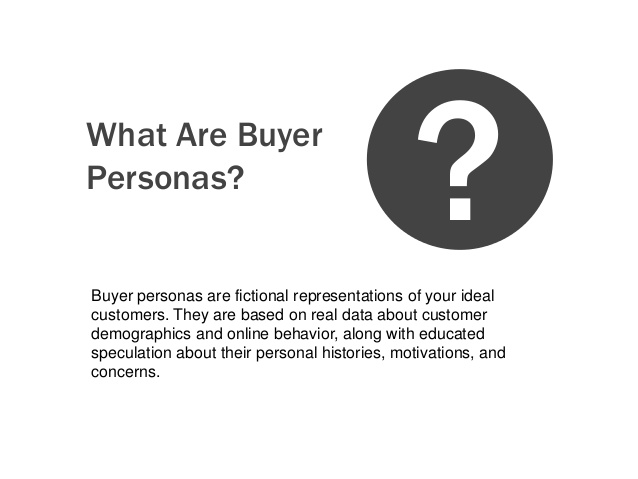 It's also important to understand your target buyer persona. A buyer persona is a semi-fictional depiction of a person within a company you are trying to sell your services to that you will encounter who is a decision maker or influencer. This can be defined by determining the title, role, demographic, goals, motivators, pain points, and level of experience/knowledge of this specific customer.
What are the concerns and questions they have, and how do those relate to what you have to offer? What are their pain points, and how can you help? Mapping content across your buyer's journey is vital to ensuring your team is having the right conversation, at the right time in the buyer's process. Inbound marketing is based on the premise that people are out they are searching for what you offer.
The deeper your understanding of your ideal customer, buyer personas and the challenges they experience, the better chance you have at success.
3. Website Design Effectiveness
Before you can begin attracting visitors, it's important that your website is attractive and easy to navigate. If your website isn't acting as a helpful partner to attract, engage and delight prospective customers, it's time to redesign. Inbound marketing centric B2B marketing agencies that are HubSpot agencies offer expert and data-based redesign services. Below is a video showing the new website grader tool from HubSpot.
4. Mobile Friendly Pages
You need to mobilize your website –and your blog, too. More than ever, internet searches are made on mobile devices. In fact, the majority of internet queries are made on mobile devices – not desktop devices, such as PCs and laptops. Therefore, to appeal to the majority, your sites should be accessible and easy to use on smartphones and other pocket devices.
A mobile-friendly website reduces the friction of the user buying experience and increases consumer satisfaction with their buying experience and, by extension, with your company.
5. Creating Content to Draw Visitors
While great content is not the only critical aspect of inbound marketing, it is the cornerstone strategy. Without high-quality, relevant, and up-to-date content, it is going to be challenging to get any traction with inbound marketing. And the bar keeps getting set higher for quality. It is no longer okay to get by cranking out mediocre content.
Consumers and search engines are getting smarter. Now, you need to consistently create and post excellent, useful content specifically catered to the customers you want to reach. In many cases, the value proposition outlined in your content marketing efforts will determine the degree of success your content marketing has on converting more traffic into leads.
If you don't focus on creating targeted and compelling content, they won't likely find you or, if they do, they might keep clicking after they see the limitations of what you are offering. Often times companies start out with tasking a junior level staff member to create content who does not have experience in writing to pain points of specific buyer personas, and the outcomes is the content performs poorly. Conversely, working with inbound marketing centric B2B marketing agencies can greatly help churn out persona-driven content at scale, both for your blog as downloadable content offers.
If you are having trouble producing the amount of quality content you need, consider diversifying your offerings. Persona-driven blogs are still a simple and powerful way to create and post content. Further more, continually updating your older blog posts and re-submitting to Google search console to let Google know the article is updated can greatly impact your rankings and organic traffic as shown in the screenshot below.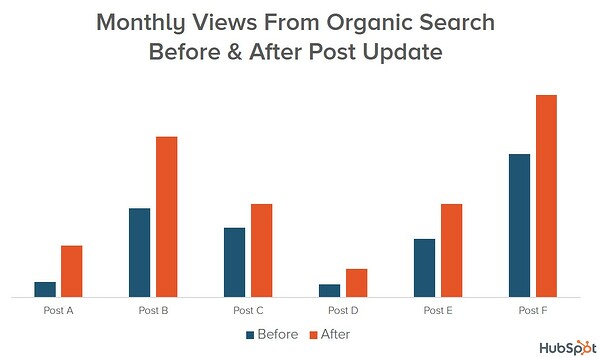 Yet, your product, service, or style might lend itself better to e-books, case studies, downloadable guides, or other content. To keep yourself or your team on track, develop a content calendar so you can keep content creation and publishing on a regular schedule.
6. Pillar Pages and Blog Content
Creating persona-driven content via pillar pages that speaks to pain points of your ideal customer is vital in order to convert blog readers into qualified leads. If your marketing content is not speaking to your ideal customer, try using the free HubSpot Buyer Persona Generator and have these buyer persona data points implemented into your older blog posts. Google loves fresh content.
As shown in the infographic below, most of the time they talk to someone from your company, they have already undertaken significant research on you and your competitors.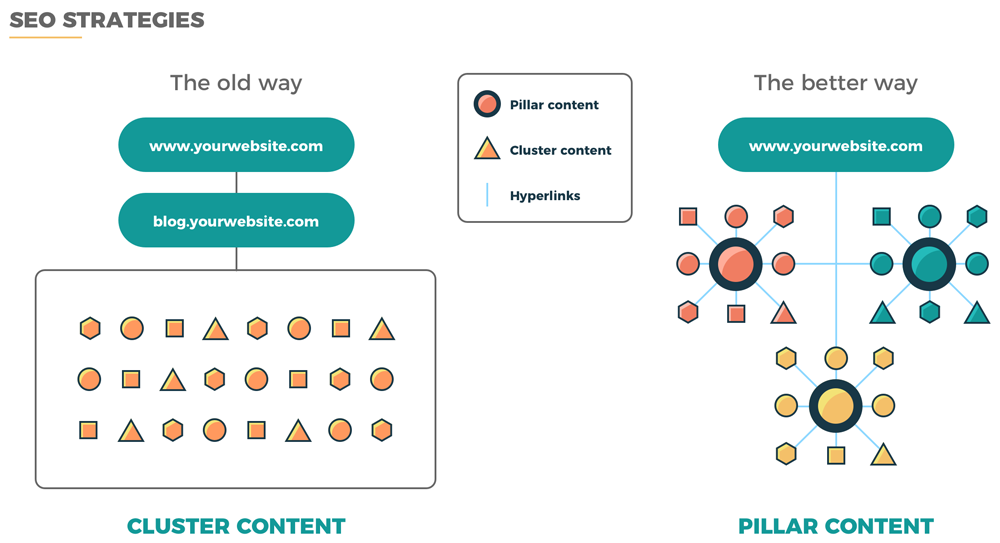 Many facets of content creation include making videos, articles and blog posts, which are infinitely more effective forms of advertising for many years down the road, in contracts with search ads, video ads or paid online retargeting ads.
Quality content ultimately helps in some way, such as actionable tips or relevant insights that adds value to the reader. The more your content inspires, intrigues or helps readers in some way, ultimately determines the degree to which your content is successful in converting website visitors into marketing qualified leads to hand leads off to your sales team to close.
Articles and blog posts should contain infographics, videos and images to break up the written content, and it should be noted that episodic content is particularly popular with consumers right now. The following is a list of content to include on your website blog.
How-to Guides

Case Studies

Book Summaries

Tool Reviews

"Day in the Life" Post

Lists

Video Content
7. Niche Guest Blog Posting
Not all backlinks are created equal. In fact, some types of backlinks can hurt your rankings. The backlink value of blog comments and profile backlinks are long gone.
By guest posting on other niche or major publications related to your company's offerings, you are able to increase organic traffic and reach a fresh audience, some of whom may never have heard of your company otherwise.
As we look at the best inbound marketing strategies for 2022, many marketers are overlooking this high-impact way to draw more people to a website and generate more leads and sales. As shown in the chart below, updating old blog posts can greatly increase both rankings and website traffic.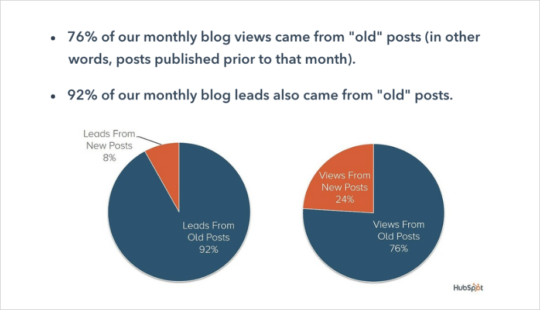 In 2022, guest posting is essential as a b2b inbound marketing strategy in that it can impact nearly every other aspect of your marketing plan. Guest posting can provide backlinks to your site, create brand authority, and build relationships with niche influencers.
To gain traction and get the fastest impact from guest posting, be consistent, especially in the beginning, and choose blogs that will offer the most return for the time and effort you will invest in writing.
It is important to make sure you include backlinks to your own site in your posts so the blog's readers can easily access information about your company and products.
8. Constant Headline Testing
It is often said that 50% of the time you spend writing an article should be spent thinking of a killer headline. While this might be a little dramatic, headlines are still very important nonetheless.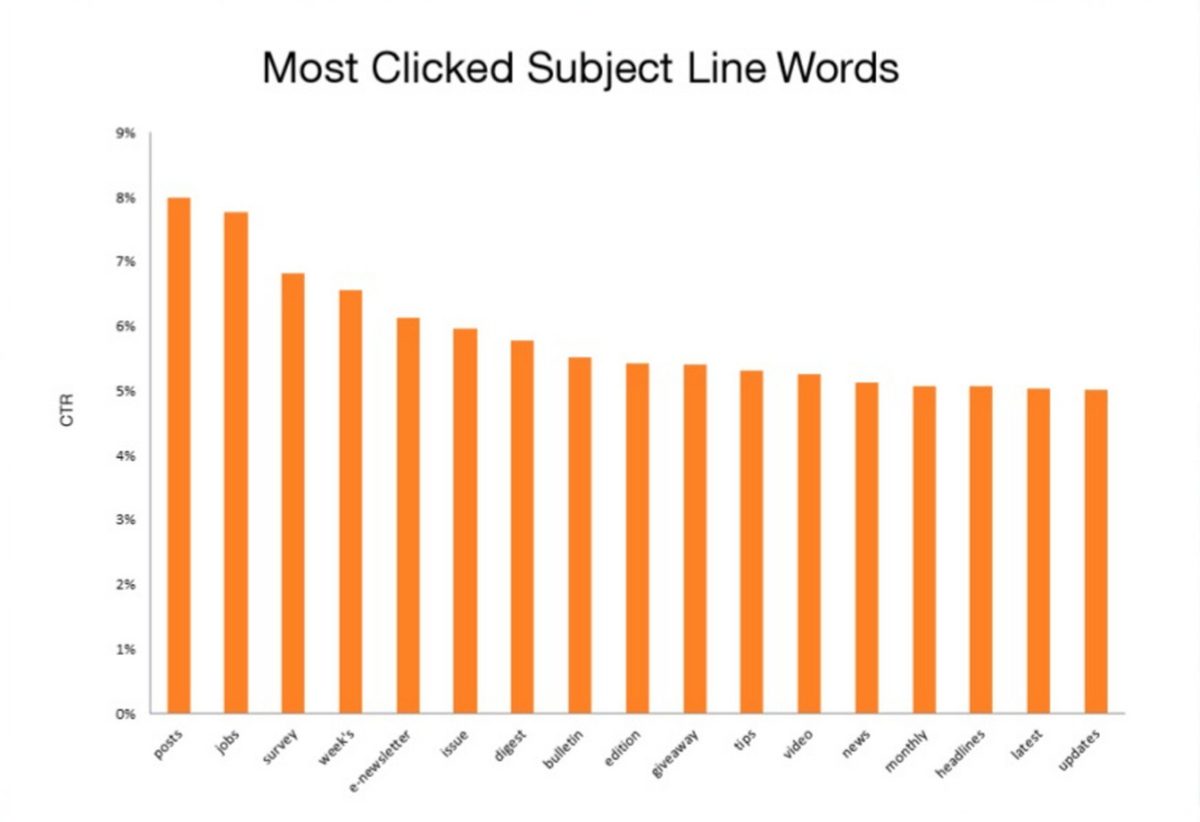 A good headline should contain your chosen keywords, grab your attention, and it should be negated. You are more likely to receive a 'click' if your headline contains words such as 'never' and negators, such as 'not', compared to words like 'always' or superlatives such as 'best'.
9. Search Engine Optimization
Search engine optimization is an essential aspect in your strategy to attract visitors. It positions your content to appear at the top of Google and other search engines. With the correct keywords and phrases in your content, you can increase a higher ranking to improve organic search traffic over time.
When it comes to planning and implementing a winning B2B inbound marketing strategy, it is difficult to know what to determine first: the content topics or search engine optimization (SEO). Early on, many marketers would start with the right SEO keywords and create content based on them. As readers (and search engines) get smarter, it is no longer that simple.
We need to take a broader approach that creates relevant content that is SEO keyword optimized. It is no longer enough just to try and rank for relevant keywords. Those keywords need to lead to content that is helpful and relevant.
In 2022, it is vital to manage expectations internally that SEO will not increase revenue by itself. Because of this, SEO and content need to go hand in hand with buyer personas guiding content development and SEO keyword research.
From there, content needs to be developed with the intention of answering the most relevant questions your potential customers are asking, while at the same time being easily discovered as potential customers search for solutions.
SEO is the bread and butter of marketing on the web. You are most likely already including search engine optimization in your B2B inbound marketing strategy, but are you clued up on how to maximize its effectiveness and grow organic search traffic? Make sure to research keyword trends on the web, and if you're a new company or start-up, it's a good idea to focus on keywords with less competition.
While repeating keywords can be useful to increase your site rankings, make sure to avoid keyword stuffing– a method which uses keywords unnaturally and at a very high frequency.
Not only will this deter potential customers from your site, but search engines like Google have started using software programs to ensure that you don't achieve a higher rank using this method.

When some of us think of Pay Per Click (PPC), we think of traditional advertising, which sounds like it doesn't belong in an inbound marketing strategy. However, PPC can be an essential part of an inbound strategy to attract leads. PPC is a layer of inbound because it is targeting people who have already visited your company website.
While in a perfect world, the quality of your content and SEO would get you to the very top of the search engine results page, that is not always the case. An effective paid search playbook gives you the chance to buy your way to the top of the results and draw people into the content on your site.
Think of these paid ads, which can appear on social media platforms like Facebook and Instagram, as a follow-up for your inbound marketing.
10. Active Social Media Footprint
Social media allows you to stay connected to consumers. A strong social media presence drives traffic to your blog posts, and works to boost your targeted traffic.
Moreover, the messaging and positioning aspects of these platforms allow you to interact with potential customers and act as a great opportunity to get to know your target audience better; interested consumers can contact representatives of your company on social media to ask any questions they can't find the answer to online.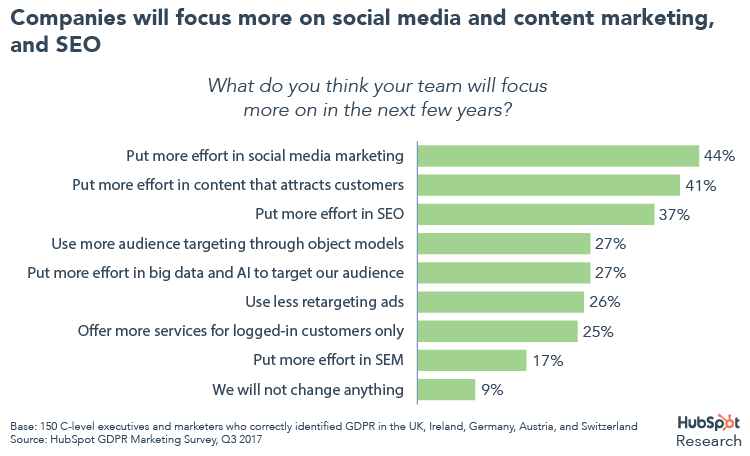 Furthermore, a social media presence increases public knowledge of your company, introducing more potential visitors to your site, product or brand. However, make sure to earn your social media following in an organic way; definitely do not buy followers.
The screenshot below is a great example of how the HubSpot social media suite allows you to interact with social media users that have followed your company or interacted with one of your social media posts.
11. Work with Influencers
When focusing on your social media strategy, one useful method of attracting visitors is working with influencers. Figure out which influencers are popular with your target demographic, while taking into account the age, gender, location and other determining factors. Then, partner with these influencers and have them promote your company or product.
The use of niche B2B influencer campaigns is a particularly effective inbound marketing strategy, as they usually have a large following of fans that admire and trust their opinion, and therefore, these followers will likely trust their praise of your product, brand or company.
This is where working together with a niche B2B influencer to craft a guest blog post that touches on pain points of persons reading that influencers blog will greatly increase the likelihood that the readers will engage with your call to action.
---
Turning Visitors Into Leads
Once you've developed a solid content marketing and SEO strategy to drive targeted traffic to your website, the next step is to engage with these prospects in order to convert them into qualified. Moving onto the next phase of your inbound flywheel, the following are strategies to implement to engage with visitors. You want to equip your marketing team with the right tools so that they are prepared.
12. Landing Pages
In 2022, your inbound strategy needs to include more than one front door.
Landing pages serve as a point of entry other than your main home page. By creating additional landing pages, you have the opportunity to direct your potential customers to a landing page designed specifically to convince them to take the next action step.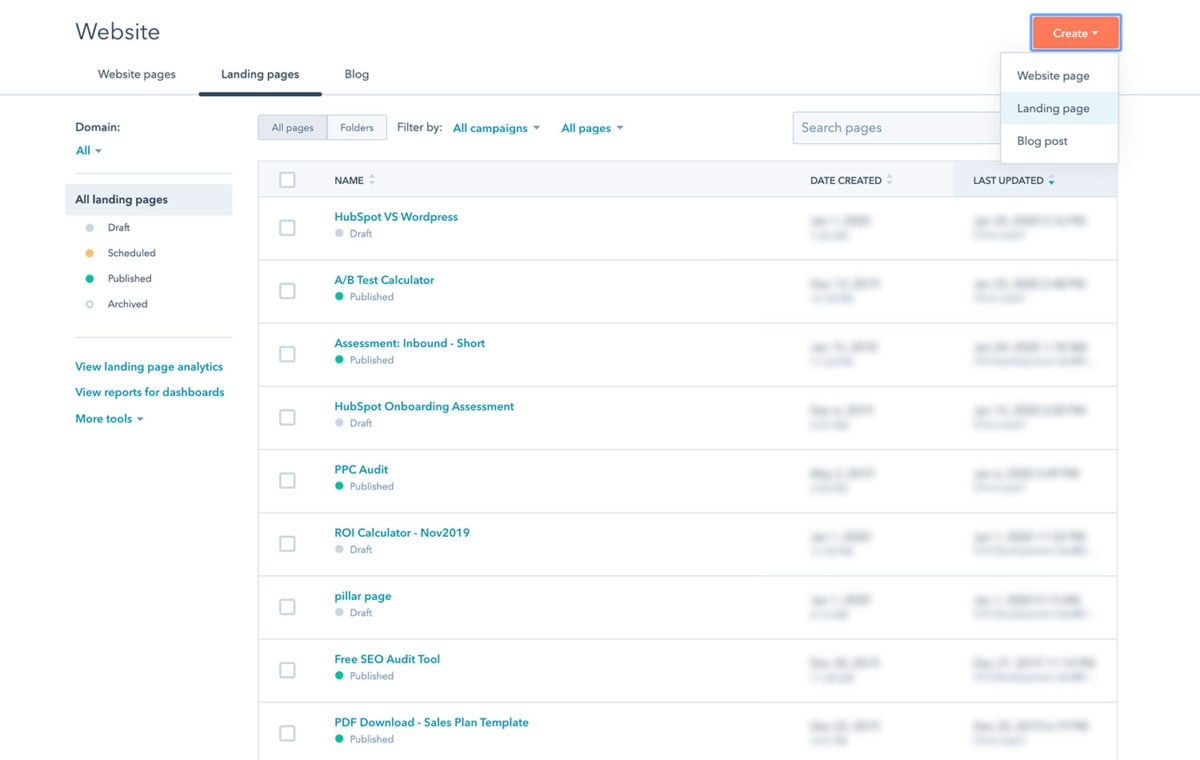 Whether you want to collect information about leads, get people to sign up for your newsletter, download a white paper, or even buy your product, landing pages can be customized around this goal and free from any added distractions.
13. Call to Action Buttons
It is important to provide an opportunity for your potential customers to offer their information so that your marketing professionals are able to start a conversation. Marketing experts of today understand one very important rule: give before you ask.
In this day and age, customers don't trust everything they see online. They have also become sick of pop-ups and other 'in-your-face', disruptive advertising. For this reason, the 'give before you ask' rule was established.
This means creating call to actions (CTAs) that offer something of value to the customer in exchange for information such as their email or phone number. This could also provide an opportunity to gather defining information that identifies their demographic to help you better understand who your content is reaching.
A call to action can be a big, bold button on your website or blog that requests an action from a prospect. It should clearly state what they will receive in return for performing the action. It is best to be specific and avoid a broad request, such as "Contact Us".
Some examples of valuable content to offer include the following:
White Papers

E-Books

Tutorials

Free Trial
14. Email Campaigns
The use of email as a marketing tool is hardly a new concept and has been a long-time method of outbound methodology. However, like SEO, it is important that you use the tool of email marketing intelligently and with inbound strategy in mind – that is, sending specific email marketing campaigns to prospects who have opted in and not just cold-emailing.
It is also important to conduct ongoing A/B testing of marketing emails (see more on this below) to measure which layout and/or text performs the most effectively.
You should ensure that all the contacts on your mailing list have opted-in to receive your company's emails; this will ensure that your reputation and company name isn't associated with annoying, not-asked-for email campaigns and improve email open rates.
Sending emails to people who have opted-in will also decrease the likelihood of your IP being blacklisted, and therefore increase your chances of arriving in customers' inboxes, rather than their spam folders, in the future. Furthermore, in order to improve your email marketing ROI over time, you should make sure that the emails you send are tailored to your recipients' interests based on their buying history.
Lastly, try not to send too many email campaigns- even if consumers have opted in to receive promotions, they might unsubscribe or flag your emails as spam if your emails clog up their inbox.
15. A/B Testing Call To Actions
To ensure that your B2B marketing strategy is working as an effective asset for your company, you need to be continually thinking about how you will convert inbound traffic into leads and, eventually, sales. Yes, inbound is indeed different from former outbound strategies in that it is not pushing products and services to people who haven't shown interest yet.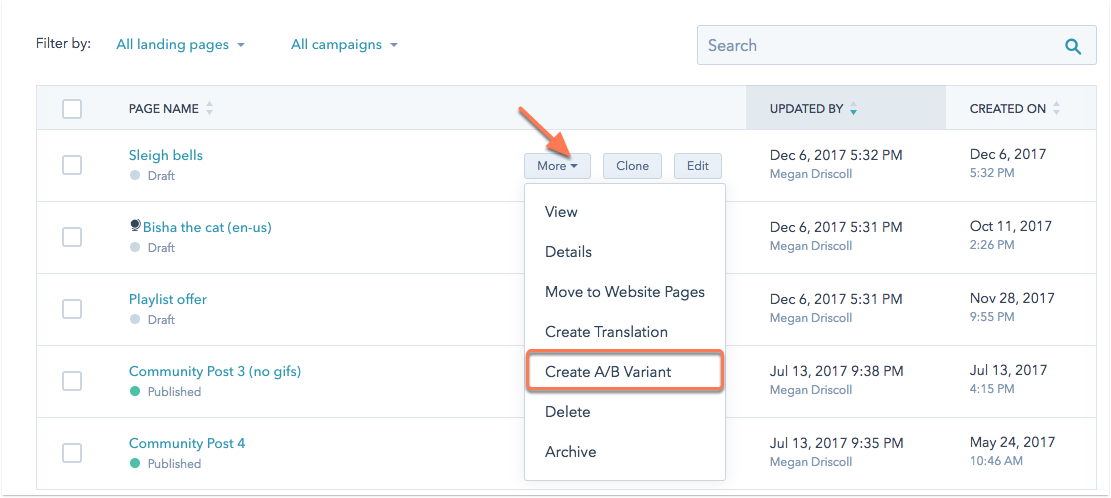 However, it can not become so passive that it fails to create conversions. Once people have found you and begun to show interest in what you have to offer, it must be easy for them to understand and take the next step. Whatever step you want a potential customer to take, be sure it is clear and visible.
A/B testing your call to actions, landing pages, email campaigns, and other engagement tools is a necessary step to take in order to see what is working and what is not. You can run A/B testing by changing out the color and size of your CTA buttons. You can also adjust the font size, structure, wording and color of your headline.
Making one change at a time can help you interpret what caused any change – decrease or increase – in engagement. And remember, you should always be testing!
16. Remarketing
Another inbound strategy that works as an incredibly useful tool to attract more visitors to your website is remarketing. At first glance, remarketing looks like traditional advertising. However, this specific kind of paid advertisement uses browser cookies to target ads to people who have already visited your website.
You can use remarketing to target leads that have visited your website, blog or certain set of pages. Remarketing follows a lead's activity online and produces ads to remind them to come back.
17. Nurturing Leads into Customers
So you've created compelling content, gained traffic to your website, and opened up the conversation with a qualified lead – great! Now you have them right where you want them.
But how do you seal the deal and turn this qualified lead into a paying customer? The following video lays out the importance of B2B lead nurturing throughout the decision-making stage of your inbound marketing plan.
Nurturing a lead and guiding them towards making a decision is a delicate process. Customers of today don't respond very well to aggressive engagement. It's imperative that you're prepared with the proper tools and best inbound marketing tactics to give prospects the gentle nudge they need to make a purchase without being pushy.
18. Targeted Content for Lead Nurturing
As mentioned above, creating content is the cornerstone of your B2B inbound marketing strategy and it shouldn't end with the attraction or engagement phases. Once you have the attention of a prospective lead and they have opted in to receive more information about your business, you must continue providing useful content that is geared towards helping them make their final decision.
Leads nurtured with targeted content produce an increase in sales opportunities of more than 20%. (HubSpot)
This is where having a clear understanding of your different buyer personas comes into play. You'll want to create targeted content for each of your buyer personas based on their specific pain points, needs, goals and motivators.
It is also important to have a marketing automation platform in place to properly identify and target your buyer personas.
19. Multi-Channel Lead Nurturing Techniques
Lead nurturing strategies of the past included drip email campaigns that would send out generic email blasts to a list of prospects. Fortunately today, there are more options and ways to reach out to your generated leads.
Marketing automation platforms have made it possible for marketers to execute their lead nurturing tactics through multiple channels. Multi-channel lead nurturing includes a combination of the following.
Email Marketing

Marketing Automation

Social Media

Paid Retargeting

Dynamic Website Content

Direct Sales Outreach
20. Multiple lead Nurturing Cadence
Research from the Marketing Lead Management Report has shown that on average, prospects receive ten marketing touches from the time they enter the top of funnel until they're closed won customers. However, many marketing strategies of today are not following this protocol.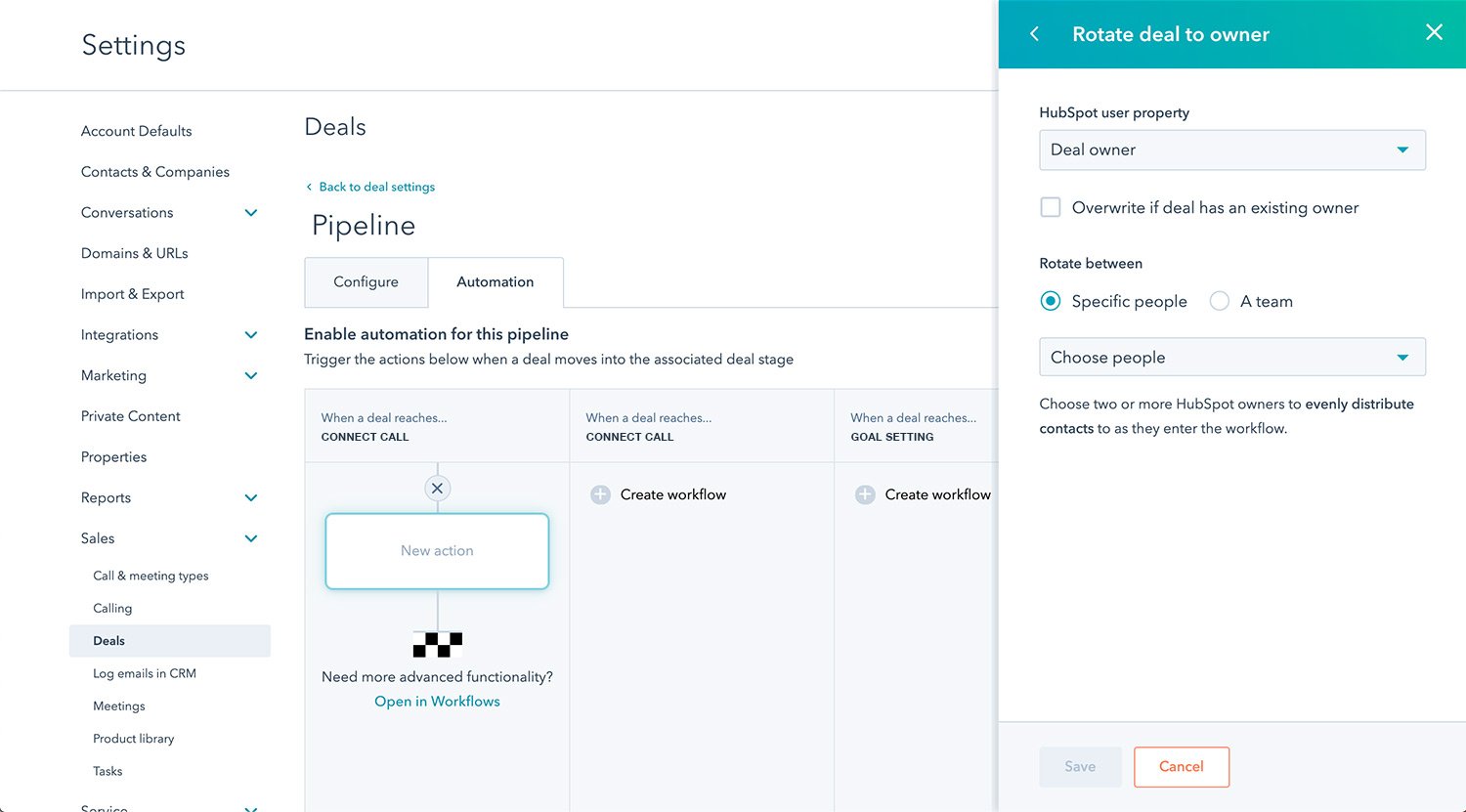 The most successful lead nurturing strategies include multiple touches across several platforms. By creating content to act as different touch points, you can help a buyer progress through their sales journey by addressing common questions and concerns they might have along the way. You can use a combination of content types such as social media, blog posts, whitepapers, interactive calculators and direct mail.
21. Follow Up Lead Nurturing
After you've engaged with prospects with targeted content, it's important that you follow up in a timely manner with a direct call or email. You have a much higher chance of converting a lead into a paying customer when you reach out directly following a website conversion.
Calling an inbound lead is much different than cold-calling an outbound lead. Effective Inbound marketing strategies provide you with important information about a lead so that you can be prepared when speaking with them. Because inbound leads have already shown interest in your business or have accepted a promotional asset, your marketing team is able to do a little research prior to calling to find out more about the organization a lead works for, or their specific role at the company.
22. Content Personalization
Sending out personalized emails and content allows you to deliver the right messaging to the right audience, at exactly the right time. Personalization is based on data-driven behaviors, actions taken, and other indicators of the lead's stage in their buyer's journey. These can be referred to as triggers.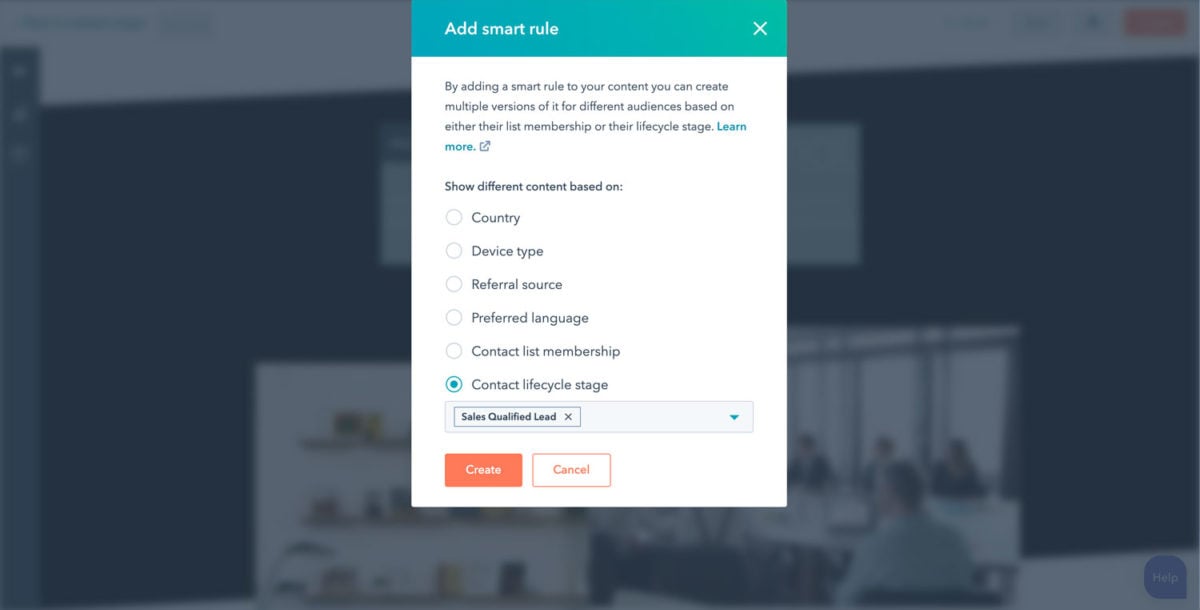 Examples of personalization can include sending out a thank you email, when a lead downloads educational content. Or sending out relevant content when a lead clicks through to a certain landing page or interacts with a specific CTA. Other triggers include high activity or inactivity, completion of a purchase, or signing up for a newsletter. Personalizing content based on triggers can lead to higher conversion rates.
23. Effective Lead Scoring
Not all leads are the same – so they shouldn't be treated the same. Inbound marketing strategies can effectively increase the amount of leads visiting your website, however they might not all be at the same phase of their sales cycle.
This is where lead scoring comes into play. Lead scoring is a strategy of ranking leads based on qualifications in order to determine their value and likeliness to purchase. The criteria for your lead scoring depends on the qualifications you put in place for your business.
Marketing Qualified Leads

are leads that are more likely to become a customer based on their demographic qualifications and activity on your site.
Sales Qualified Leads

are leads that your marketing and sales team agree are ready to be handled by sales. They have already requested to speak with a sales representative or have even accepted an invitation to meet.
Highly Qualified Leads

are somewhere in between MQLs and SQLs. They meet the requirements to be marketing qualified and have shown interest in speaking with a sales representative.
Lead scoring grants you the opportunity to understand your leads better and to engage with them the right way at every phase of their buyer's journey.
24. Test and Repeat Everything
Today's marketers have more access to metrics than ever before. We can now measure the effectiveness of nearly every element of our marketing plans on a granular level. This is only helpful if we review these metrics with an eye toward adjusting our strategy.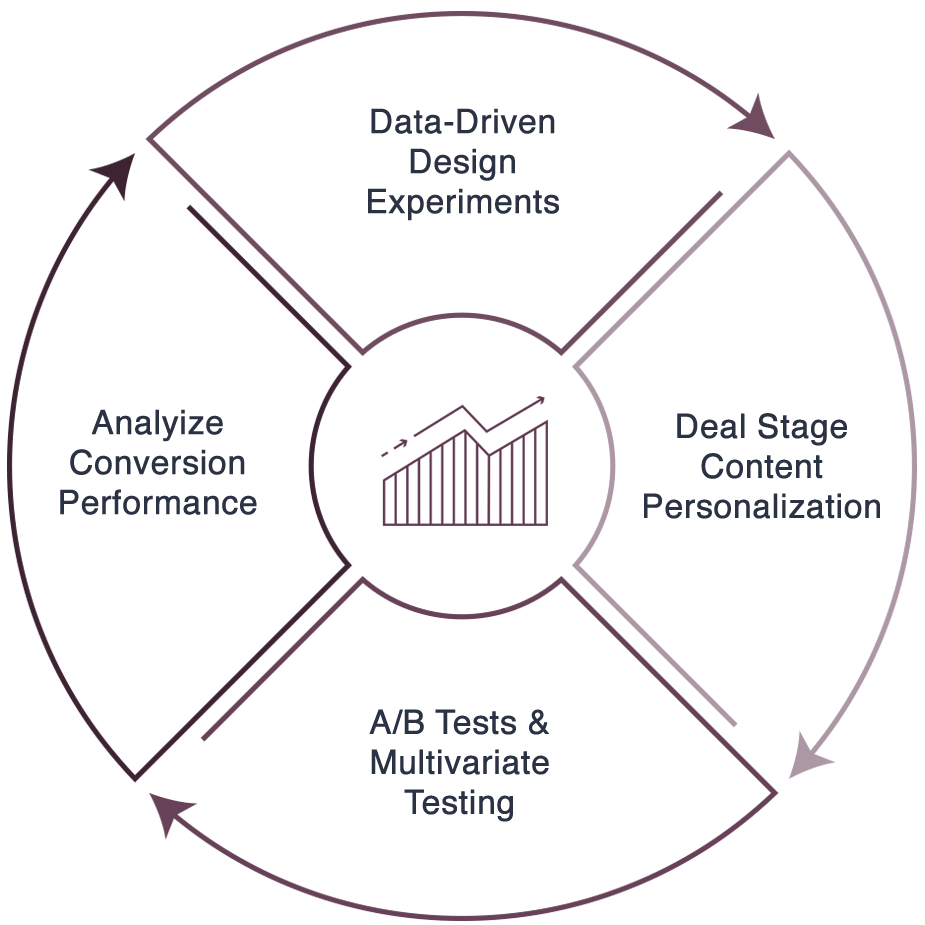 25. Turning Customers Into Evangelists
Delighting strategies involve your team becoming advisors, experts, and problem-solvers. They must be prepped and willing to assist your customers at any point of their sales cycle.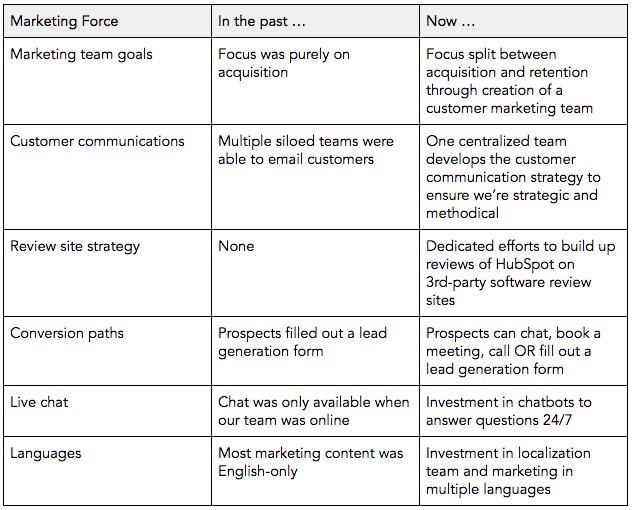 Chatbots and virtual assistants on your website provide a way for potential and existing customers to reach out at any time of day. Surveys are a great option to receive feedback on your products, services or customer experience.
Another best practice to implement into your delighting strategy is social media listening and interaction. Customers will often use social media platforms to reach out with questions and reviews.
The delight phase of your inbound marketing strategy should be intertwined with every phase of your inbound strategy to ensure customer satisfaction across the board. Every interaction – big or small – should be handled with care and proper attention.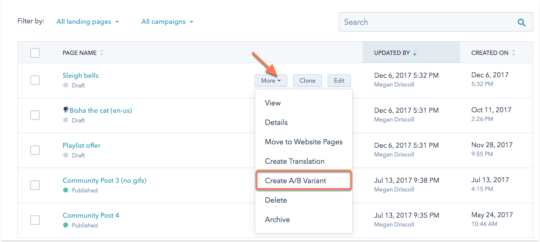 The linear funnel methodology that worked in the past describes the delight phase of the buyer's journey as the final stage. However, marketing experts of 2022 understand now that the customer-centric inbound strategy encouraged by the flywheel structure is a much more effective approach.
In the digital landscape of today, customers are able to share their experience with a brand in an instant – with a simple push of a button. This rings true for fresh leads and paying customers at every stage of the buyer's journey. For this reason, it is crucial that a customer is satisfied and delighted throughout their entire experience with your business.
Thinking with the customer at the center of your inbound marketing strategy aligns your marketing, sales and customer service teams and gives them a streamlined goal. A happy customer is likely to turn into an evangelist or active promoter of your brand that spreads the word about their experience and drives more business your way. After all, word of mouth is one of the best marketing tools out there.
Inbound Strategy Takeaways
Prior to 2022, the paradigm shift away from traditional outbound methods is taking place more rapidly than most marketers expected, due to the fact that they are disruptive and ineffective. Inbound marketing strategies are evergreen and provide the most brand value for years to come.
When you are diving in and creating an inbound strategy, input from your sales and marketing teams is vital. Ensure that you have a scalable approach to delivering effective marketing communications for your lead generation, customer acquisition, client engagement efforts and to meet your inbound marketing ROI goals.
With an expanding following, a growing online presence and an increasing number of satisfied and delighted customers, your company's success is sure to grow faster in 2022.