Creating a website can be an incredibly daunting task, especially for business owners or marketers who don't have coding or development experience. It's more critical than ever to have a strong web presence, along with a website that showcases your business, products, and/or services.
One way to create a stunning website is to use a custom HubSpot website design firms. HubSpot features an easy-to-use website design that works with your CRM to seamlessly blend your website with your marketing and sales efforts.

If you're looking for a comprehensive guide to HubSpot website design firms, look no further! This ultimate guide will teach you everything you need to know about designing a stunning website using HubSpot. We'll cover everything from the basics of setting up a new website to more advanced topics like creating custom landing pages and using HubSpot's powerful design tools.
Start learning about top HubSpot website designers and design today with our ultimate guide.
The Importance of Your Website
In this new digital-first era, every small business should have an online presence.
81% of shoppers conduct research online before considering a purchase- even if they plan on purchasing in-store rather than online.
It's important to understand that buyer behavior has drastically changed throughout the years. In the past, consumers had to call during business hours, wait for an employee to answer, and then discuss whatever they needed to discuss. Times have changed, though. It's 2023, and it's more critical than ever that potential customers can get the information when they want it.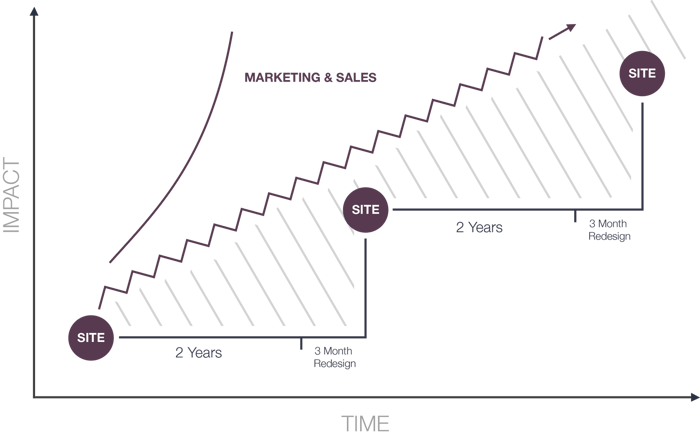 Today, consumers are resourceful and tech-savvy. They want to learn about your services or products, as well as your brand. They often will read reviews, take a look at case studies, read articles and blogs, download content, and more. All of these things are critical to most customers when making a purchasing decision.
Your website is also a critical piece in creating an inbound marketing strategy.
Studies have found that businesses or saas marketing organization that have a blog with prolific content get more leads than those without it.
If a business has fewer than 60 pages of content, it gets about 5 leads per month.

Businesses with 300 or more pages of content get an average of 74 new leads per month, showing a 15% increase.
Inbound marketing costs 62 percent less than traditional outbound marketing activities.
Having a strong B2B website is just one component of your inbound marketing strategy. HubSpot helps combine powerful tools and custom hubspot website design firms to help you create more leads, close more sales, and make more revenue.
9 Benefits of Using a custom HubSpot Website Design
There are many benefits to using HubSpot website design firms. HubSpot website design is an all-in-one platform that provides users with everything they need to create a beautiful and functional website.
HubSpot's website redesign is extremely user-friendly and offers a wide range of customization options to make sure your website looks exactly the way you want it to. HubSpot website design integrates seamlessly with other HubSpot marketing tools. This makes it easy to create, implement, and evaluate your inbound marketing strategy- all in one place.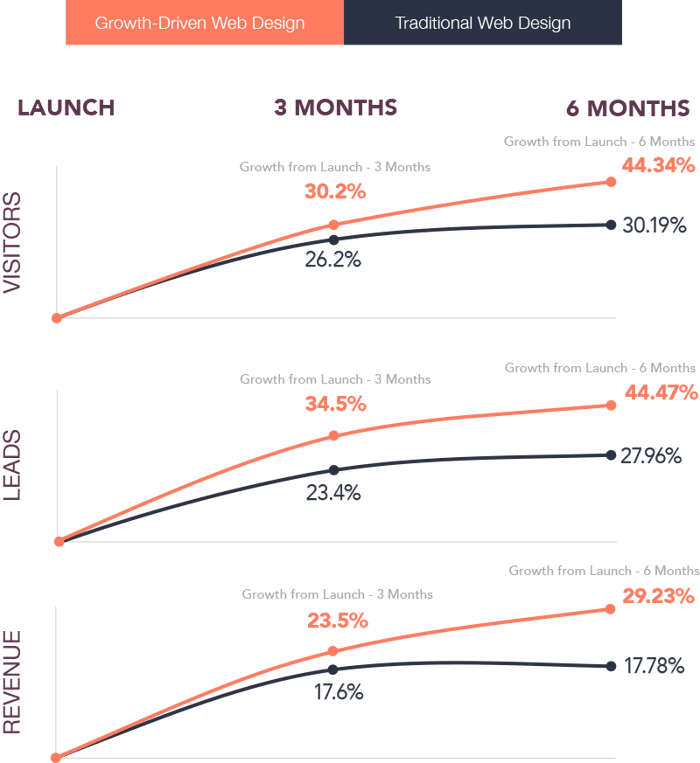 1. Rank Higher & Faster with HubSpot's Optimization Tab
In reality, ranking on the second page of Google isn't all that bad. It means your SEO is working, but it can definitely be improved.
The first five organic results on Google account for 67.60% of all clicks.
This statistic shows just how important it is to be on top of page one organic search results.
The window for ranking high in search engine results pages is tight. With more than two-thirds of all clicks going to the first five organic results, it's a tough field. Marketers need creative skills, a fantastic website with user-friendly and engaging design, and on-page SEO if they want their company page to be number one!
HubSpot works as your personal SEO adviser while you write and as a result, you never miss an opportunity to optimize! With HubSpot's innovative keyword tool, marketers can explore keywords from HubSpot website design agencies that further optimize the content on your site. The tool also researches chosen words to find out if there is an opportunity to rank for specific keywords.
When creating web pages or blog posts with the On-Page SEO Checklist, HubSpot uses a checklist with a traffic light system, making it super easy to use and understand. This can help you optimize your pages, and determine if the content on the page is fully optimized for search bar.
HubSpot's Page Performance Insights provide you with data to help you optimize your website for better performance. These insights show you how each page on your site is performing and what you can do to improve things. Additionally, you can use this information to track your progress over time and ensure that your website is always improving.
2. Enjoy More Leads from Your Website
HubSpot is one of the leading marketing automation software platforms that gives you everything needed to increase qualified leads as well as improve your conversion rates. With HubSpot, your business can have a professional website with CTAs for increased engagement. HubSpot also provides the ability to use forms so that visitors are encouraged to take specific actions when they visit their site. This helps you capture more information from potential customers, resulting in more qualified leads for your business.
Additionally, HubSpot offers a wide range of features to help you nurture your leads and turn them into customers. With email marketing, lead scoring, and lead management tools, you can stay top-of-mind with your prospects and continue to encourage them throughout the customer journey. By using HubSpot's powerful marketing automation capabilities, you can see a significant increase in the number of leads coming into your business.
If you're looking for a comprehensive platform that will help you boost your lead generation efforts, HubSpot is a great option to consider. Thanks to its focus on website design, forms, and CTAs, you can easily increase the number of leads coming into your business. And with its robust lead management and nurturing tools, you can continue to encourage those leads down the sales funnel until they're ready to become customers. If you're serious about increasing your business's lead generation and conversion rates, The top HubSpot website design agency is the perfect platform.
3. Responsive Web Sites, No Matter What Device Customers Use
In a world where people are constantly on their phones, it's important to make sure your website can be viewed from any angle or size. A responsive design will allow visitors using small screens like smartphones to access just as much information with fluid layouts and flexible grids so they leave feeling satisfied no matter what device was used for viewing the page!
One of the best things about designing in HubSpot is that mobile responsive web pages are the default. This is critical since 72% of consumers want mobile-friendly websites!
Furthermore, mobile-optimized websites rank better. Google favors websites that are optimized for mobile. For marketers and business owners who aren't coders or web developers and hubspot cos developers los angeles, optimizing sites for mobile can be incredibly difficult. However, HubSpot makes it easy with its pre-made templates that are already responsive. This means you can have an incredibly mobile responsive website- without doing any coding or tech work!
4. Improve Every Part of the Customer Journey with Custom Content
Did you know that you can personalize your content for each kind of website visitor, customer, or lead?
It may seem difficult, but HubSpot makes it easy. HubSpot allows for powerful personalization so you can improve every single part of the customer journey. This is a critical component of an effective content marketing strategy.
72% of surveyed consumers prefer to only engage with marketing messages that are customized to their specific interests.
However, creating personalized content and marketing campaigns can be overwhelming. HubSpot makes it easy, allowing you to provide higher degrees of personalization and engagement for your customers, resulting in more qualified leads and sales.
You can use personalization tokens from HubSpot that are then inserted in emails, landing pages, web pages, and more. They allow you to use the valuable information that is stored in your contact databases, which helps you easily and effectively create truly personalized experiences at every step of the customer journey. Below outlines the impact on positive user experience.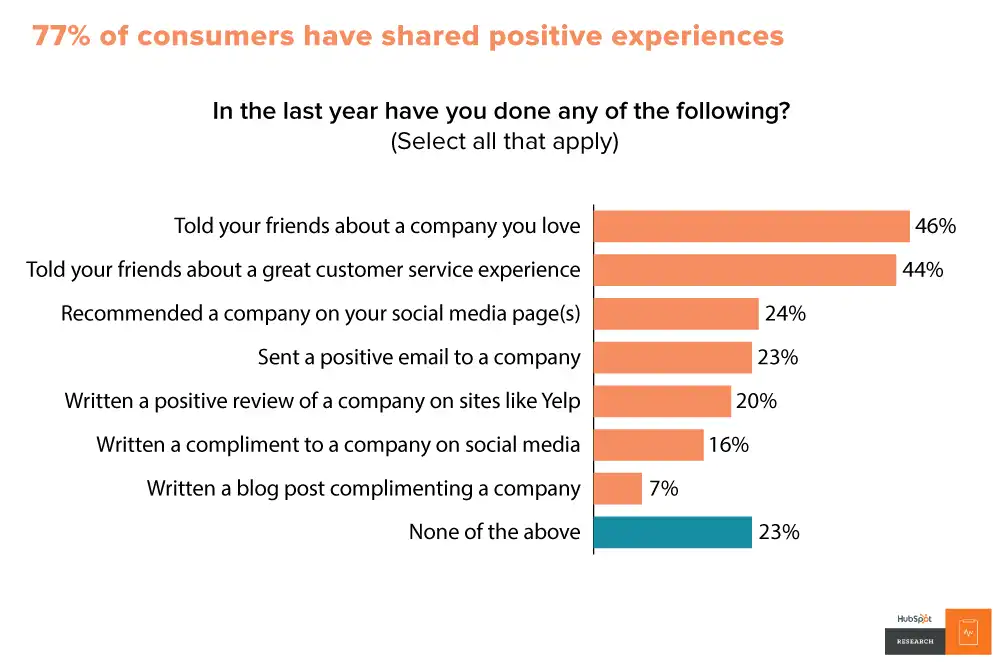 HubSpot also allows high levels of personalization throughout all stages of your sales funnel. For instance, a new website visitor can be shown interactive content or blogs, and someone further down the line in the customer journey can be offered consultation or a demo. This level of sophistication can result in more leads and more sales for your business.
40% of consumers buy more from brands that personalize their experience across channels. (Monetate)
Another way to personalize content is to use HubSpot Smart Forms. This powerful tool allows you to gather important information from and about the leads that you already have. For instance, if a lead downloads an eBook with their name, company name, and email address, then next time it'll automatically input this information and not ask for the same info twice. This personalized experience allows you to easily collect data more efficiently, build a better profile of who your leads are, and improve the customer experience by not requiring duplicate information.
5. Use Data to Analyze Performance
It's imperative to be able to evaluate the ROI that your content has on your business. Post-campaign metrics are absolutely key. Data can help inform marketers as to what content works and what doesn't.
Despite the importance of evaluating ROI, many marketers don't effectively measure their content marketing metrics.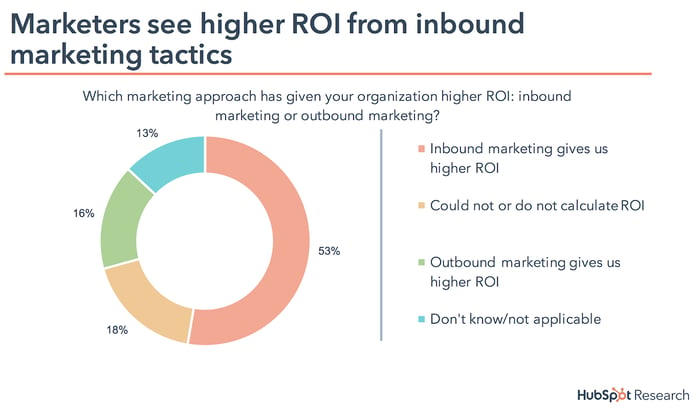 Only 43% of content marketers say they have clarity on their content marketing success. (Content Marketing Institute)
HubSpot gives you access to the best analytics tools in web design and content performance. You'll get all the power of an analyst behind HubSpot's robust analytic tools, including reports, charts, graphs, and dashboards.

For marketers and businesses who are serious about growth, it's imperative to determine how your website and your content are performing. HubSpot gives you this detailed information, including:
How many page views you've gotten.
Number of CTA click-throughs.
The number of qualified leads that are generated.
Number of customers that are generated.
Submission rates among both customers and leads.
And much, much more!
You'll be able to see how your marketing is paying off and what contributes to your ROI, as well as what needs to be improved upon. You can also use attribution reports in HubSpot to determine what content and channels help create the most qualified lead activity. This is critical information to have at your fingertips so that you can make purposeful decisions that are informed by data.
Data can also help you improve upon the creative process itself to increase the effectiveness of your content marketing strategy. Planning and documentation are a stage where many marketers fail to use valuable data and analytics. This means they end up generating content types that they think will resonate- without having the data to justify-content decisions.
A proper approach to content is to use data to drive decision-making. This can help businesses connect with their ideal audiences and save valuable resources and time.
6. You'll Love Having Your Website & Your Marketing Work Together
One of the best reasons to choose HubSpot for your website design is the ability to make changes to your website by using HubSpot's CMS to connect your marketing, sales, and website together. This creates an intuitive solution that provides a seamless experience to help your business enjoy increased marketing success. Having your website and your marketing activities within the HubSpot CRM means that you'll be able to be more effective while saving time and money.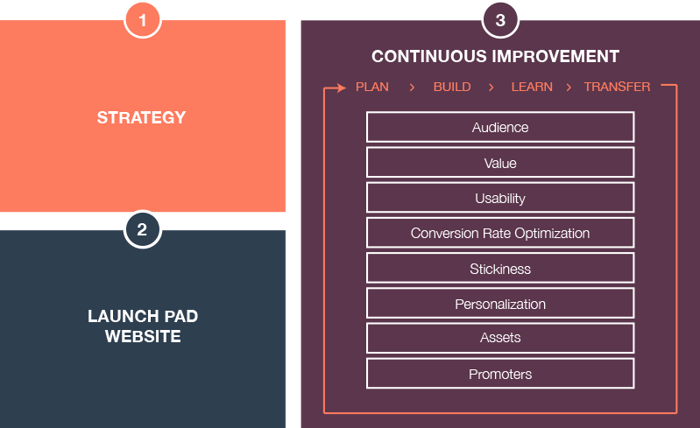 Additionally, you can connect your website to the HubSpot CRM tool to analyze engagement and manage leads. These tools are all incredible, and they're incredibly accessible since these tools are all in one place, eliminating the need to go back and forth or manage multiple logins.
7. Easily Design Your Website with HubSpot's Simple Drag & Drop Design Editor
HubSpot allows you to easily design your website, eliminating the need for a coder or developer in many cases. HubSpot templates are coded and designed by experts. They're affordable and have templates at any price point so that you can easily choose a HubSpot website designer.
Your web design and marketing efforts should work together for prolific content creation. You can do this with the DIY options from HubSpot without worrying about hiring anyone to help you set it up. On the other hand, if you decide you want a more personalized website, you can work with developers who can still code your pages through HubSpot. Either way, HubSpot offers an intuitive and innovative web design product that allows you to get your site up and running fast.
8. Stunning Templates Make Creating a Website Easy
HubSpot has a prolific library of templates so you can easily design your website. The HubSpot Marketplace allows you to shop around for templates for landing pages, web pages, email, and more. These help your business by giving you a real advantage and saving you time and money. Additionally, HubSpot will even give suggestions and recommendations on templates that have been promising with other businesses in your given industry...
There are many benefits to using HubSpot website design templates:
You can easily edit HubSpot website templates without coding knowledge. Once you purchase your custom HubSpot website design

template library

and download it into your portal, you can immediately begin creating intuitive and beautiful web pages. You can edit individual pages within the easy-to-use live page editor. This editor is built for marketers- not coders. This means you don't have to worry about CSS or HTML. Just make changes by dragging and dropping, and you're done!
HubSpot

templates

are an affordable option for an amazing website. HubSpot website design shouldn't have to cost you an arm and a leg. Designing templates yourself can save you a lot of time and money. Many HubSpot templates are free, with others that cost between $100 and $10,000. There is a template for every budget that you can easily implement and design yourself. You can also choose to go with HubSpot inbound marketing experts to save money in the long run and wildly increase your ROI.

Templates are tried, tested, and true. HubSpot website design templates are used by thousands and thousands of businesses. They've been tried, tested, and regularly improved upon. You won't have to worry about bugs or things not working exactly as they're intended. This is great for marketers serious about getting their websites up and running, but don't want to have to constantly fix issues that arise in typical website design.
Your website will go live a lot quicker. HubSpot website design templates can really be customizable with your own designs and branding. However, you won't have to build templates from scratch that can take several months to complete. This means your website can go live a lot faster, which means you can start really generating qualified leads earlier!
HubSpot templates are built for optimization.

HubSpot website design templates are innovative and fully built with responsiveness in mind. The live page editor within HubSpot allows you to edit all SEO data. This means you have the best chance of ranking on the first page of Google. Additionally, sites are optimized for mobile, cell phones, PCs, and other devices. No matter what device your customer chooses to view your site on, they'll experience a site that responds and provides an incredible customer experience.



Over 54% of global web traffic was accessed from a mobile device in 2021. (Statista, 2023)
9. You'll Get Incredible Support with HubSpot
HubSpot's website design is incredibly user-friendly. However, it's great to know that if something goes wrong, you can get in touch with a real, live human. If you need help, HubSpot offers 24/7 support. You can get in touch with someone any time day or night who can help you with your website design, marketing questions, or anything else related to your HubSpot account. They offer training and will give you the resources you need to grow your business and achieve success online.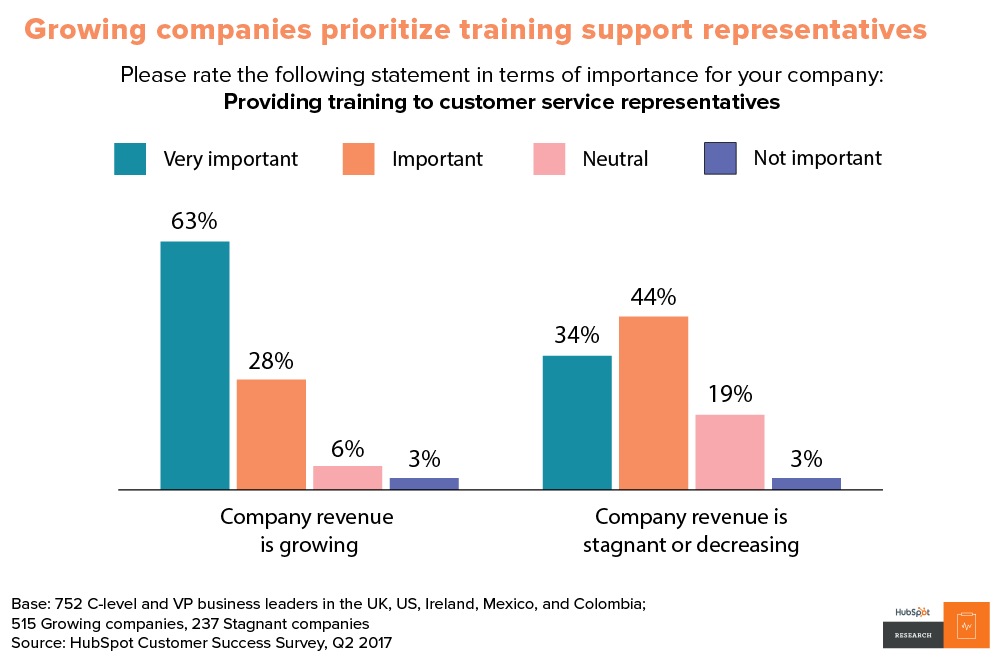 Additionally, if you decide to use HubSpot website design along with a HubSpot partner, you'll have access to white-glove support that is custom-tailored to you and your business needs. HubSpot partners, like 310 Creative, a HubSpot Diamond partner can help you save money on implementing HubSpot, as well as increase your ROI by helping you scale your business!
How to Use HubSpot Website Design
If you're ready to build your new website in HubSpot, you're probably ready to learn how to actually use HubSpot website design.
You have two choices. You can either build your HubSpot website design by yourself, taking advantage of the easy drag-and-drop editor and ready-to-use templates, or you could hire a developer. You may benefit from a full-service inbound marketing agency that has a developer on staff. Doing this means that you can not only get your website designed, but you can also get everything you need to implement HubSpot, use it effectively, and nail your inbound marketing strategy for more qualified leads, higher sales, and skyrocketed revenue.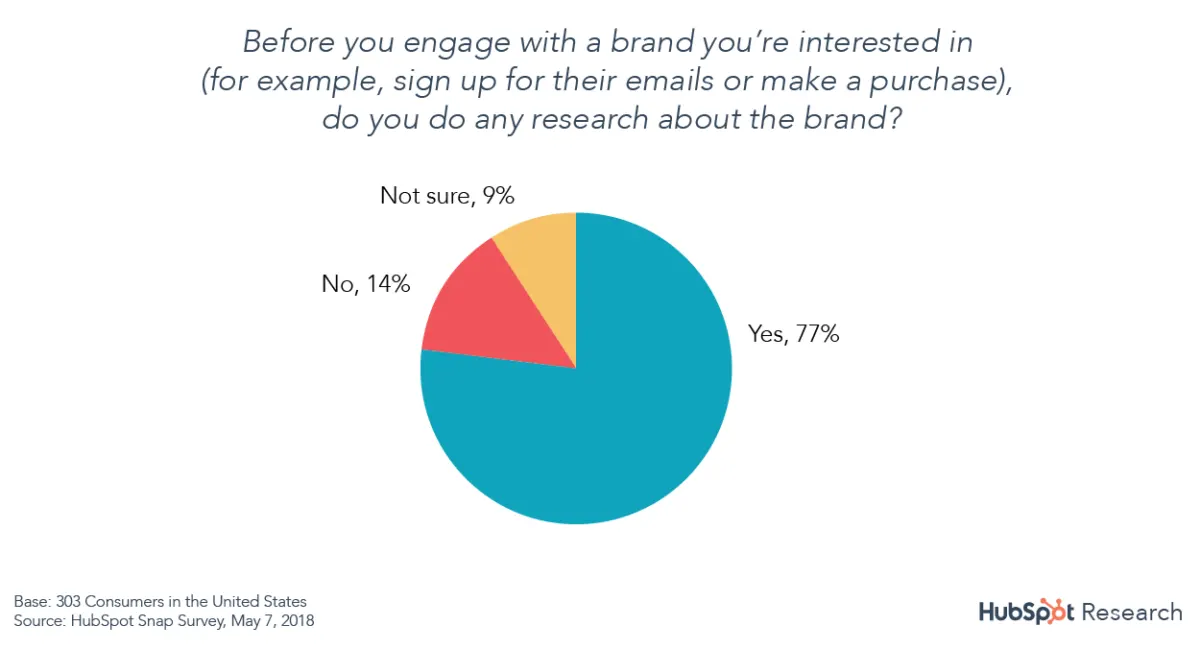 If you design your own site using HubSpot website design, you will need to actually understand how to use the Design Manager and how to get started.
Understanding HubSpot's Design Manager
HubSpot's Design Manager gives you everything that you need to build an intuitive, optimized, and modern website. It's flexible, easy to use, and powerful. You can use this tool right out of the gate, even without any experience in web design. This makes it the perfect tool for business owners or marketers who have to do their own designs.
HubSpot's Design Manager includes all of the tools you need to build a fantastic and modern website. It's powerful, flexible, and most importantly, easy to use. Even those without experience building a website can use the tool to create a website... and for those more experienced, it comes with a host of different functions to support more customized design.
Included within HubSpot's Design Manager are the following tools:
Finder
The finder in HubSpot website design allows you to manage all of your templates, folders, modules, and files. It's like Google for your website documents. This helps you stay organized, find things faster, and easily update content when you need to.
You can also create new folders or files, take action on documents, and rename, delete, clone, or modify the assets. You can also show the revision history of a given piece of content or asset.
File Manager
The file manager in HubSpot website design stores every asset that you use in order to create content. You can upload different types of content and attributes. These include images, audio files, fonts, PDFs, docs, and more- all without leaving the HubSpot portal. This makes uploading a breeze so you can spend less time designing your website and more time on high-level tasks in running and scaling your business.
Layout Editor
HubSpot's layout editor features a drag-and-drop interface, which allows for the addition of new modules anywhere on any page. Modules can be modified with ease using HubSpot's inspector right-hand side tool or by clicking directly onto them from within your browser window—no need to leave wherever you are! All templates are also fully responsive so that they adjust automatically depending upon what device is being used when viewing it--perfect if trying out different devices throughout work time.
Inspect Tool
The inspector tool gives you the capability to edit and add components of a given module or template. These are dependent on the task that you're performing. When you're editing a component, all features and options will be shown. This tool allows you to easily see everything you're doing, eliminating the need for complicated processes when making changes.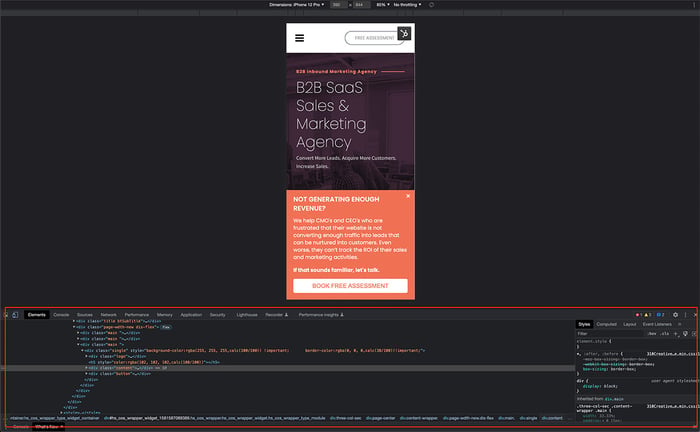 B2B web development company IceWarp's Google Chrome extension Inspect and Edit HTML Live is a great tool for analyzing code. The best part about it is that it is completely free and easy to use. You can use it to view the HTML source code of any web page, and make live changes to the code.
This is a great way to test out different code snippets, and see how they affect the appearance of a web page. In addition, the Inspect and Edit HTML Live extension also allows you to view the CSS stylesheet of a web page, and make live changes to it.
This is a great way to experiment with different CSS properties, and see how they affect the look of a web page. The Inspect and Edit HTML Live extension is a valuable tool for any B2B web development company.
Code Editor
HubSpot's code editor is a great way to see your changes in real time as you make them! The integrated development environment (IDE) allows for coding, styling, and HTML templating. The best part is that you can all do this within the HubSpot website design platform. This saves both time and energy when developing websites or apps from scratch with HubSpot CRM.
Creating Your Web Pages in HubSpot
Creating a page with HubSpot website design is literally as easy as 1-2-3.
You can easily create a page, and you'll be able to see the page in real time with the intuitive HubSpot editor, which provides a visual creation experience.
To make a new web page in HubSpot, from your HubSpot account dashboard, click on Marketing then Website, and click on Website Pages or Landing Pages.
You'll click on the type of page you want- a regular webpage or a landing page, and then select the template.
You'll name the page, and then hit "Create Page."
Editing Your Web Page
Editing your webpage is also incredibly easy with HubSpot website design. You will just use the page editor, which allows you to easily add and optimize your content.
When you want to edit specific elements, you will just hover over the module and click the pencil icon. This allows you to easily make changes- no coding necessary!
Another way to edit is to click on the module icon on the left side of the page. This will open up a list of all of the modules on the chosen template. You can then edit it in the sidebar.
Choosing which way to edit your website page depends on personal preference. Both are super easy, intuitive, and powerful.
Modules can be styled with an elegant design using the default style sheets applied to your page, but you may also want to apply some of your own customizations. Just hover over any module on this site and select "Paintbrush" from within edit mode - it's as easy! You'll find all relevant information about how-to styling at the top right corner under the Settings tab where there are options for adding pages' titles or descriptions.
You can also edit using advanced options to further customize your webpage. Working with a full-service HubSpot web design agency is a great way to have access to everything you need to build your web presence, create more leads, close more sales, and have a beautiful website while doing it!
On-Page SEO Optimization
Built into the HubSpot CMS is the SEO optimizer tool. The SEO optimizer tool allows you to attach web pages to specific topic clusters and provides recommendations to improve your web page content.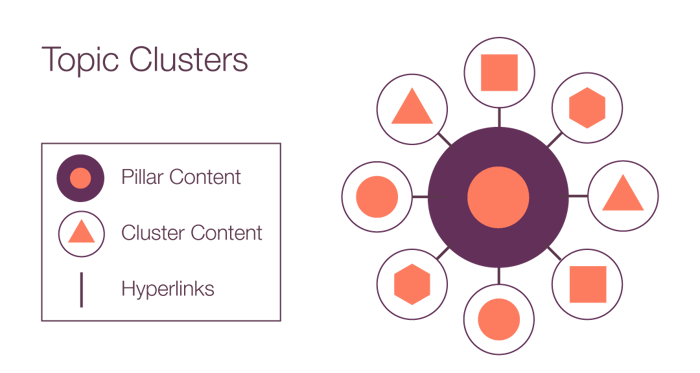 You'll want to focus on:
On-Page SEO
Off-Page SEO
Link Building
Social Media Optimization
Webmaster Tools
When it comes to HubSpot website design, there are a few key things you need to keep in mind in order to make sure your site is optimized for search engines. Firstly, you need to focus on on-page SEO. This includes things like making sure your titles and meta descriptions are optimized, as well as ensuring that your content is relevant and keyword-rich. Secondly, you need to focus on off-page SEO. This includes things like link building and social media optimization. Finally, you need to make sure you're using webmaster tools like Google Search Console and Bing Webmaster Tools. By following these tips, you can be sure that your HubSpot website design is optimized for search engines and will stand out from the competition.
SEO optimization is a complicated process. HubSpot does make it a lot easier, but if you truly want to shine, consider a HubSpot inbound marketing agency. You'll have an entire team of professionals, including experts in SEO.
HubSpot Web Design Takeaways
HubSpot is more than just a Content Management System. Not only does it have its own CRM, but it also combines your marketing and sales activity so that you don't have to deal with more than one tool. HubSpot, as an all-in-one platform, streamlines your processes, saves you time, and makes it clear where all your leads are in the purchase funnel.
With HubSpot B2B Website Design, you'll get:
A powerful and versatile platform to create your website.
A user-friendly interface with a wide range of customization options.
Seamless integration with all of the other HubSpot marketing tools.
The latest features and trends to keep your website up-to-date.
HubSpot website design is easy enough that you can design all of your pages yourself. However, if you want more customization, or view your website as just one part of your inbound marketing strategy, you should consider hiring a consultant or agency who can help you. 310 Creative is an award-winning HubSpot web design agency that specializes in website design, development, and inbound marketing. We will work with you to create a website that meets your specific needs and goals. Contact us today to learn more about what we can do for you.