Inbound marketing is the new philosophy for connecting brands with ideal-fit customers, and it's totally changing how business align their sales process to modern buying processes. This is thanks to the fact that now buyers have the power. It's because the Internet allow users to research and reflect on their purchases. We all do this, or we have done it. For example, when you go to buy something, what's the first thing you do? Call a seller asking to buy? Or search online and do research?
You probably do the latter. With this in mind, the benefits of inbound marketing hubspot offers companies aims to give useful information to your users and potential customers, enabling them to make decisions.

Why Is Inbound Marketing Good for Your Business?
Inbound marketing is a methodology that already has several years of giving results to businesses that bet on it. Here we present a series of arguments and statistics that show the effectiveness of executing the techniques and strategy of this methodology.
Top 8 Benefits of Inbound Marketing
1. Simplify Sales and Marketing Work
With inbound marketing, your sales team and marketing team join forces to create powerful content. Sales personnel are the key source of information about what customers need in the different stages of the buyer's journey. From there, your marketing team can create highly segmented content that educates people, answers their questions, and solves their problems.
68% of consumers spend time reading content from brands in which they are interested. (HubSpot)
Working together, sales and marketing can use the content to attract visitors, increase conversions, nurture their leads, sell, and retain existing customers. Leveraging a customer relationship management allows your marketing and sales team ensure the appropriate visibility of customer interactions and further augments your companies inbound marketing benefits.
2. Increase Brand Visibility and Awareness
The digital environment has made it possible for even the smallest brands to achieve recognition. Through the production of content aligned to the buyer's journey, people will be able to find your information while carrying out their research. If you aren't present, they'll never find you.
In addition to this, if that audience likes what you write, it'll share your content on social networks, thus increasing your visibility and solidifying your reputation and value proposition as a credible resource. Eighty percent of those who make business decisions prefer to obtain information from a company in articles, instead of advertisements.
3. Omnichannel Audience Targeting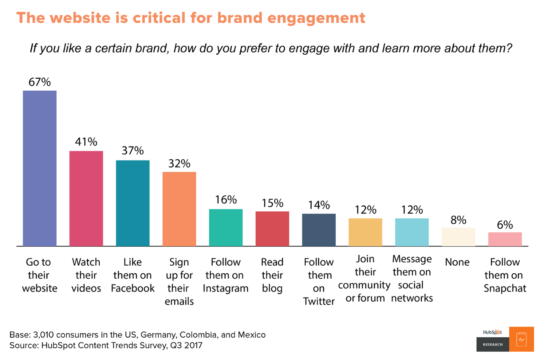 Before making a purchase, today's consumer investigates the largest amount of information that'll help him or her make a good decision. In fact, according to statistics, most B2B buyers are between 57 percent and 70% involved in purchase inquiries before making the first contact with the seller.
This means that with a little research and a clearly defined buyer's persona, you can understand where your target audience is looking for information. In this way, you'll be able to distribute your content strategically in order to be seen by them.
People invest more than 50% of their time online in content and another 30% in social networks where content is shared.
4. Increase Confidence and Credibility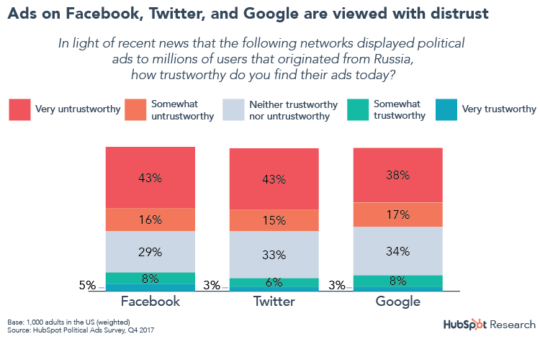 Many people flee from outbound marketing because they don't want their busy day to be interrupted by a cold call or an email. Instead, they want to consume content at the time they decide.
Eighty-six percent of people skip advertising on television, 44% never read commercial letters, and 91% have unsubscribed from being emailed.
Always remember that top inbound marketing strategies focus on efforts that are persona-driven, so it's best that you reach your target audience in a less intrusive but more effective way. Thus, you gain their trust, and you'll be top of mind when they're ready to make a purchase.
60% of consumers improve their opinion of a company after reading personalized content on their website.
5. Generate Quality Traffic and Leads
Companies with active blogs generate 67 percent more leads. Inbound marketing helps you generate relationships that lead to the sale. When you produce content focused on the needs and problems of your target audience, you're attracting quality traffic to your website.
The leads generated by organic searches have a closing rate of 14.6%, while the leads generated by outbound marketing have a 1.7 % closing rate.
The more quality content you produce, the more visits you'll receive, but you should be waiting for those visits with the proper preparation (CTAs, landing pages, forms, etc.) to guide them toward conversion. From there, you must continue to implement the different tactics of the inbound methodology, until they become your clients and promoters. Inbound practices produce 54%more leads than outbound practices.
6. It's More Profitable
Lead-to-lead inbound marketing costs 62% less than outbound marketing and, at the same time, is more effective, because instead of blindly shooting what you offer in the places where your target audience is, through the extraordinary content, that audience comes to you, and you learn from it, which helps you know more about your potential customers and thus serve them better.
Inbound marketing is about focusing efforts on attracting people who're looking for something that you offer, because spending marketing resources on people who don't want or don't need your products is useless and absurd.
7. Improve Your Relationship With Customers
Inbound marketing is basically about providing valuable content to your target audience, seeking to know them better in order to provide them with even more value, through careful monitoring that helps you solve your problems and answer your questions. The more value you bring to your customers, the closer your relationship grows.
90% of consumers believe that personalized content is useful, and 78% believe that a company that cares about providing such content is interested in building a good relationship with them.
8. ROI and Visible Metrics
A transparent and measurable marketing campaigns allows your company to see the areas to be improved in its marketing plan, in order to further boost cost-effectiveness and customer relations.
It's hard to justify the money spent on a marketing plan that you can't even tell is working, which also doesn't tell you if you should continue spending funds or if you should completely interrupt that plan. In contrast, inbound marketing allows you to see the precise effect of your marketing actions, step by step.
Takeaways
Do you like cold calls from anxious sellers? Emails with irrelevant offers in your inbox? What about pop-ups when you try to read an article on the Internet? You have to accept it! The world has changed radically; people no longer live, work, and buy as they did a couple of decades ago. The reality is that there's a mismatch between what a lot of marketing companies do and what the consumer really wants.
Now, would you like to attract more visits to your website, more qualified prospects for your sales team, and more customers to grow your business? Of course! HubSpot inbound marketing agencies are the best way to turn strangers into clients and promoters of your brand! Inbound marketing is based on four actions: attract, convert, close, and delight visitors to your website, through a variety of channels such as social networks, blogs, search engine optimization, landing pages, forms, and emails.