Choosing the wrong B2B marketing agency can result in a marketing nightmare. Read actionable tips on what to look for when trying to decide the right B2B marketing agency to partner with for all of your inbound needs and learn What is a B2B marketing agency? in detail.
Most B2B buyers are already 57% through the buyers journey before talking with any sales team member. (Accenture)
This article is a must-read for any B2B company looking to hire a B2B marketing agency. Below you'll learn many actionable tips and insights so you can avoid the costly mistake of partnering the wrong B2B marketing companies.
More importantly, this article will help you refine your strategic approach towards finding the most appropriate B2B marketing agency best suited to help your B2B company grow your leads, sales, and revenue faster.
What is a B2B marketing agency?
A B2B marketing agency only works with companies that sell services or products to other companies.
The secret weapon of B2B industry leaders is finding a local B2B marketing agency that can help with not only the strategic planning but also the tactical execution of an adequately planned B2B search marketing strategy.
Creating a strategy will require industry-specific expertise, while properly executing it will require the right tools and experience. That is hardly something you can do yourself, at least if you want to see a significant boost in traffic, leads and sales.
63% of marketers believe their biggest challenge is generating traffic and leads (HubSpot)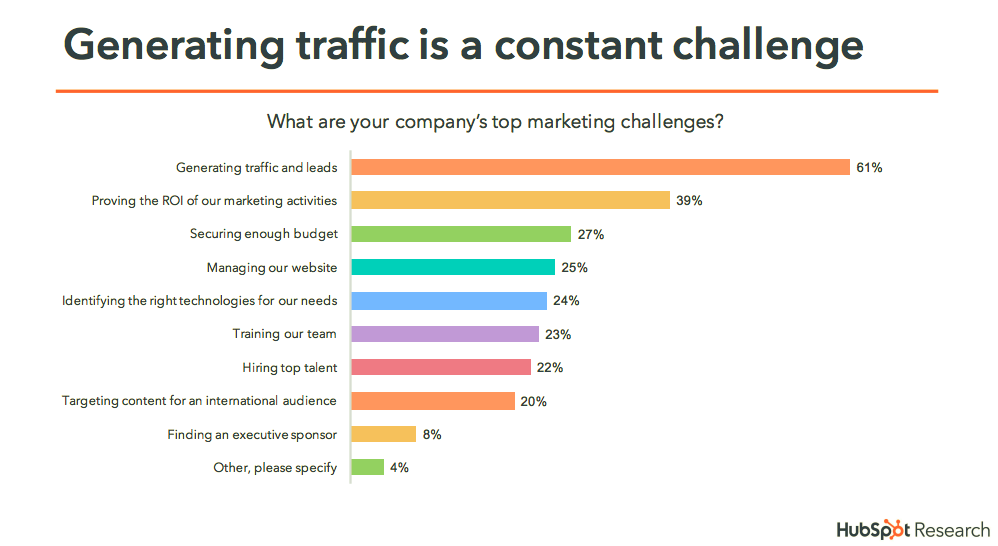 This is why more agile brands are focusing on keeping brand marketing and strategy in-house, while leaving outsourcing the tactical execution of lead generation, customer acquisition and client engagement to B2B marketing agencies who specialize in their particular niche industry.
That will ensure you spend your in-house resources only on the most essential and fragile parts of the brand marketing while leaving all the heavy lifting and grunt work to third-party agencies who have the right tools, personnel and expertise to execute these processes with best results. That is the most optimized method, leading to the best ROI.
Consequences of choosing the wrong agency
Hiring the wrong agency can wreak havoc not only on your marketing ROI, but it can also have significant negative consequences on your revenue growth. There are hundreds of local B2B service providers for any given service, such as accounting, legal, marketing, advertising, public relations, software, and SaaS platforms.
These B2B professional services are more commoditized because they do not directly contribute to revenue generation, which is why choosing the right B2B marketing agency is vital to your ability to meet your revenue growth goals in 2022.
The digital marketing agency you choose will stand between you and your customers. Because your business is B2B, it is of vital importance that you do things the right way, as you will have only one chance to make the first impression.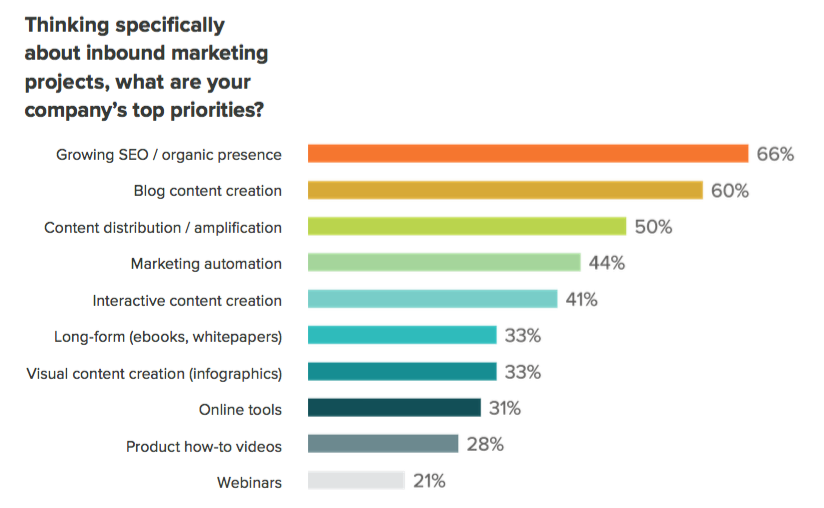 And let's face it, the B2B world is much less forgiving (but more lucrative) than B2C, especially if you operate locally. Make a wrong impression and you might damage your brand reputation, which can ruin things with your potential local business partners for good. That's why it is essential to leave B2B marketing to professionals, and also to make sure you make the right choice the first time.
However, because the digital world is booming, more and more agencies enter the marketing field almost every day. It is becoming increasingly difficult to separate the real ones from the fake, unless you know what deal breakers and deal-makers to look for right from the start.
That doesn't mean you should decide not to hire a B2B marketing company. What it means is you should double-check everything before you commit.
Staying Agile Is The Name Of The Game
The bigger conversation that B2B marketers are having relates to choosing a more agile inbound marketing approach. This approach works well, opposed to continuing to use the traditional outbound marketing paradigm that tends to be more intrusive.
Outbound methodology might still attract some customers and bring in sales, however it is missing a major aspect of the marketing landscape of today: delighting the customer. An outbound sales journey will be far from ideal and pleasant, which can influence customer satisfaction. This is where leveraging the right lead generation tools, at the right time can greatly improve your lead to conversion rates.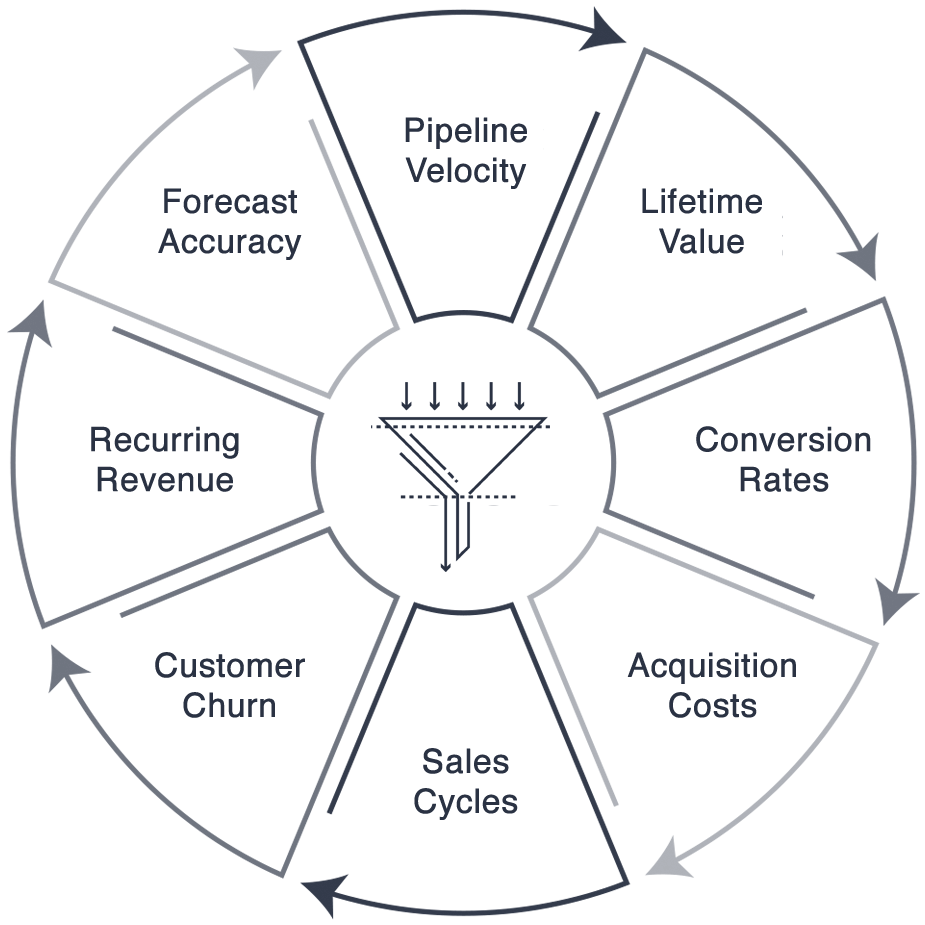 Many factors contribute to making the decision and choosing the right B2B marketing agency for your business needs. These include industry expertise, agency structure, size of the team, approach to client success, skill sets, and service offerings.
It used to be different. In the past, simpler or more aggressive marketing worked. But, the customers are smarter in this day and age, and they have seen it all. Now, instead of bold promises and magic one-line sales pitches, you need to offer real value and build brand trust. This takes time and patience, but if done right will result in increased sales, every single time.
While this might seem like it only works for B2C companies, a similar strategy works for B2B companies as well. Yes, you are selling to companies, but you will still encounter human to human interaction.
The owners and employees of your ideal business partners are the ones reading through your messages or site content. Sure, they want your services to benefit their company, but they will still use their best human judgment and life experience when deciding whether or not to hire you.
But, because they are business people, your marketing needs to be on a much higher level, simply because their company is probably doing marketing too, and they know all the tricks of the trade.
For this reason, staying agile is a key factor in developing your marketing campaign. Working with a B2B marketing agency that is "in-the-know" with industry standards, new trends on the rise, and of course, inbound marketing, can be incredibly helpful in accelerating the growth of your business.
Are funnels and flywheels the same?
The days of hiring a web dev shop, or a creative branding agency or even a top of the funnel SEO company are long gone. Given the shift in buying behavior we are now seeing in most B2B industries, the vital paradigm shift in sales operations is inevitable. This has led to marketing experts turning away from the old-school funnel towards a more customer-centric flywheel approach.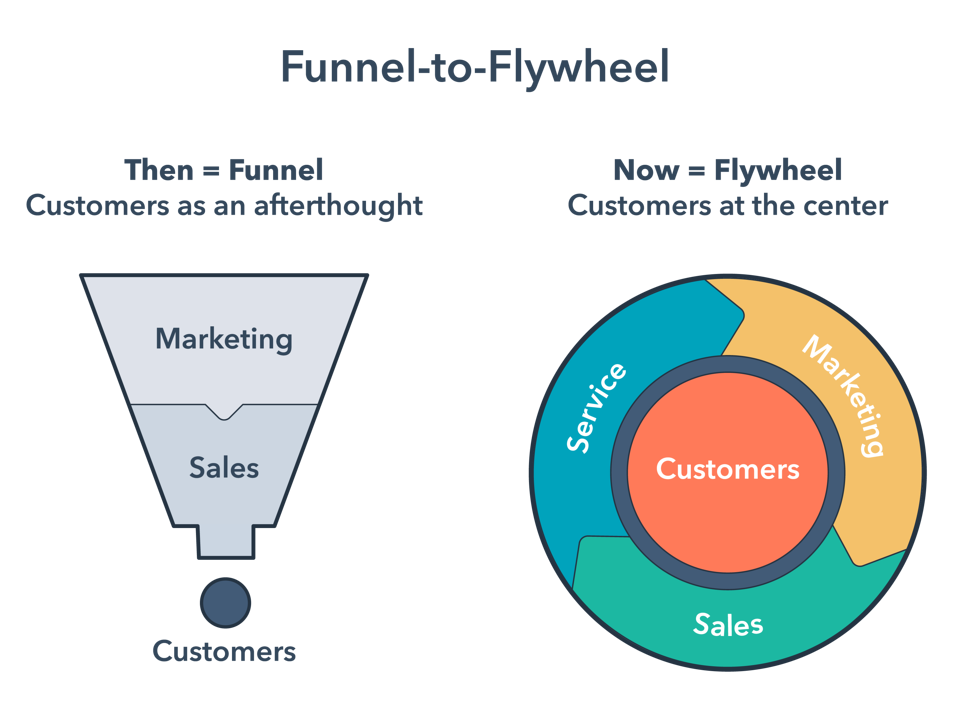 The marketing flywheel was given its name and introduced to the marketing world by HubSpot co-founder Brian Halligan in 2018. It has since pushed the marketing funnel out of the way and has marketing professionals thinking with a completely different mindset.

Using a flywheel empowers sales teams to focus on how we capture, store, and allocate energy, as quantified in website traffic and qualified leads, new customers, and retention of existing customers. How does it do that? It works in three phases: attract, engage, and delight.

Each of these three phases feed into the other to produce the most memorable and enjoyable customer experience and keep customers talking about your brand. These happy customers become active evangelists of your brand beyond their time of purchase.


A seasoned B2B marketing company will know how to properly implement the marketing flywheel and help you build momentum to spin it faster and faster. They will also understand the essential digital marketing channels involved.

The essential digital marketing channels integrated into successful marketing plans are inbound marketing, lead generation, marketing automation, growth-driven design, and B2B web design and development. All appropriate B2B marketing agency relationships are usually formed with the help of online portals that connect various business service providers with other businesses in need of those services, or through word-of-mouth referrals.
Focusing On B2B Marketing Industry Experts
B2B transactions typically produce higher profits than B2C operations. B2B marketing agency transactions usually center on high-volume exchanges of services or goods. For example, a company that manufactures boat engines could connect with another company that builds boats.

Most likely, the company that builds boats will order more engines than an individual consumer would. In this way, businesses connect with each other, and both parties benefit. Business-to-business marketing establishes long-term relationships between companies, making product promotion less difficult.

In reality, the best B2B marketing agencies simplify the full-funnel approach and implement the process of creating and optimizing your online acquisition funnel to measure the impact of your marketing efforts and marketing ROI. Some of the most profitable B2B relationships are formed between businesses and professional marketing agencies.
10 reasons to hire a local B2B marketing agency
Involving a B2B marketing agency can be the turning point that changes the future of your business. Veteran B2B marketing agencies can provide value and candid insights into gaps you may have in your lead generation, customer acquisition and client engagement efforts.

Furthermore, they can not only identify problems but also advise on an appropriate B2B marketing strategy for overcoming these obstacles and executing on those tactical components. However, it is crucial that you understand what kind of agency will be right for your company. Below we will discuss very valuable factors to consider when parterning a B2B marketing agency.
1. Right Agency Niche
The right agency will evaluate the particular industry trends and marketing efforts of your competitors. This is vital to ensure the agency's efforts in scaling your lead generation, customer acquisition, and client engagement arm your company with a competitive edge within your industry.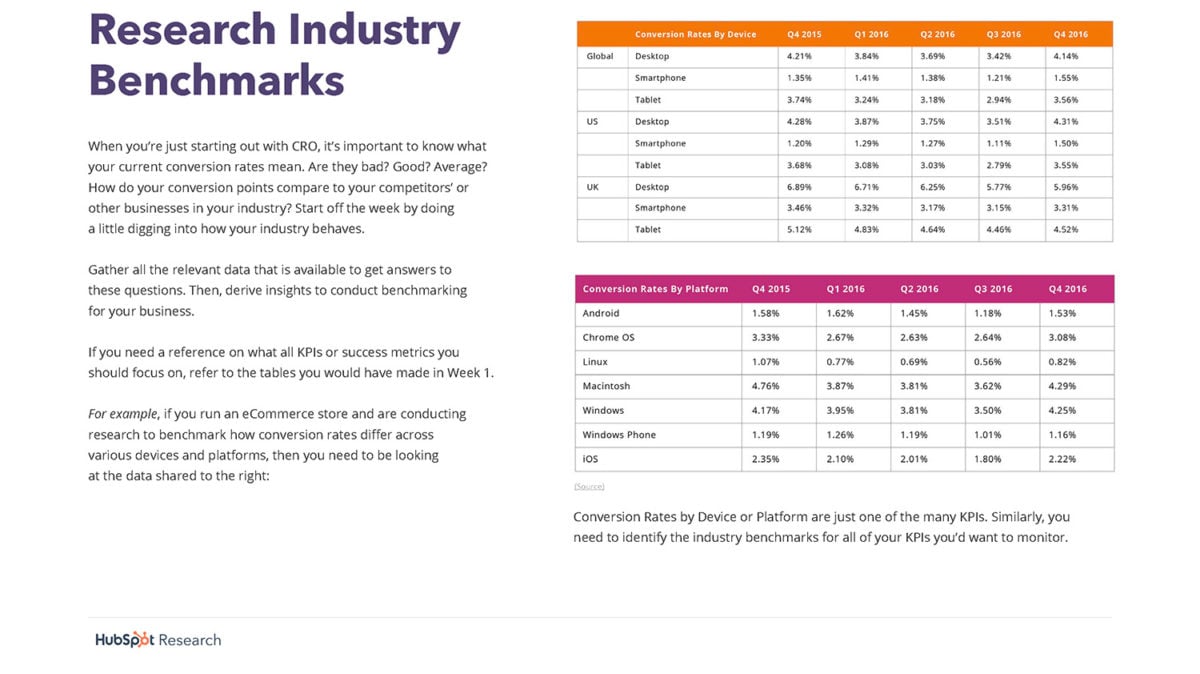 Ideally, the marketing agency is quick to brainstorm with your internal stakeholders within your sales and marketing operations to find areas that can be refined or automated. If they have the necessary experience within your industry, they will already have ideas you can immediately apply to your business, seeing results instantaneously.
As shown in the chart above, from a marketing ROI perspective, hire niche experts. As you can imagine, the worst thing your company can do is hire the master of none b2b agencies that offer all services to all industries.
If your company is an industrial manufacturer, then the wise move is to only work with a niche manufacturing marketing agency.
Likewise, if you are a HubSpot customer, then you should only hire a certified HubSpot partner agency.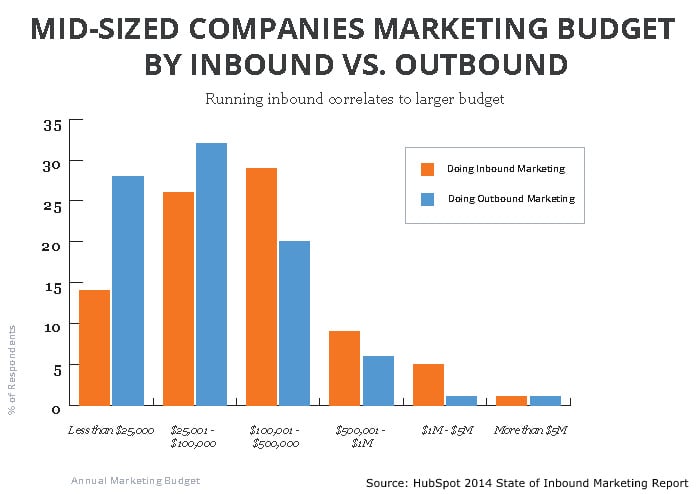 As shown in the chart above, from a marketing ROI perspective, hire niche experts.
Hiring a niche agency can jump-start your niche marketing program by partnering with pertinent experts in your company's particular industry. It will create a steady stream of qualified prospects for your sales team.
2. Quality Leads
It isn't enough to just reach out to people; you need to know they have a vested interest in what you offer. This is where partnering with one of the top B2B marketing agencies has a huge impact.
Knowing the difference between MQL vs SQL and when to hand off leads to your sales team is vital and another way the right agency can help. It's significant that a business to business marketing agency brings you not just leads, but qualified leads; these are people who are interested in what's being offered.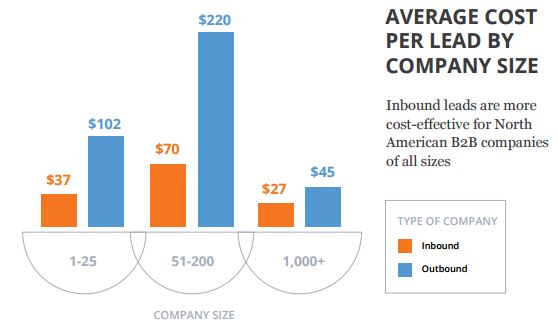 The only question that remains is who they will buy it from. That could be you or a competitor. What are you going to do that will encourage them to buy from you?
Thankfully, that can be handled through the appropriate B2B marketing Austin strategies and swift actions put in motion by your B2B product marketing agency. Your role is going to be to ensure your business is ready to handle the incoming orders and customer calls.
When the agency does its job right, it's going to be ongoing growth for you, not peaks and valleys. And because you will let pros do the marketing, you will have much more time and peace of mind to focus on what you do best.
3. Growth Potential
Your B2B marketing company or SaaS platform has the potential to double revenues through working with the appropriate SaaS marketing strategy that is ideal for your own company growth goals. The purchase process used by B2B companies has changed in the past few years.
Has your B2B marketing company adapted to the new ways that B2B companies choose SaaS platforms and B2B vendors? If not, then perhaps this is why your B2B marketing company or SaaS platform is not delivering double-digit revenue growth so far this year. This is where growth hacking strategies can provide actionable tips to discuss internally with stakeholders to see which aligns with your revenue growth objectives.
Perhaps you have an in-house team doing some email marketing automation, SEO, social media posts, and even some downloadable content offers. The bigger question is: Are they doing this for each stage of the buyer's journey? Are these efforts speaking to specific buyer's personas?
If you're not sure, it's time to rethink your approach with the goal of increasing your marketing ROI to more effectively move leads from top to bottom of your sales funnel into paying customers. The best way to do that is by hiring the right B2B marketing agency Austin for technology companies.
They monitor trends, making sure only the latest and the most effective tactics are included in your sales journey. That will lead to consistent growth, as the marketing system gets "updated" with new ideas on a regular basis. That is something you can't expect from your in-house marketing team, or from freelancers you hire as needed.
4. Brand Messaging
You may think your business is doing well, but it could be doing even better. The lead-generation efforts of an experienced local inbound marketing agency can make all the difference between losing money and experiencing your company achieve profitable customer activations.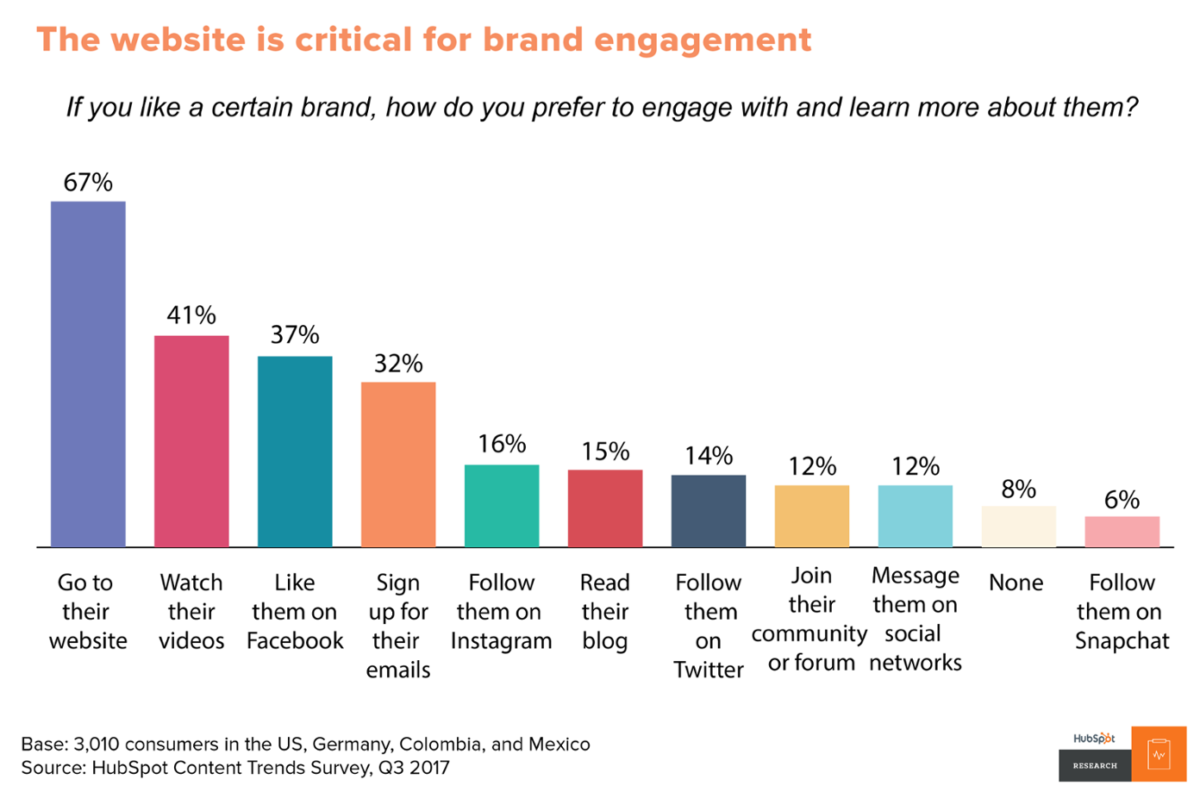 This is where the right B2B search marketing agency can transform your sales and marketing operations from a local or regional player within your particular industry into an industry leader on a national level by creating a predictable and repeatable process for your sales team to execute on.
By creating a brand voice, and sending the brand message through every part of the sales process, you will make your company "a name" in the industry. Most companies stop thinking about their brand values and the message they send as soon as they finish the "About Us" page on their website, and pay a freelance designer do draw them a logo.
That is a huge mistake, as your brand messaging is the critical factor in making future customers relate to you. Without it, you are just another greedy company standing in line to get their money.
Yes, if you have good products and services, they will sell, but backing them up with a strong brand message will boost conversions and customer retention. You will turn customers into fans willing to promote your services to their friends and close ones. All that because they have a brand they can trust.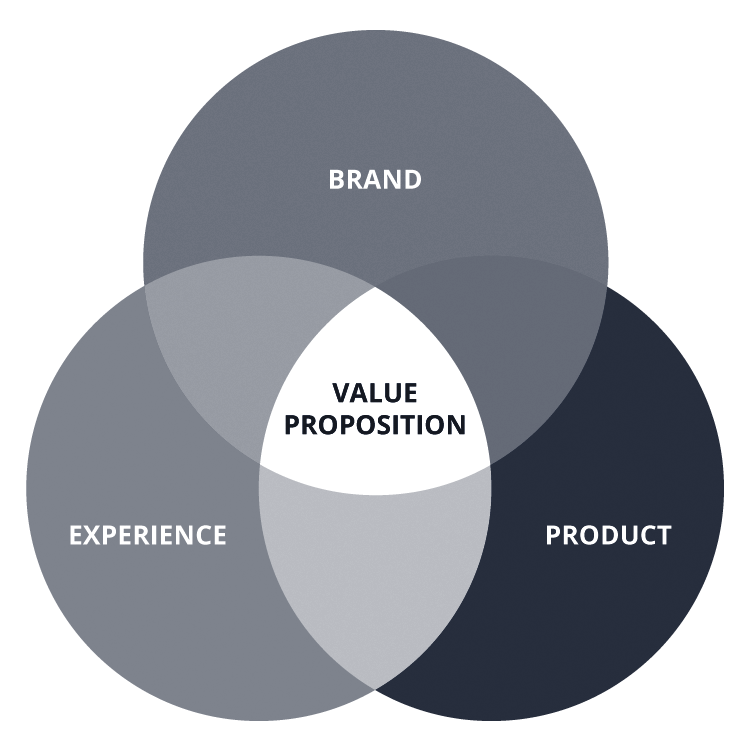 If you want businesses to be talking about how your company or SaaS platform improves their overarching ROI or increases operational efficiencies, then implementing inbound marketing into your B2B marketing firm strategies will increase qualified lead conversions and reduce the length of your sales cycle.
Not only does this sales funnel optimization continually keep your sales funnel full, but it also passes qualified leads to your sales team later in the sales cycle to improve the efficiency of your sales team members.
5. Lead Generation Expertise
Any reputable B2B marketing agency strives to help your company gain market share, to keep prospects engaged, and ultimately to help achieve revenue growth. It doesn't just offer your company generalized B2B and SaaS marketing strategies to attract new customers. Instead, it branches out and diversifies.
In digital marketing, traffic alone doesn't mean a lot. Sure, if you increase the number of eyes on your site, it will probably lead to a slight sales spike. But, it is a much better idea to focus on generating quality leads that are much more likely to end up as customers than it is to focus solely on seeing growth in your traffic graph.
While most agencies are capable of growing traffic, generating quality leads is a much more sophisticated process, and it takes experience. That's because increasing traffic is more focused on search engine algorithms, while lead generation is more about real humans and gently manipulating their behavior. Lead generation, nurturing and conversion is what separates good agencies from the best ones.
The problem is that this is hard to judge in advance. Your best approach is to hire an agency that has proven experience within your niche, backed up by case studies and testimonials. That won't mean you will get exactly the same results, there are no guarantees in marketing. But it will be a good sign that they know what they are doing.
6. Time Allocation
B2B marketing is not as easy as it looks. There are many different creative elements that go into a winning strategy, including copywriting, graphic design, and computer programming. It's challenging to be good at any one of these creative disciplines and nearly impossible to be a master of all of them.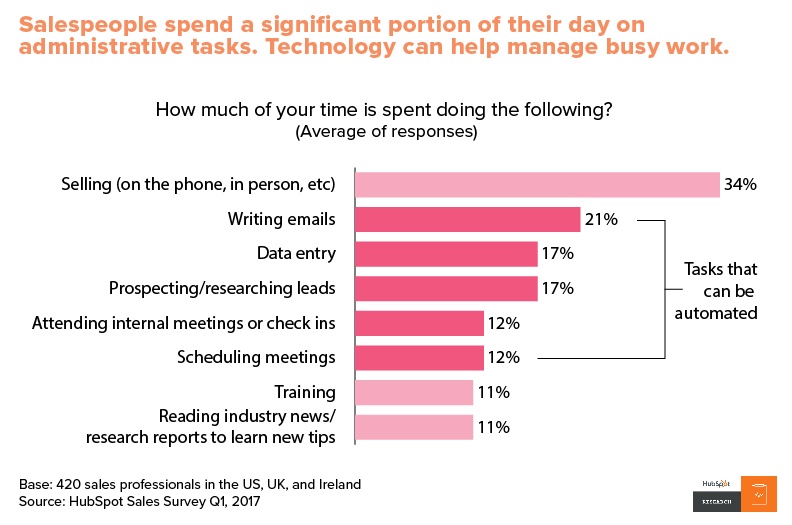 Plus, the needs change, and sometimes your in-house copywriters have more work than they can handle, while other times they sit around bored, doing nothing useful. That's why it is a much better idea to leave everything to third-party professionals.
SaaS marketing agencies, in particular, are stacked with B2B lead-generation professionals who specialize in not just lead generation, but more importantly, customer acquisition and client engagement.
Regardless of the lifecycle, you need experts in your particular industry that ha experience producing quality content offers for each stage of your buyer's journey. This is vital to help your B2B sales team increase lead conversion rates, reduce sales cycles, reduce customer acquisition costs and increase customer lifetime value.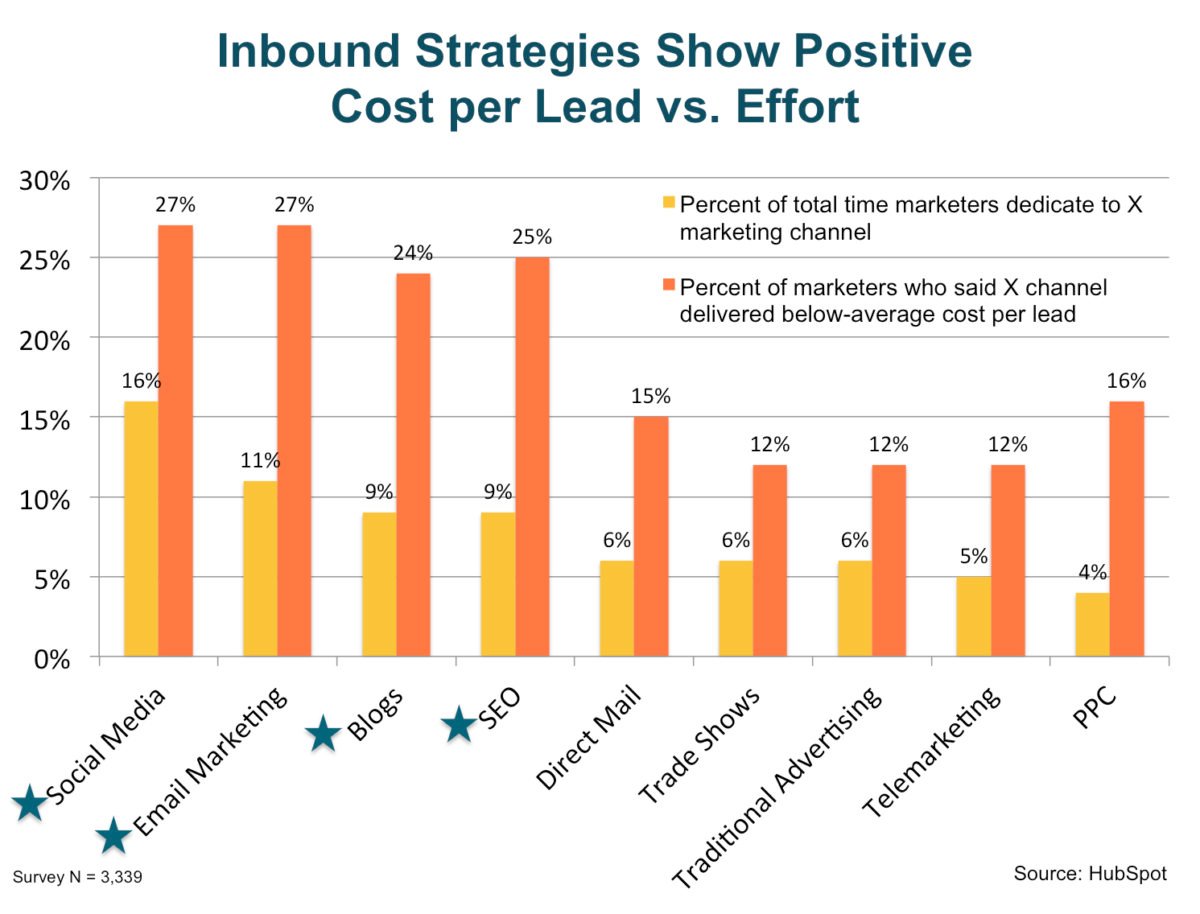 Although this might be the first big marketing campaign for you, it is a different story for the agency. They already either have an in-house team of experts that will help with each task, or they know exactly which the third party to call and hire.
You can expect the whole B2B marketing campaign to be made and executed in much less time than it would take you, and with superior results. When you account for the time costs, you will soon realize how hiring the best B2B marketing firm is a very cost-effective solution. Ultimately, leveraging the best b2b agencies gives you a team of resources for less than the cost of one single employee.
7. Agency Internal Transparency
Not all agencies are equal. Some are remote agencies, and others have huge offices. Some pitch themselves as masters of all things B2B digital marketing, while others focus on specific verticals or approaches, such as inbound marketing.
With the right local B2B marketing agency working hard for your B2B company, you still get complete access to all of your data and insights—with total transparency and with no hidden fees. Daily access to closed-loop reporting helps you dive into the effectiveness of day-to-day strategy and implementation.
The chart below provides an objective bird's-eye view into measuring the ROI of content marketing tactics and execution approach to more effectively deploy persona-driven marketing content offers that fuel profitable lead conversions.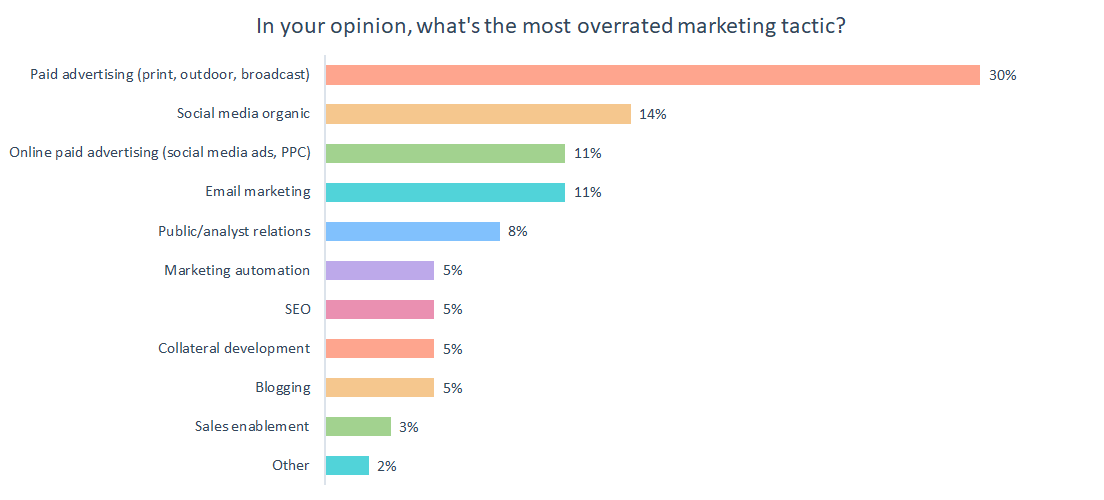 No matter how sophisticated the tools and tactics are, and how complicated marketing terms we use, it all comes to human-to-human interactions and building trust through impactful digital experiences.
What typically happens is that your company hires the best B2B content marketing agency, but the actual communication is with account managers, not the actual specialist doing the actual work. That's why it is essential to keep everything transparent. You want to be able to relax and trust that the agency you hired will do a good job.
So, before you hire, make sure you have a face-to-face conversation, or at least a video call. Seeing how the person interacts will not only tell you how much they know about B2B marketing but how decent, polite, and professional they are. Use your best judgment, and don't just fall on claims and case studies you see on their site, nothing can fake a human interaction and decency.
8. Agency Resources
Any reputable B2B marketing agency for technology companies has lots of tools, chief among them sophisticated computer programs and apps. It wouldn't be financially feasible for a small business to invest in the tools required to develop a profitable B2B inbound marketing strategy that aligns your sales and marketing teams.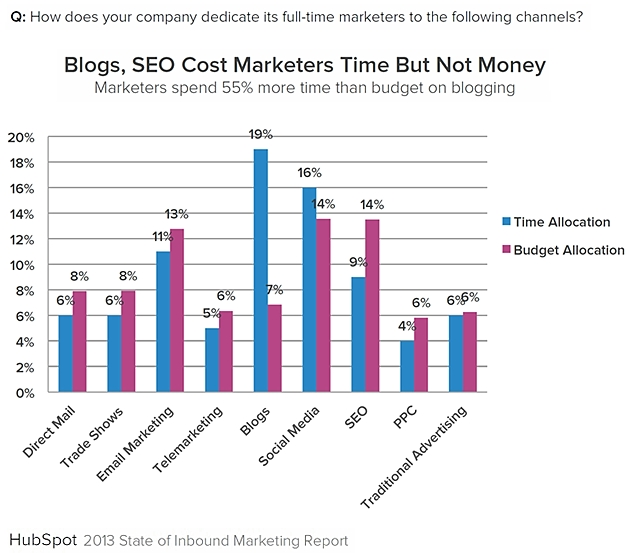 But, even big businesses who can afford the tools should think twice about doing so. If you want to fully utilize the sophisticated programs, you need to have experts that will work on them non-stop. That means you need to invest time not only in training people but also in implementing all that into your system.
Plus, new and better tools to help marketers launch all the time, and it is very hard to separate the right ones from wrong. You would waste too much time looking for the right people and the right tools, and all that without guaranteed results. That is why it is much easier to hire third-party B2B marketing experts to do this for you on per-need, contract basis than to have dedicated people on your payroll.
While tools won't do the job themselves, not having them may leave you vulnerable to competitors that have made the marketing investment in the strategy. Make sure that your due diligence results in selecting the appropriate best B2B marketing agencies with experience in your company's unique industry.
9. Agency Experience
Agency professionals have been through the marketing battles before to attract and convert local B2B customers, working with companies just like yours. The larger and more established and reputable B2B marketing agencies know what works and, most important, what doesn't, saving your company precious resources.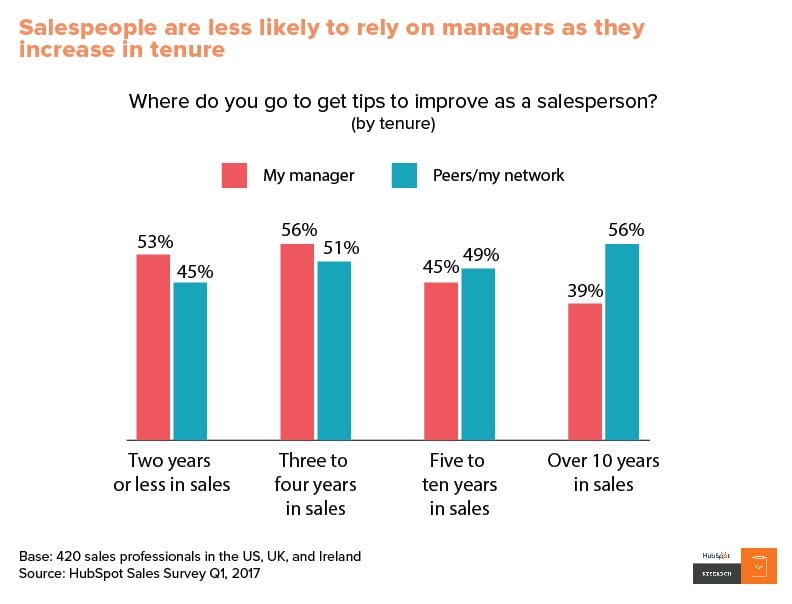 These B2B marketing professionals will have the foresight and wisdom needed to effectively plan and execute sales enablement strategies for improving customer journey mapping and optimizing buyer personas. Those are paramount before a single line of code is written, or prior to Photoshop being opened for UI/UX mock-up. You need first to know who the website sales messaging is trying to attract in order to create content that speaks to their particular pain points.
37% of companies have a documented content marketing strategy (Content Marketing Institute).
While the top b2b digital marketing agencies think increased traffic is the only answer to their stagnant sales pipeline. In reality, the problem is how mapping out how to convert more website visitors into marketing qualified leads, not just how to attract more visitors. Focusing on getting better leads will keep your company's sales funnel full of quality prospects that align with your targeted ideal buyers.
10. Agency Fees & Expenses
An Economical Solution
Website design agencies and creative/branding agencies are more project-oriented, so they are more likely to provide flat-rate pricing for one-time projects. In most cases, partnering with a local digital marketing agency will save money and maximize your marketing ROI. Inbound marketing agencies offer sales, marketing, and website services, which operate on performance-driven retainers.
Agencies are like a "plug and play" solution as you only need to explain the goal and agree on the terms, and the rest is their worry. You don't have to worry about hiring people, creating and analyzing the process, B2B marketing agencies already have the personnel and an established system in place. Not only that it saves you money, but also an enormous amount of time which you can invest in making your services/products better, growing your business the right way.
In-house Marketing Is Rarely The Best Option
The conversation should always circle around the costs in terms of time and money. This can really start to add up if your company seeks to plan and execute an impactful inbound marketing campaign or account-based marketing campaign in-house. You would have to pay salaries for a strategist, marketer, designer, developer, copywriter which could easily cost $30k per month.
Unless your website and marketing efforts are attracting and converting more than $30k per month, that becomes a non-starter. Other B2B companies choose HubSpot consulting platforms where you pay a flat rate for unlimited tasks relating to tactical execution of marketing components such as a landing page, email marketing strategy, lead scoring, or workflow. This may sound appealing but unfortunately can leave you with the slow turn around times.
Sales-oriented
B2B marketing agencies are highly skilled in the various tactics used to increase lead conversions and optimize your sales funnel so that your sales reps can effectively refine their sales pipeline management to close more deals, in a predictable pattern over time.
Veteran B2B marketing agencies that have been around for a while understand the process of conducting market research within a certain niche, and they can help businesses develop products based on this research.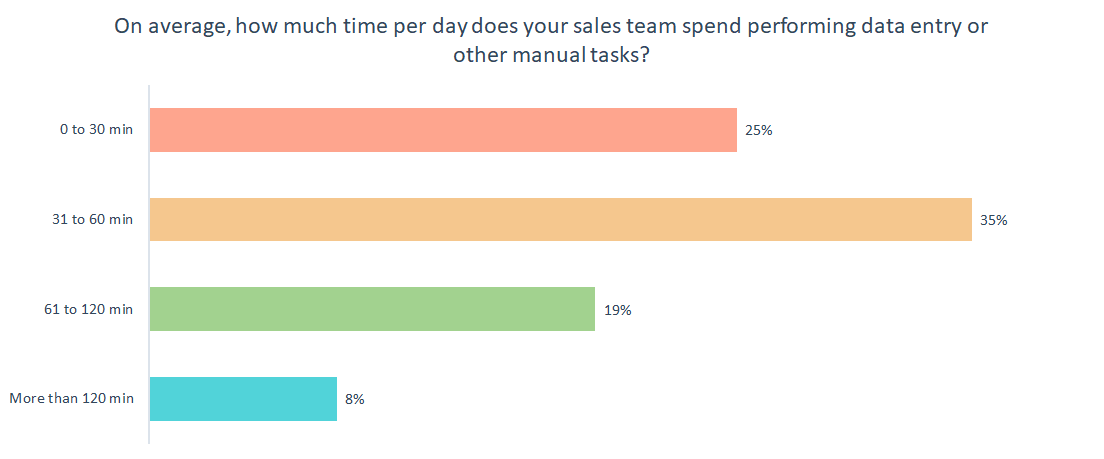 By having B2B marketing experts that have experience within your niche you ensure you get the most for your marketing investment. You will pay the expert to do the job, and you only care about the results. This is completely opposite to having employees in-house that work on salaries.
Yes, if you implement the system right, in-house marketing will produce better results. But, more often than not, it results in losses or thin profits, or in other words—wasted money. That's why it is a much better idea to hire third-party experts, especially if your business is still growing and you don't need in-house marketing personnel.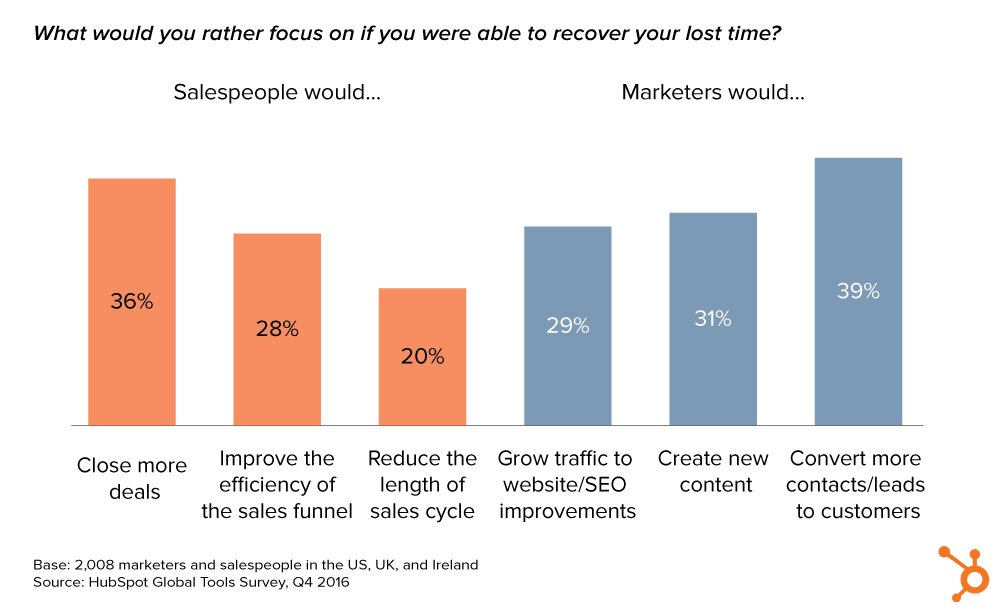 fff
---
8 Secrets to Choosing a B2B Marketing Agency
Now that we've discussed the benefits of hiring a veteran B2B marketing agency, you may feel ready – and a little bit excited – to get out there and start your search for the agency that is going to help you skyrocket your sales. But first, let's discuss the secrets to choosing the best B2B marketing agency for your business!
1. Do Your Homework
The first thing to know is that there are many false experts in the B2B digital marketing world who try to sell "the miracle solution" to their customer, then turn around and deliver mediocre results while continuously asking for more and more money. They'll claim that it takes a lot of time and money to see significant improvement in your online presence.
Be very cautious when it comes to cheaply priced agencies. Extremely low prices generally mean low-quality services. Remember the old saying "You pay for what you get." If you are looking for a few freelancers to wear many hats in a high-growth marketing department, then your company is going to end up with "masters of none", instead of niche specialist that are rock stars at one particular skillset.

Look for agencies with a quality website, the website of a B2B digital marketing agency is the showroom of the agency. If the website of an agency is not of quality, they most likely won't deliver top quality when building your website.

Investigate what type of content your agency generates on your website or social networks, a digital marketing agency that does not offer relevant content consistently and of great quality will surely have the same flaws with your brand.
2. Service Level Agreement
It is important that up-front both sides understand the goals and expectations of the relationship with clarity. If the plan and terms of your agreement are unclear, the outcome and process is likely not going to be as smooth or successful as it can be.
The best way to gain clarity and ensure that your team and the B2B marketing agency you hire are on the same page is to establish a service level agreement (SLA). Within an SLA, you can include your goals, timeframe and an outline of the services the agency will provide. This way there will be no confusion on what needs to be done.

You have to be able to work as a team WITH the marketing agency. A B2B marketing agency should be viewed as an extension of your team. If there is any misunderstanding or unpleasant situation, it's important to work together to try to solve it in an effective way.
3. Understand the Costs
Try not to get ripped off…this might sound obvious, but it's important to keep in mind. You need to analyze their proposed rates with price calculators based on the working hours that are expected.

Of course, no company likes to throw away money, so understanding goals and expected ROI (return on investment) can help build that two-sided clarity. If you expected to generate growth of $250,000 in profits in a year—you need to understand that you're not going to spend only $5,000 to achieve that goal.

But if your goal is to grow your audience, digital presence, and put together a strong inbound marketing strategy—then your workload for the agency will be lighter and easier to track your KPIs (key performance indicators). KPIs are important because it's the common denominator of any relationship—if you want more profits then your followers on Twitter isn't your KPI. Moreover, if you want more customers, then you want to track how many leads come through your website and fill out a lead form.
4. Proximity
First of all, you have to establish guidelines to take this relationship down the right path. Having a good working relationship and knowing each other perfectly is what will keep both sides happy and allow everyone to perform their tasks as comfortably and accurately as possible.

Success for both parties is based mainly on collaborating with each other, even if you have different interests, both of these teams should work together. For both the B2B marketing company and the company that hires it, it is essential that there is a strong working relationship and closeness.

This isn't simply about being down the street or just a quick drive away from grabbing coffee. With modern communication and management tools, it's likely that most of your meetings will be held remotely. But keep in mind that being in the same time zone makes a huge difference! Proximity means that your agency is easily there to support when you need them.
5. Ask For References
You do not have to do this selection process alone. Do not hesitate to ask acquaintances or other companies with whom you have contact for their recommendations. Referrals speak louder than any sales pitch.

This research can provide you with guidance you can trust when choosing the best B2B digital agency and help you to weed out the agencies that are not the best options. Many agencies have their clients' portfolio available to the public, which makes it easy for you to be able to contact them to ask about their experience. Reaching out to other companies for their referrals allows you to collect valuable information about your choice.
6. Security
Finding a strategic partner that you trust is highly important, but often trust alone isn't enough. You are committing to a partner, and while working an experienced agency is great, it is important to ask: are you protected in-case something goes wrong?

Security also spans into how your site will be built. The best B2B agencies know how to navigate different countries' protocols to ensure that all of your data and information will stay secure.

Foreign marketing agencies have tried to defraud contracted companies, and so many major brands have decided to go to smaller or local agencies that are much more reliable. Presenting contracts out with understandable language, not just legal jargon is important. Both the agency and the company should be extremely aligned on expectations and define what success looks like at each stage of the funnel.
7. Choose Based On Your Goals
Before choosing a B2B digital marketing agency you must be very clear about the reasons why you need it, so you will be sure to prepare a powerful brief that has all the necessary information and present a proposal that is appropriate to your needs.

Do not fall for generic speeches and action plans that are not based on your business area, sector, objectives and needs. By maintaining clear goals and properly communicating what you want to achieve, you can perceive which agency best aligns with those goals according to your work methodology and lines of action.


So, before you begin your search, you'll want to review the profiles of the agency and the goals that they have helped other clients achieve.

Ask yourself the following question. What are your biggest goals in digital: to sell more through your website, improve your image in social networks, your position in Google (SEO) or your Customer Support? That way you will know what strengths to look for when you start your selection process.
8. Meet The Team And Their Team
Do not stop your research process once you've learned about the overall experience of the agency. It is imperative to also investigate the individual portfolios of the team members within the company. They are likely to have a professional profile on LinkedIn, which can help you get an idea of the background and strengths behind the members of that agency.

You can recognize how well they qualify in each action area as well as what certifications, training and experience they have under their belts. Remember that these are valuable reasons to choose a team because they speak very well of their individual and collective knowledge. These are the people you're going to be working with daily/weekly—even though they are out-of-house. It's important to ask: do they live up to your hiring standards, do they fit your company culture, and do you like their communication style?

Having an in-person or video conference (given your cities current COVID precautions) is a great way to assess the skill sets and communication styles of the whole team before you finalize the partnership.
---
Bottom Line
Reputable B2B marketing agencies are also beneficial to new businesses that are unfamiliar with appropriate pricing in the online marketplace. While most companies can produce a great product, not every business is skilled in marketing.

Top B2B marketing agencies provide businesses with the perfect opportunity to quickly and efficiently execute B2B marketing strategies. These professionals know exactly how to promote your products quickly and increase your profits.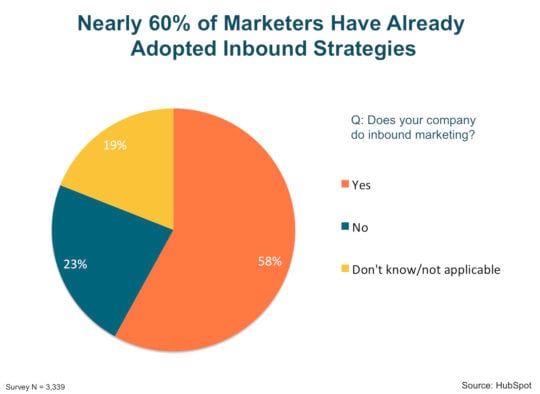 Hiring a local B2B marketing agency is crucial if you market to industrial, manufacturing, or commercial organizations. You need a B2B marketing agency that is passionate about the industries you serve. One that can talk like an engineer. One that can break down your manufacturing process into something that's easy for anyone to understand.
The right fit B2B marketing agencies can serve as an extension of your team and full in the missing gaps, to accelerate your team's path. should all understand your products, your technologies, your industries, your markets, your customers, and your distribution channels. And they should be able to take all of that complexity and turn it into something that will drive results for your company.
The demands of effective and measurable B2B marketing professionals are constantly evolving. Unless you are blocking time for team members to hone their craft and skill up, then your company is what ultimately suffers.
From a profit and loss perspective, it no longer makes sense to have 5-10 full time employees in-house, when you can turn on a team of 10, for less than the cost of one senior employee.