If you've been churning through inbound marketing tactical execution, like content creation for any period of time, you've probably learned about keyword research and figuring out the competition for a given search term. What are topic clusters in SEO? How to create topic clusters?
The days of keyword stuffing in your web pages and blog posts are long gone! As content marketing continues to evolve the rise of machine learning, artificial intelligence, and conversational search translates to the old keyword-centric formula used years ago no longer works.
What is a content pillar page and how to create a topic cluster strategy? In this article, we are going to answer your questions and help you move forward with these new strategies.
As we are getting started, I should note that keywords are not going extinct and they have their place in topic cluster content marketing strategies. Keywords are not as important as they used to be or used in the same way that they used to be used.
With each search engine update announcement, we learn about how much smarter Google is becoming. When you search for a term, you might see pages that have closely related terms or core topics. Search engines no longer are limited by showing results only because of the keywords in various sections of the metadata and content.
Search engines are getting smarter and can understand search terms and website content in ways that we are not possible even five years ago.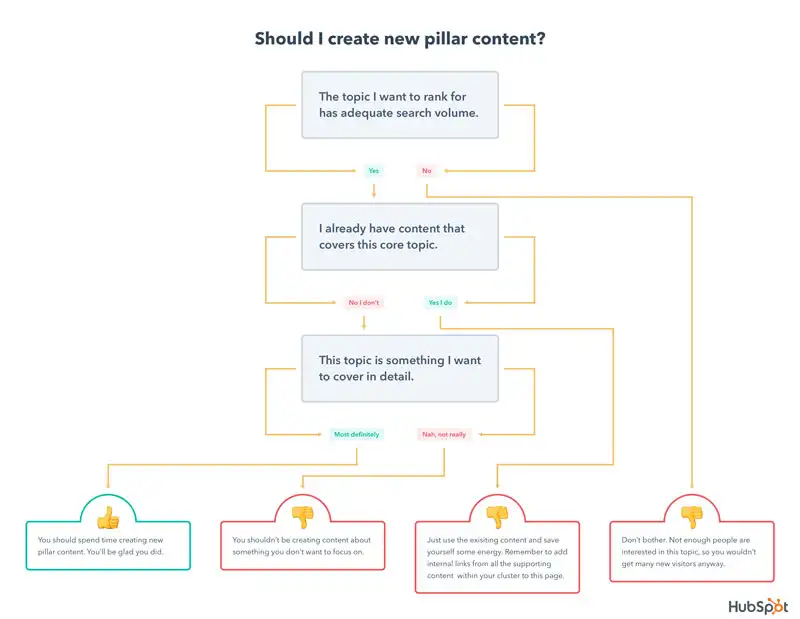 What Are Topics Clusters & Pillar Pages?
Since the way people search has changed, the way that your company creates content also needs to change. People are searching using conversational queries, and Google knows how to give them what they want.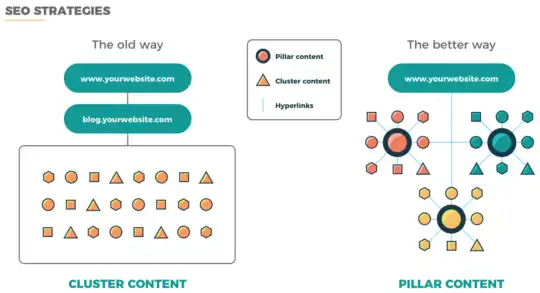 Instead of writing a bunch of unrelated keyword-focused blog posts, topic clusters have you creating every possible angle of content on a topic so that you can have greater search visibility in Google and have the ability to keep people on your website longer through interlinking to closely related posts on a given topic.
Topic content cluster strategy and piece of content pillar page are two parts of a three-part site organization strategy. The third part of the strategy is hyperlinking.
Pillar pages and topic clusters are the foundation of topic clusters since they cover each angle of the topic on a single page. The cluster blog posts go more in-depth on various parts of the content and hyperlink back to the pillar page.
Pillar pages broadly cover a certain topic, and cluster content addresses a specific long tail keyword that is related to the topic. Let's say that you created a pillar page on digital marketing; this is a broad topic. The content cluster page strategy could be about email marketing which is a specific keyword within the topic.
When you create a pillar page, it should be longer than a typical blog post, but they shouldn't go in-depth. The cluster content goes in-depth and links back to the pillar page.
Choosing Pillar Pages You Should Focus On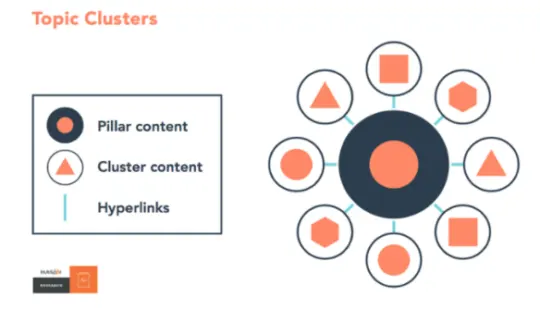 When you are choosing a content pillar page, you want to find broad topics that have enough interest from your target audience. You do need to make sure there is a high enough search volume to warrant making a pillar page on the topic. You also need to make sure that you can go further into the topic so you can create plenty of cluster content.
According to HubSpot, this makes it easier for Google to understand what your content is about and which keywords you are targeting.
This process first starts with creating a list of topics and then have you create "pillar" style pages for each topic. Then, you will create articles that target sub-topics around that pillar page.
Below are steps, which HubSpot recommends:
Make a list of relevant topics.
Make a list of long-tail keywords based on these topics.
Build pages for each topic.
Set up a blog.
Blog every week to develop page authority.
Create a link-building plan.
Compress all media before putting it on your website.
Stay current on

always evolving

SEO news & practices.
Measure and track your content's success.
No need to worry about having to come up with your own SEO content ideas. If you enter a keyword or search phrase, the HubSpot SEO tool will auto suggest relevant phrases and also show you the estimated number of monthly searches shown in the screenshot below.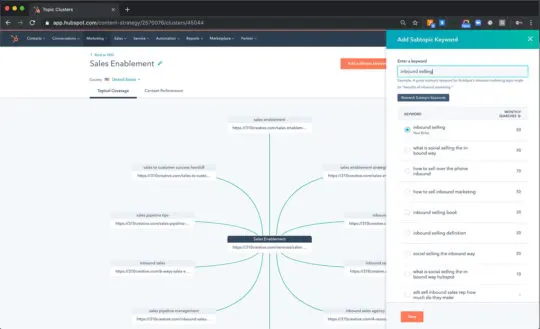 HubSpot will help you every step of the way – from generating topics, to identifying keywords, to optimizing your posts for search engines.
Content Creation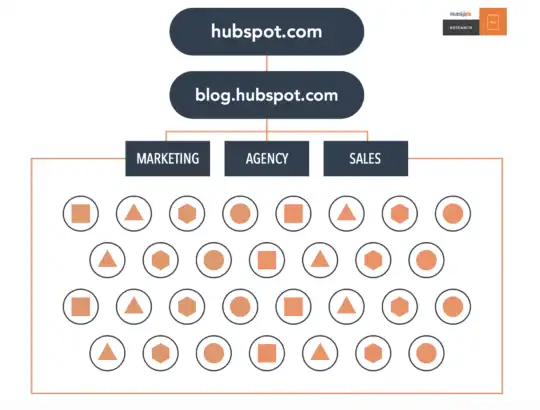 When you are creating content for your topic cluster strategy, your main focus should be how to create content clusters that are going to serve your audience and provide them with a good user experience.
The better the user experience, the better signals will be sent to Google regarding your content and its value to search engine users.
When you or your marketing team is in the weeds writing your cluster content, sometime it is appropriate to have another set of eyes that is a bit more more removed like a local B2B SEO strategy. Also, you should have a long tail keyword that you are trying to rank for while you are still targeting natural keywords.
You may be wondering how many cluster topics and pillar pages you should create. While you do want to get a good amount of content out there to your readers, you also want to make sure that your content is high quality.
What's cool is that the HubSpot topic clusters SEO tool for creating topic clusters will also show you related blog post already live in your blog, which align with that respective search phrase illustrated in the screenshot below.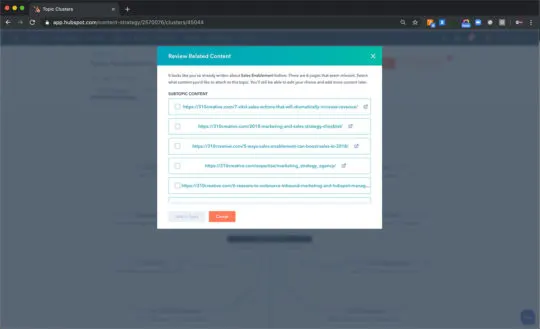 Creating high-quality content in as many hubspot pillar pages as makes sense for your products and service is key. If you have five products or services, making keyword cluster content around these five is a good strategy of keyword cluster whether that is where your company stops or if you keep going is up to you.
Optimization
As you are working on your cluster content strategy, make sure you are creating and structuring content with user experience and buyer personas in mind.
Creating content that is easy to read and navigate will allow you to optimize content for your readers and give them a better experience when they come to visit your site.
Internal Linking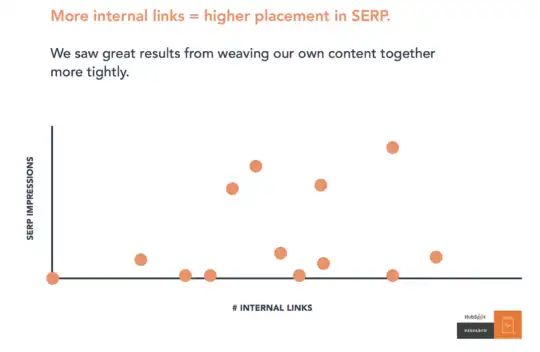 Internal linking is an important part of a strategy with pillar pages and cluster content. The whole thought behind effective B2B SEO strategy is having a cluster of in-depth, long-tail keyword focused content that links back to your long-form content pillar template page. If you leave out interlinking, you are going to miss out on the main benefits of this strategy.
The Best Way to Create a Pillar Page
When you are creating a pillar page, there are some best practices you can put into place.
Create content around major problems or topics in your industry
Think about subtopics and ways to expand upon various areas of each of the problems or topics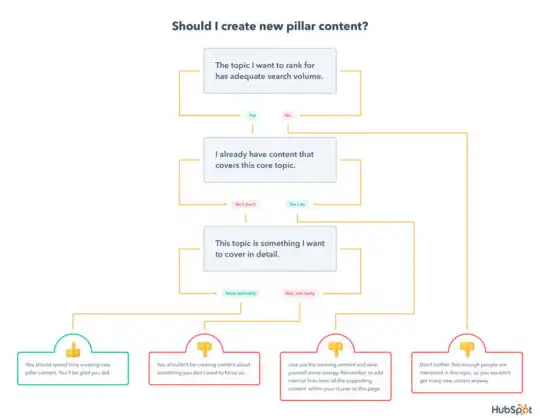 These are a couple of the most important things to keep in mind when you are building pillar pages. If you want to become a top authority and thought leader in your industry, you need to start building on this strategy right away.
Link building from external authority blogs is helpful, but if you don't have great content to link to, high authority websites with favor in Google's eyes aren't going to link to your website, so make sure you have great content on your site.
SEO Cluster Keyword Takeaways
When you are performing B2B SEO as a top of funnel tactic within your B2B marketing program, you may be experiencing challenges with your inbound marketing. If you are only getting started out with digital marketing, there can be a lot to learn, and the learning process, as well as the implementation of an inbound marketing strategy, can be intensive.
Remember that SEO can increase rankings, but SEO by itself does nothing to nurture leads from the top of your funnel into the bottom of your funnel and into actual new paying customers, that is where lead generation and lead nurturing strategies becomes more important than your actual SEO efforts.
Think about it - What's the point of increasing organic rankings, if your content and user experience sucks to the point to where you cannot convert traffic into leads. To that point, search rankings mean nothing if you do not leave lead capture tools and lead nurturing tools in place to convert leads into paying customers.