Fear not, as we've compiled a list of the top 10 top B2B marketing direct marketing and full service marketing agency top agencies of 2023 to help you make an informed decision.
Read on to discover the unique offerings of these industry-leading agencies and learn how to maximize your ROI by a full service marketing agency or partnering direct marketing up with the right one.
Short Summary
Top 10 B2B marketing agencies of 2023 provide comprehensive digital and traditional services to help businesses reach their target audience.

Choosing the right agency requires assessing proficiency, experience, engagement models, capabilities and success stories.

Maximizing ROI with a B2B marketing agency is key for developing effective strategies that result in increased leads and growth.
Understanding B2B Marketing Agencies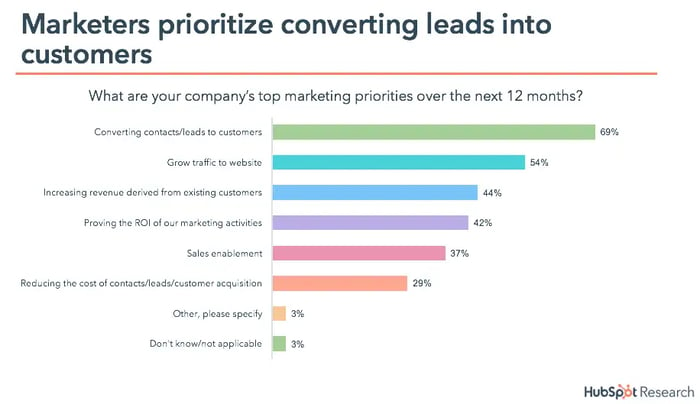 B2B marketing agencies are the wizards behind the curtain, creating magic with their expertise in various marketing channels. They work tirelessly to help businesses market their products and services to other businesses, utilizing a mix of digital and traditional marketing strategies.
From branding and content marketing to paid and organic social media,, to lead generation and search engine marketing, these agencies provide a holistic approach consumer marketing, to help businesses reach their target audience, generate leads and achieve sustainable growth.
Among the vast ocean of B2B marketing companies, we've handpicked the top 10 agencies that have consistently proven their prowess in the industry.
Each of velocity partners of these agencies brings unique strengths, specialties, and experience to the table, catering to a diverse range of businesses and industries.
Let's dive into the world of these top-notch business to business marketing marketing agencies and explore what sets them apart.
1. 310 Creative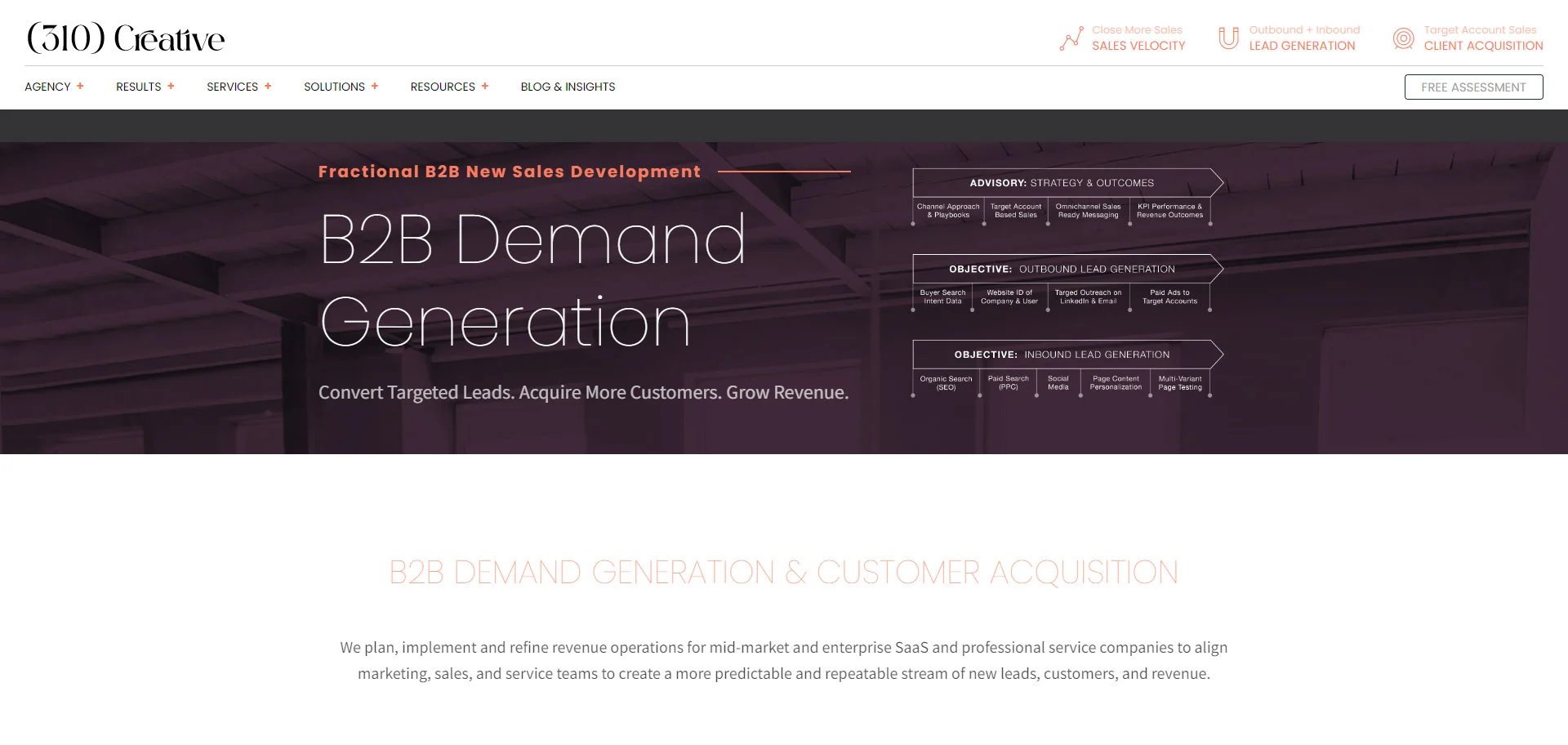 310 Creative, a full-funnel B2B marketing agency, has made waves in the industry with their specialization in inbound marketing, disruptive PPC advertising, web design, and sales enablement.
As on of the top 3 U.S. performance marketing agencies, they offer a comprehensive range of services full-funnel digital marketing, performance marketing consulting, search engine rankings, in house marketing team catering search marketing services to the needs of SaaS and professional service brands in growing predictable revenue streams.
Partnering with 310 Creative means aligning your marketing focuses with business with a proven track record of success and a versatile approach to B2B marketing.
2. Altitude Marketing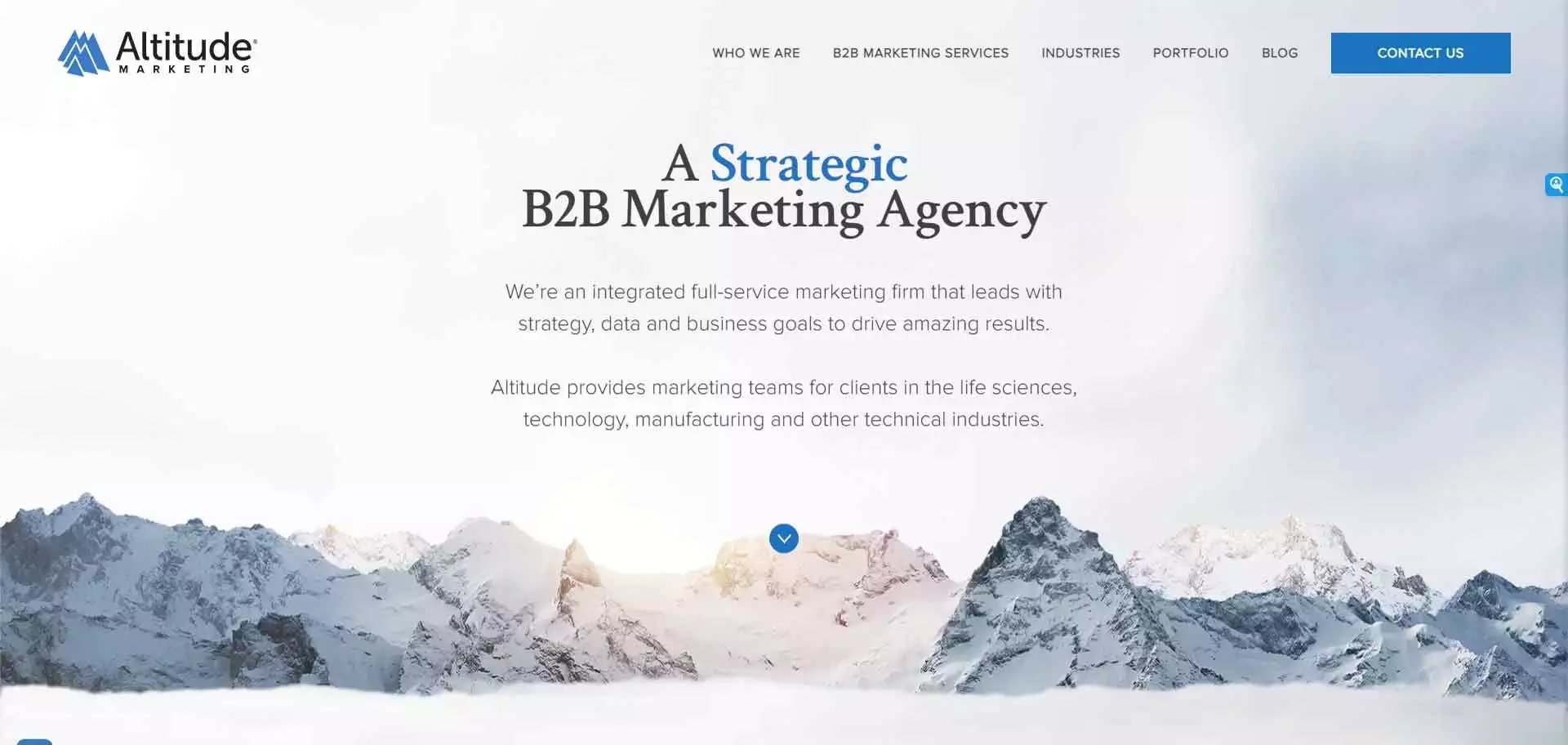 Altitude Marketing, an integrated marketing firm, stands tall with its expertise in branding, digital, integrated search engine marketing, communications, and public relations.
Serving a wide range of business-to-business companies, they offer a comprehensive suite of services, including strategy, data analysis, branding, creative, design, digital, web development search engine optimization, marketing, email marketing, integrated marketing communications, and content creation.
Their digital and social media marketing and specialists craft tailored social media marketing strategies, ensuring seamless communication across all paid social media advertising channels.
By implementing a well-designed, social media strategy and email marketing strategy, collaborating with Altitude Marketing means access to a one-stop-shop for all your digital marketing and social media and digital marketing strategy needs.
3. New North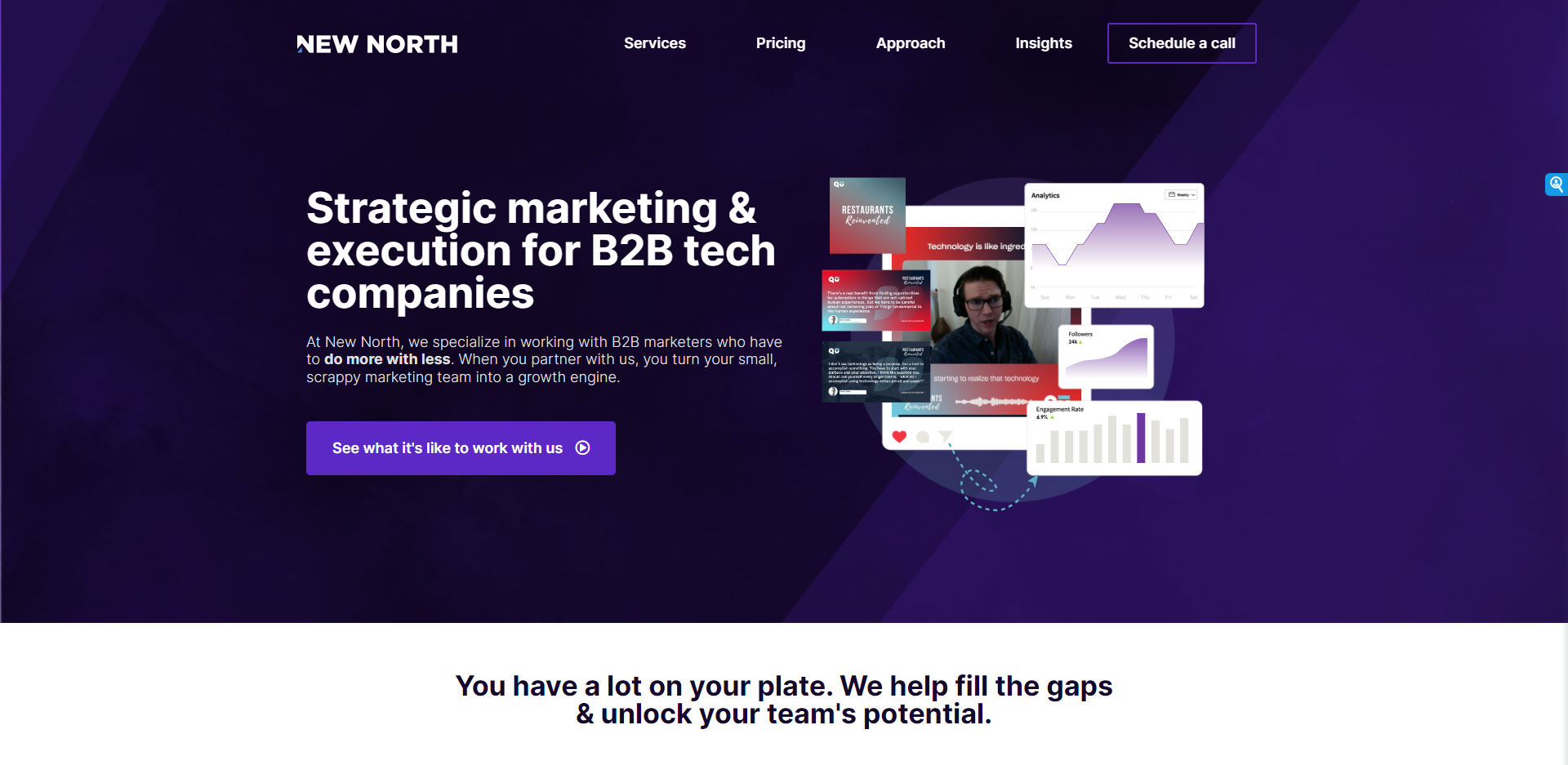 New North, a B2B marketing agency specializing in tech companies, brings a personalized touch to marketing multi-channel strategies and dynamic campaigns.
Their mission is to assist B2B businesses in achieving growth through intelligent marketing that yields measurable results.
Their agile approach to marketing balances long-term strategy with short-term opportunities, optimizing results and generating qualified leads for their clients.
Partnering with New North means placing your trust in an agency that understands the intricacies of the tech industry. They have the experience and expertise to create effective consumer marketing campaigns that will help you reach your goals.
4. Ironpaper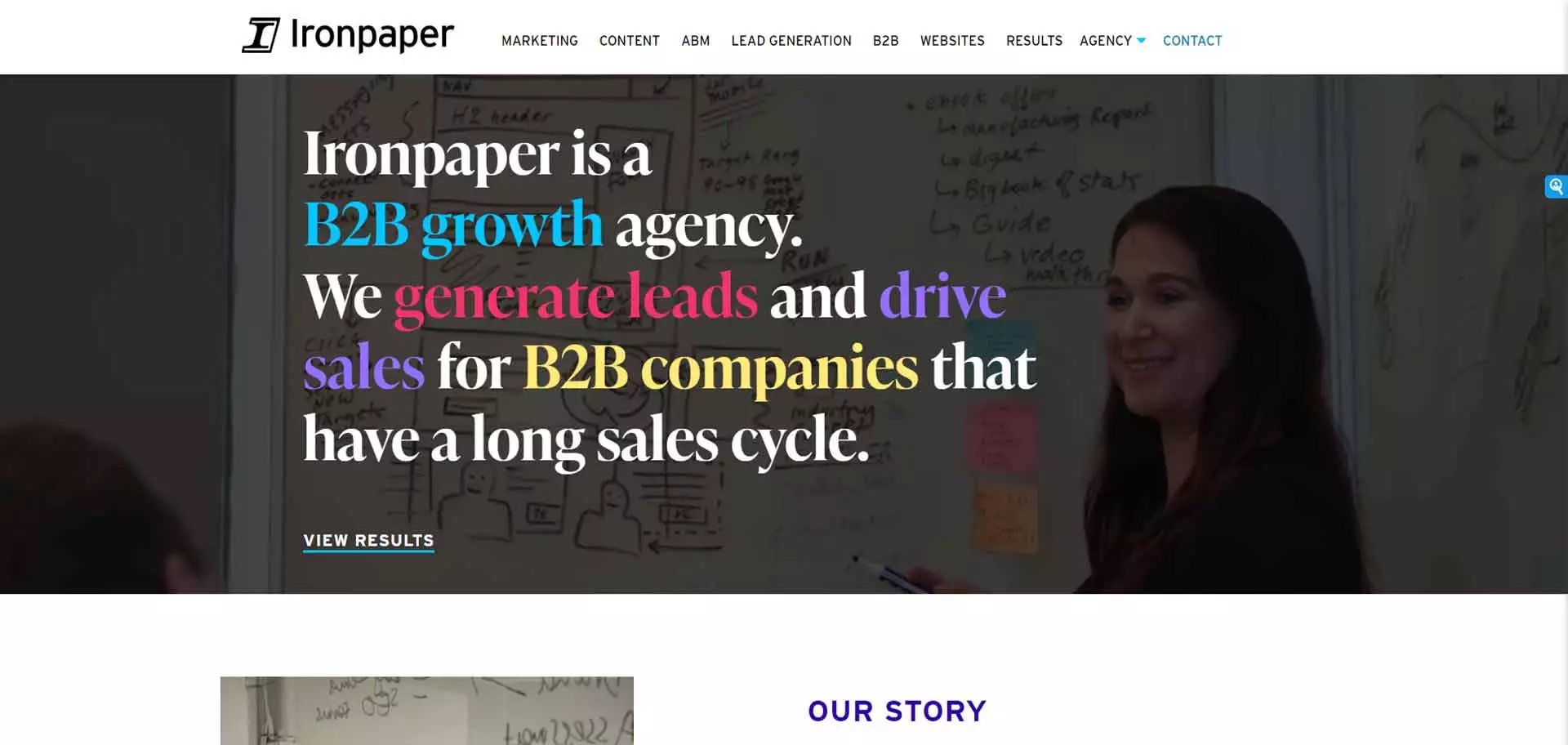 Ironpaper, a full-service digital agency, has carved a niche for itself with its specialization in lead generation, content marketing sprint business name, and web design for technology companies.
Boasting a portfolio of successful collaborations with giants like Microsoft, IBM, and Oracle, they have also helped small businesses expand their online presence to generate qualified leads and boost sales.
Partnering with Ironpaper means tapping into a wealth of experience and expertise in the B2B email marketing sector.
5. Velocity Partners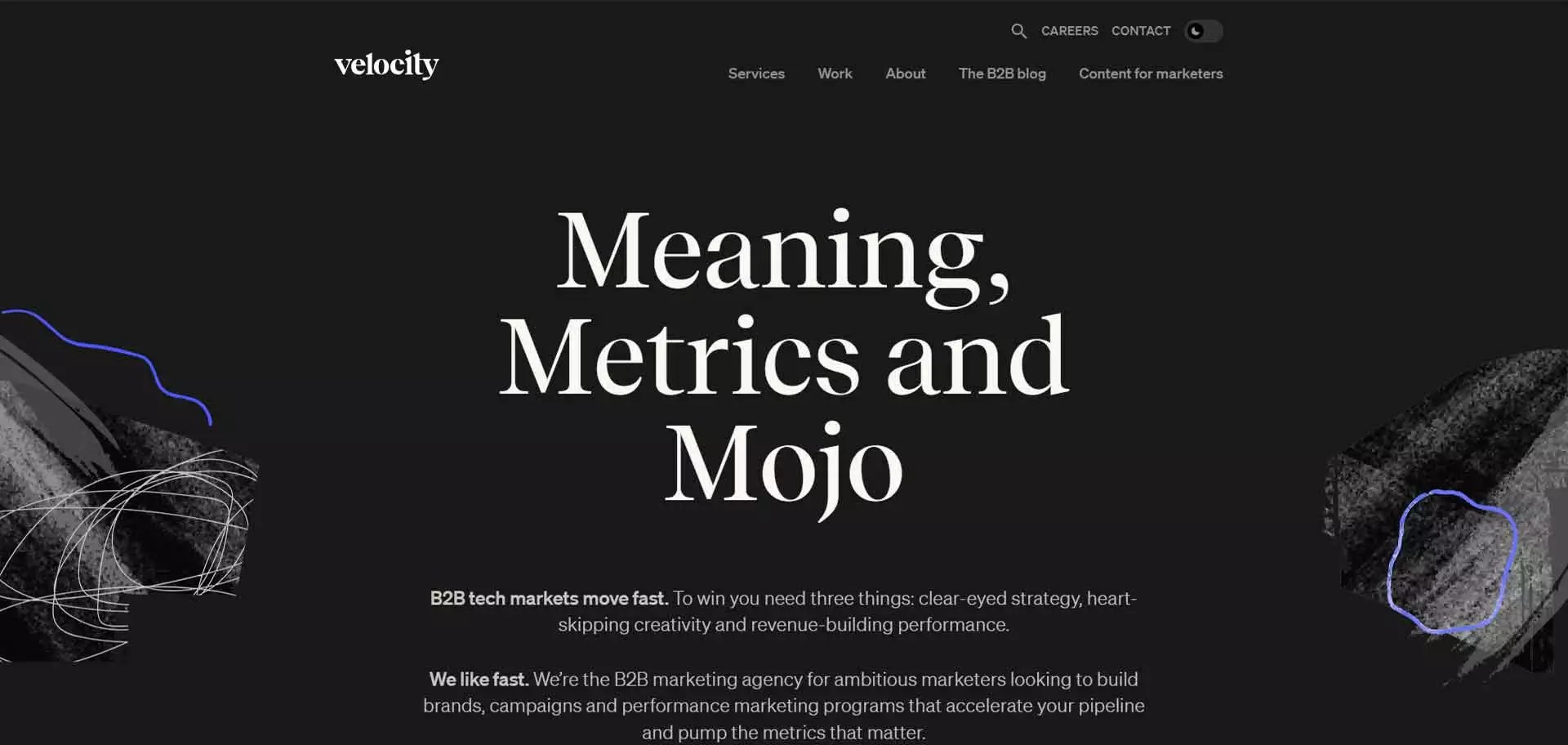 Velocity, a content-focused B2B marketing firm, creates powerful narratives through influencer marketing, strategy and branding to help businesses thrive. Crowned as The Drum's B2B Awards Agency of the year in 2019, their efforts span across strategy, content, influencer marketing, data, and digital domains.
Velocity's passion for storytelling and content marketing sets them apart as a go-to creative agency for businesses seeking a creative edge in the competitive B2B marketing landscape.
6. Hinge Marketing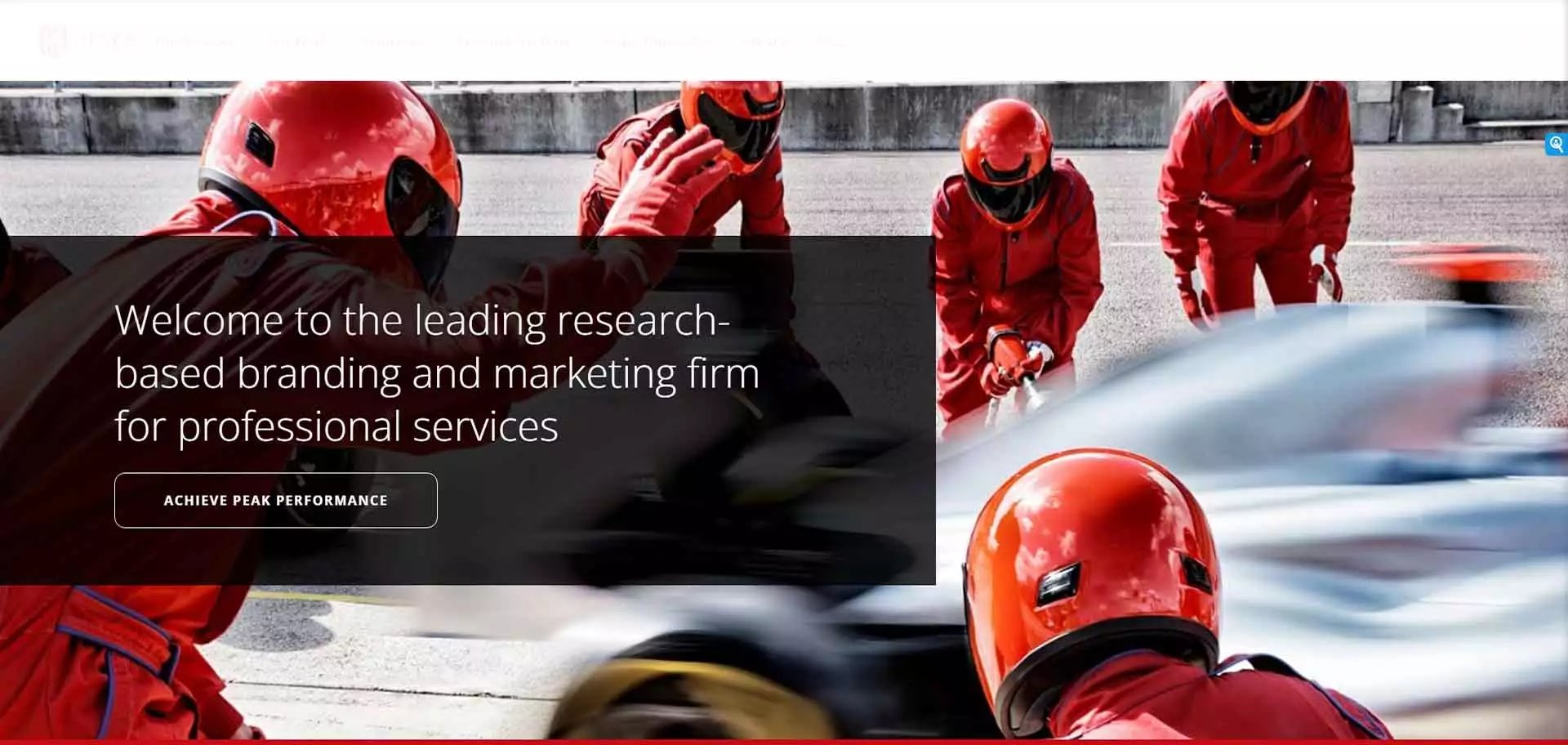 Hinge Marketing, a B2B growth agency specializing in professional services, offers a combination of branding ppc and community management, content and email marketing, influencer marketing paid social advertising, and lead generation services tailored to their clients' unique needs.
Their comprehensive set of branding and community management services for professional service firms includes research, strategy, award-winning creative, and online advertising and marketing, and assistance in increasing visibility for industry experts.
Trusting Hinge Marketing with your marketing needs means partnering with an agency that truly understands the nuances of professional services.
7. Jellyfish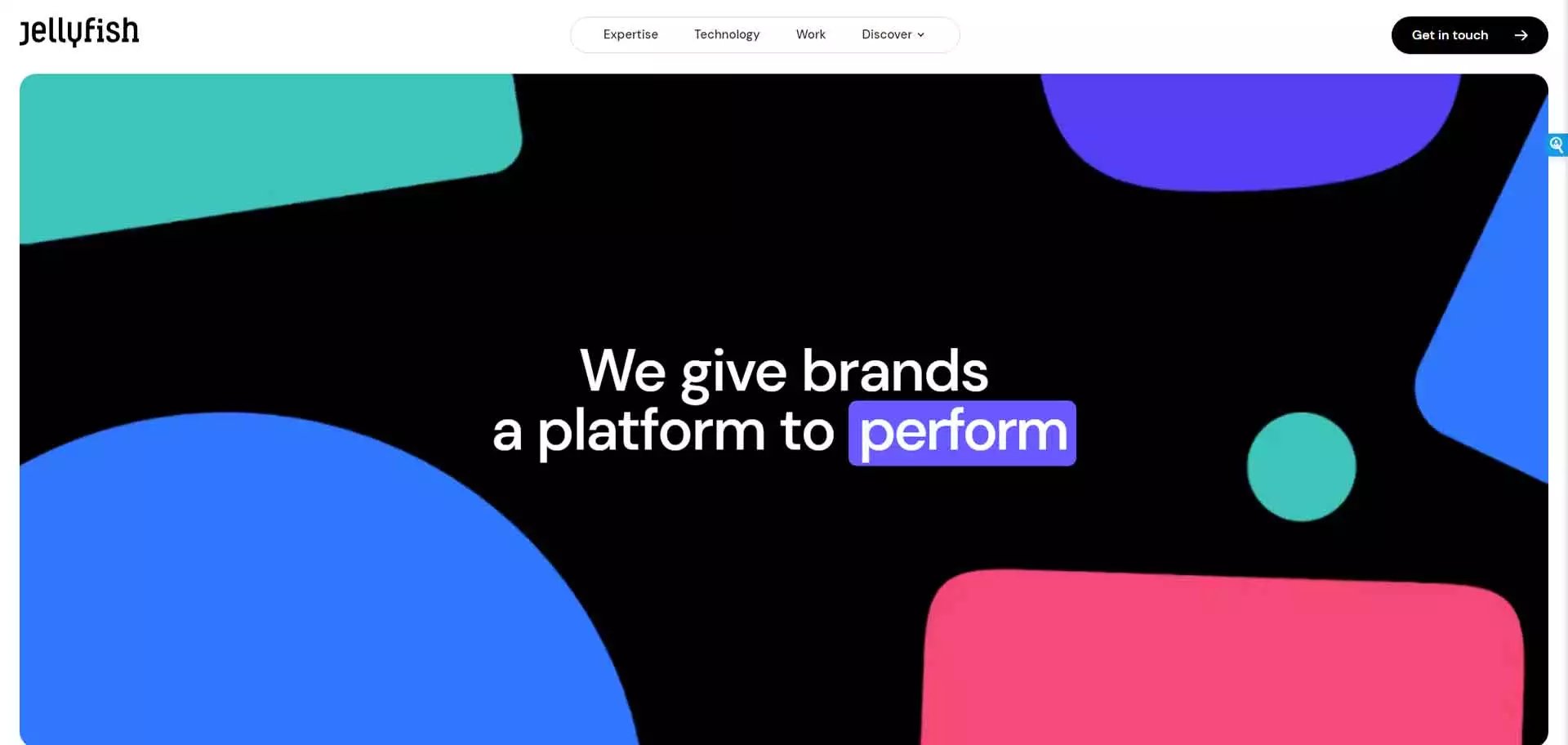 Jellyfish, a global digital marketing specialists and agency, brings innovation to the forefront with its full-service digital marketing approach for both B2B and B2C clients. As a certified Google Cloud Training Partner, they have the expertise and resources needed to elevate your business to new heights.
When is comes to the world of paid ads, Jellyfish has you covered with their diverse range of services and they offer a google search ad services with a free google ads audit and LinkedIn paid ads audit to help craft an actionable PPC playbook.
8. Godfrey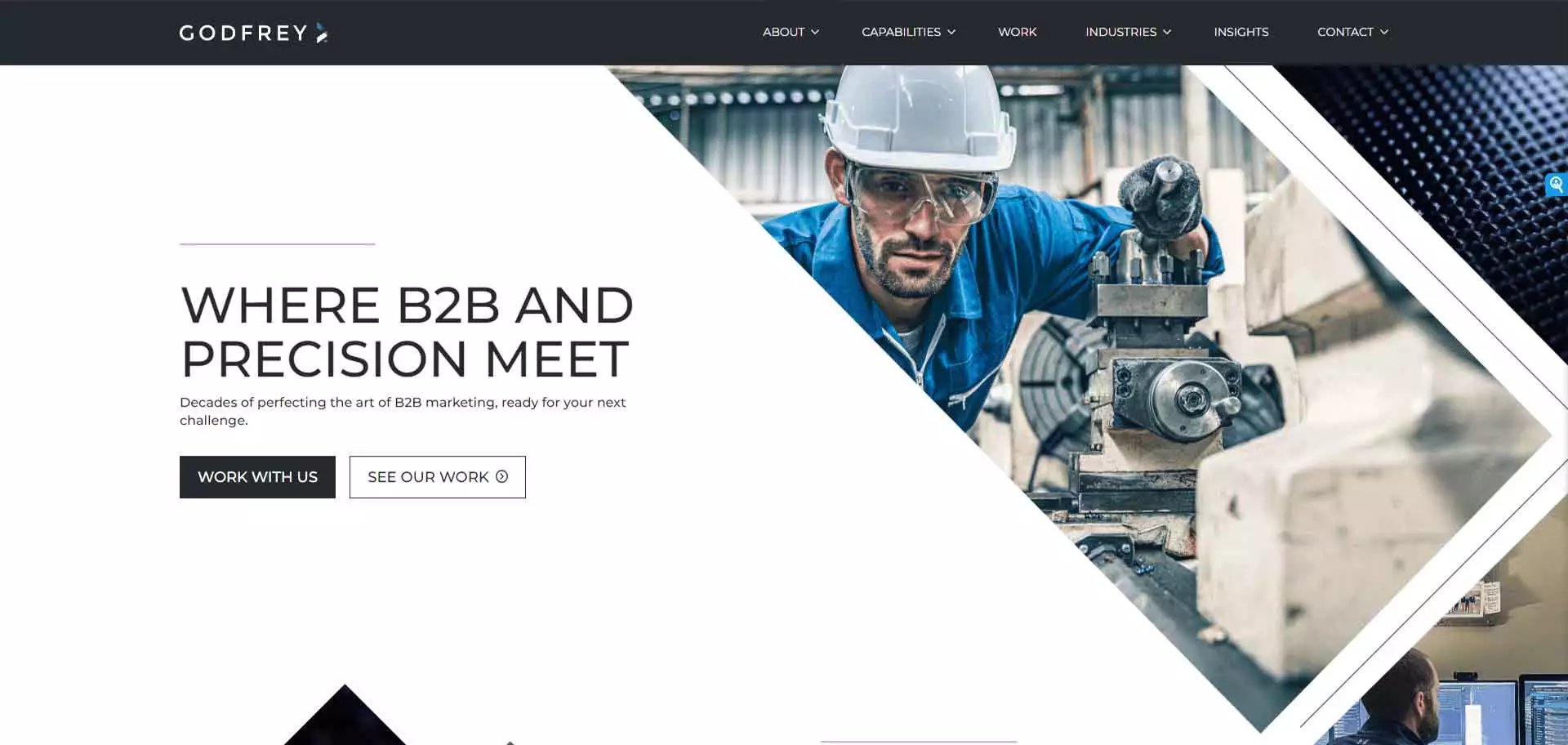 Godfrey, a B2B digital marketing specialists and advertising agency with deep expertise in industrial and manufacturing sectors, offers a blend of branding, content marketing, and B2B marketing strategy and services.
With a track record of assisting highly technical industrial manufacturers, they provide an array of services, including mobile strategy, websites & e-commerce, software development ppc management, digital media & online advertising, web analytics consulting and brand strategy & identity.
Partnering with Godfrey means aligning your business with an agency that understands the unique challenges of the industrial and manufacturing sectors.
9. SquareDot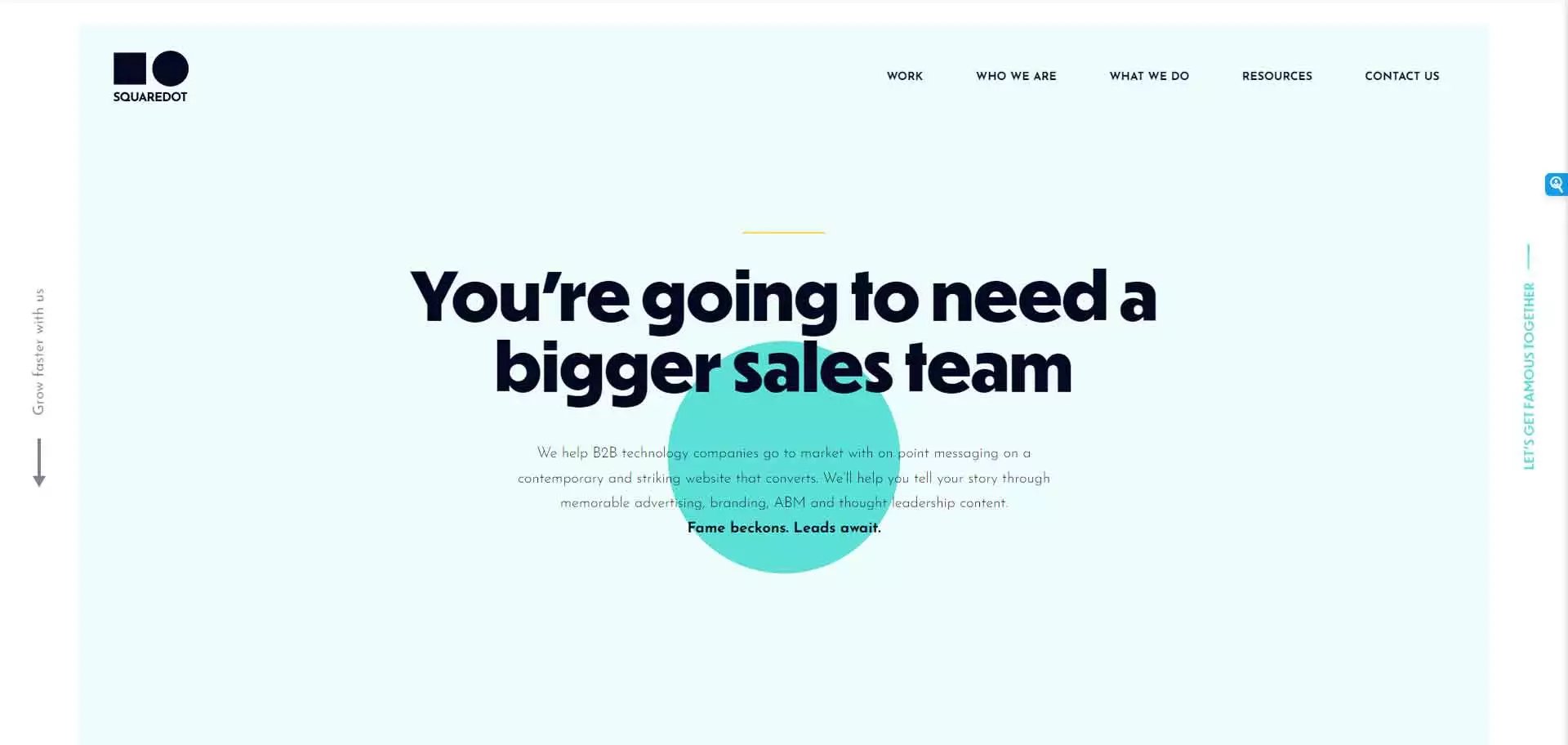 SquareDot, a B2B marketing company focused on technology companies, offers specialized expertise in inbound marketing, account-based marketing, content marketing, and lead generation.
Their range of services includes marketing strategy, branding, website development, and digital marketing tailored to B2B tech companies.
With a selection of engagement and pricing models, SquareDot adapts to your business needs, ensuring a partnership that delivers results.
10. Bython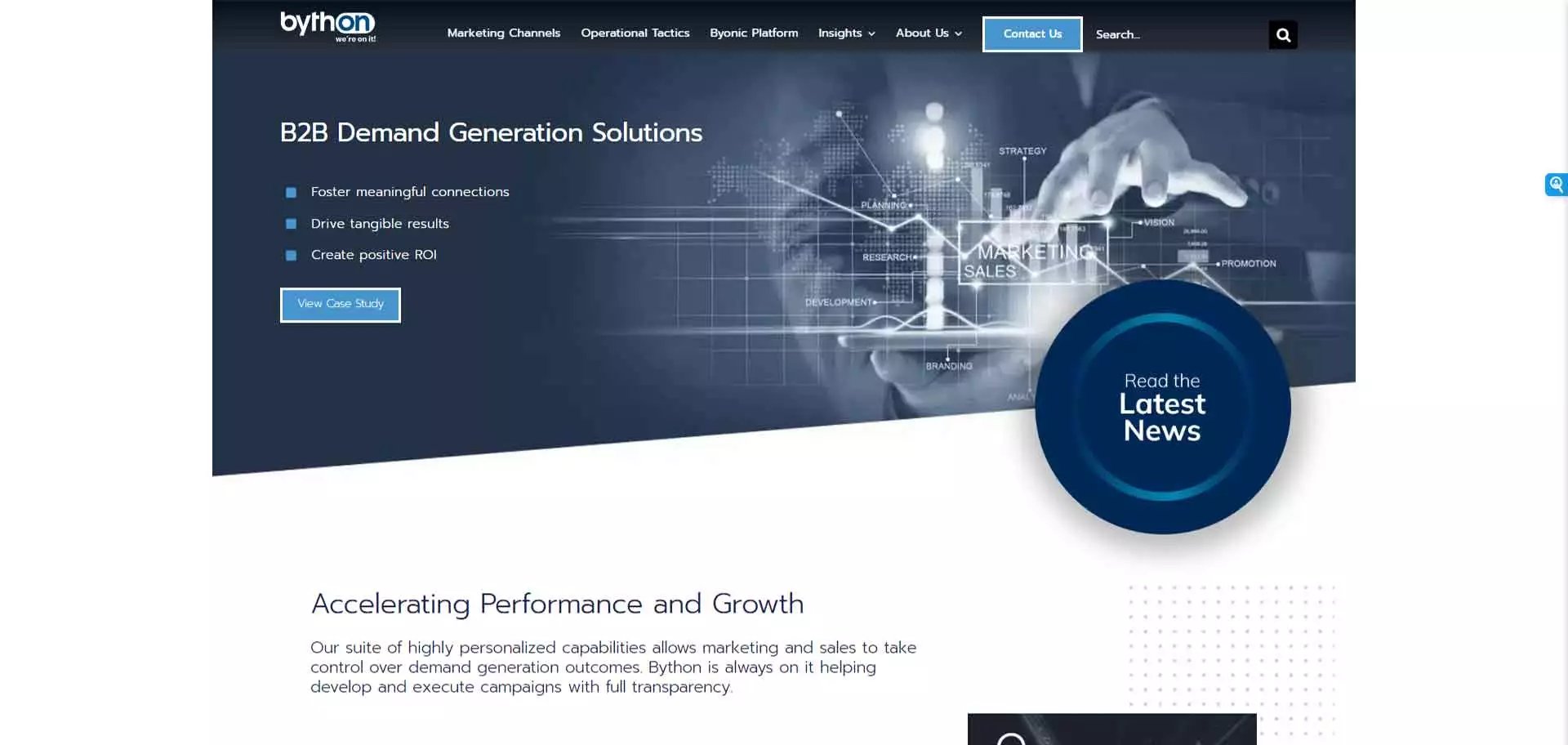 Bython, a B2B marketing agency, excels in providing services such as demand generation, content marketing solutions, and marketing automation.
Their extensive knowledge spans across various sectors, including agribusiness. With a selection of case studies and client testimonials available on their website, Bython showcases their successful marketing projects and customer satisfaction.
Trusting Bython with your marketing needs means partnering with a versatile and results-driven, advertising agency, and creative agency again. They have the expertise and experience to help you reach your goals and maximize your ROI.
Choosing the Right B2B Digital Marketing Agency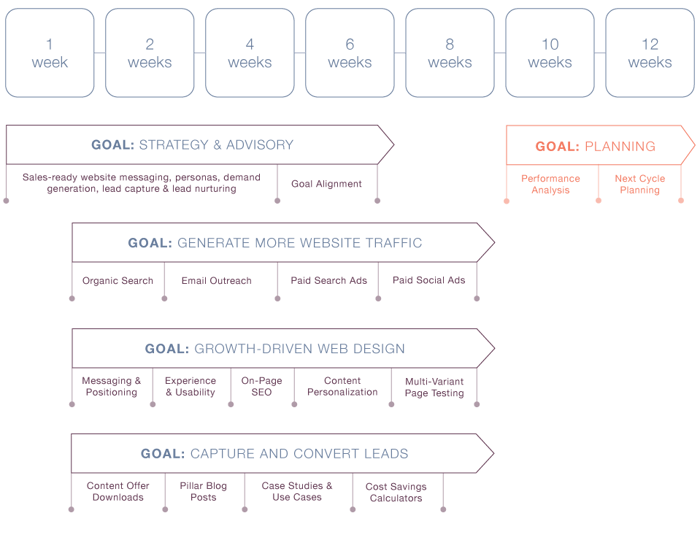 Selecting the perfect B2B marketing agency for your business is a critical decision that can make or break your B2B marketing strategy for success.
To ensure a fruitful partnership, it's essential to evaluate various factors, such as the agency's proficiency in your sector, their specialty, culture, capacity to collaborate with others, size, and record of accomplishments.
In the following subsections, we'll delve into the key factors to consider when choosing a B2B marketing company, including business objectives, industry experience, engagement models, and agency capabilities. Armed with the knowledge of the top 10 B2B marketing firms, you're one step closer to finding the ideal partner for your business to business marketing call.
However, understanding the nuances of each agency and how they align with your business is crucial for maximizing your return on investment.
Let's explore the factors to consider when selecting B2B marketing firms and how to make the most of your partnership.
Aligning with Business Objectives
Ensuring that the chosen B2B marketing firm aligns with your business goals and objectives is the foundation of a successful partnership. This involves developing a comprehensive understanding of the desired results, timeline, and budget for the project.
Clarity in your expectations allows the chosen agency to effectively meet your business needs and maximize your return on investment.
It is important to research the agency's portfolio and track record to ensure that they have the necessary resources.
Industry Experience and Expertise
Evaluating the agency's experience and expertise in your specific industry is crucial for a successful collaboration.
An agency with a deep understanding sprint the demand marketing and business side of disruptive advertising in your sector can offer tailored demand marketing, strategies and tactics that resonate with your target audience.
This, in turn, enables your business to achieve the desired outcomes and maximize your return on investment.
Contrasting Engagement & Pricing Models
Understanding the agency's engagement and pricing models is essential to ensuring a good fit for your business. B2B marketing companies offer a variety of models, such as retainer, project-based, and performance-based models.
By considering the specific needs of your business and the agency's offerings, you can select the most suitable model for a mutually beneficial partnership.
Assessing Agency Capabilities
Examining the agency's capabilities in various marketing departments, services and channels is essential for a successful partnership.
By assessing the agency's expertise in areas such as branding strategy, market research and, social media advertising, creative and content, public relations, website development, consumer engagement, and more, you can determine whether the agency is well-equipped to fulfill your marketing needs.
It is also important to consider the agency's track record and reputation. Ask for references.
Examining Case Studies and Client Testimonials
Reviewing case studies and client testimonials is a crucial step in gauging the agency's success and client satisfaction. These resources provide insights into the agency's services, proficiency, and capability to fulfill its commitments.
The most effective case studies should narrate a story that leads readers from a starting point of difficulty to a successful resolution, showcasing the agency's expertise and achievements.
Maximizing ROI with a D
igital Marketing Services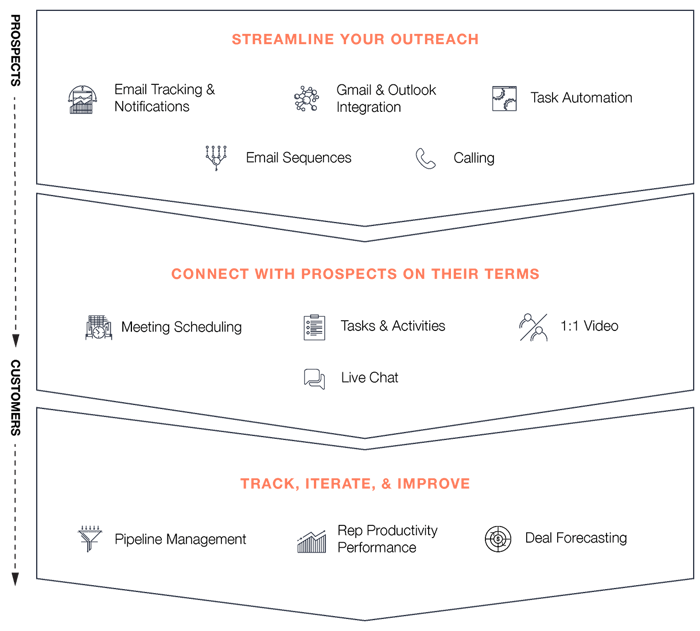 Investing in a B2B marketing agency is a significant commitment, and getting the most value from your partnership is essential for maximizing your return on investment.
In this section, we'll share tips on how to work closely with marketing departments at your chosen agency, leverage their expertise, and continuously optimize your marketing campaign for improved results.
By understanding the factors that contribute to a successful partnership with a B2B marketing firm, you'll be better equipped to make informed decisions in house marketing team and maximize the return on your investment in house a marketing department and team.
In the following subsections, we'll delve into the importance of strategic marketing advisory and support, as well as ongoing campaign optimization.
Strategic Multi-Channel Advisory
Leveraging the agency's expertise for strategic guidance and support throughout the marketing process is crucial for a successful partnership. B2B marketing companies offer a range of strategic advisory and support services.
For example, such as market research, brand strategy sprint, business intelligence and, content marketing, lead generation, advertising, PR, social media marketing, and digital media, web analytics consulting, social media marketing strategy, planning and buying, design, experiential marketing, consulting, and more.
By tapping into their expertise, you can develop and implement successful marketing strategies that generate qualified leads and drive measurable results for your business.
Ongoing Campaign Optimization
Working closely with the agency to continuously optimize your marketing campaign is essential for improved results.
A B2B marketing agency can offer services such as strategy development, content creation app store optimization, PPC management, LinkedIn advertising and content marketing, google search ads, engine marketing and optimization, conversion rate optimization, audience segmentation, and performance analysis of paid ads, and LinkedIn marketing.
By collaborating with the agency on an ongoing basis and incorporating their insights, you can ensure that your marketing campaigns are always performing at their best, driving increased ROI for your business.
Takeaways For Vetting Top B2B Marketing Agencies
In conclusion, selecting the right B2B marketing agency is a critical decision that can significantly impact your business's success.
Understanding the delineation between the top 10 B2B marketing agencies of 2023, consider vital factors such as business objectives, industry experience, engagement models, and agency capabilities, and maximizing your ROI through strategic B2B marketing process consulting and ongoing campaign optimization, you can forge a successful partnership that drives measurable results.
o gear up and embark on a journey to marketing success with B2B marketing companies by your side.
Questions About B2B Marketing Agency Fit
What is a B2B marketing agency?
A B2B marketing company is an organization that provides specialized services to businesses and companies with the goal of increasing their presence in the marketplace. They offer customized marketing strategies disruptive advertising, search engine optimization, and content tailored to the specific needs of each business.
This helps build relationships, generate leads between companies and attract new customers from other businesses.
Which company is best in B2B?
Based on its impressive BSI score and AAA+ brand rating, Deloitte is the best company for B2B services. Their dedication to providing clients with high-quality services has made them a leader in the industry.
What are the most
social media marketing

tools?

The most powerful B2B marketing automation tool is social media management. It allows businesses to assess their audiences and create customized paid and organic social media and strategies that can bring tremendous results.

With its wide reach, social media management is a powerful tool for both B2C and B2B businesses.
What are the key factors to consider when selecting a B2B marketing agency?
When selecting a B2B marketing firm, it's important to consider the agency's alignment with your business objectives, their industry experience and capabilities, pricing models, engagement strategies, as well as references from other clients.
By keeping these key factors in mind, you can find the best fit for your business needs.
What services do B2B marketing agencies typically offer?
B2B marketing companies provide an array of integrated marketing communications solutions, SEO services LinkedIn and marketing solutions. This can greatly augment a business' growth and brand recognition, including branding, content marketing, demand generation, advertising, PR, social and digital media marketing focuses, paid media, analytics, social media strategy, experiential marketing tactical sprints, business consulting, and more.
With these comprehensive services, they help other businesses to reach their social media digital media marketing strategy, and goals.