Services marketing is focused on value, outcomes, and relationships. Conversely, product marketing is focused on features and benefits a wildly different approach than product marketing. As marketing strategies and advertising channels become more diverse, our vocabulary continues to expand, yet most focus on lead generation or customer acquisition. With that said, marketing products is wildly different than product marketing. What is the role of service marketing?
68% of the gross domestic product (GDP) in the United States comes from services industry.
Gone are the days when marketing was as simple as pushing a message out to a general audience through the limited options of print, radio, and television. The rise of the internet has necessitated the creation of specialized strategies based on the target consumers and the nature of what is being offered.
It is clear that, in modern marketing, selling services is dramatically different from selling products and require distinct marketing strategies. That is where services marketing comes in. Services marketing is a rather broad sector of marketing that is focused on selling anything that is not a physical product.
As you can tell, that covers a wide range of possibilities. Medical care, plumbing, catering, vehicle rentals, concerts, vacations, consulting, and legal advice are just some of the possible services that can be promoted through service marketing.
With services marketing, there are two sub-categories based on who is likely to buy the services, business-to-customer (B2C) and business-to-business (B2B).
How Is Services Marketing Different?
Services marketing is not entirely different from product marketing. Many of the same marketing skillsets like high-quality copywriting, website design, and search engine optimization (SEO) are required.
At the same time, some key differences set services marketing apart. These are essential for service marketers to understand because these distinctions relate to the differences in strategy, tactics, and approach.
1. Intangibility
Services, unlike products, are intangible, meaning they cannot be seen, felt, or touched. This can seem confusing at first. Yes, if a plumber fixes a leak in your home, you can see the pipe that was repaired and feel that there is no longer water where it shouldn't be.
However, the service itself that the plumber sold and you purchased was the combination of skills and experience that enable the professional to complete the task. If you rent a truck, you may be able to sit in and drive the truck while you are using it, but you are not buying the truck, just the opportunity to use it.
Because of this, the consumer's buying decision is based on something intangible, which means it will take a different approach to help them understand the value proposition of what they are getting.
2. Location-Based
While not true for every service, many are limited by geographic location. Of course, especially in the digital age, it is easier for intangible services to be provided remotely, some have a limited service area.
57% of consumers will only use a business if it has 4 or more stars on local reviews.
Services that require physical presence such as contractors have a limit as to how far it is financially feasible to travel. Service providers that provide expertise may be limited geographically by local or state laws and regulations, or differing practices across regions.
3. Low Price Sensitivity
Price rarely leads services marketing strategy in b2b marketing agencies. When it comes to services, customers are far less concerned with price and much more concerned with quality than with physical products. There are some exceptions when it comes to certain services where the expectation of high performance is low.
But in areas where customers demand high performance and even perfection, like health care, price is not a key driver.
4. No Inventory Costs
This may seem obvious, but it is still important to recognize. Services do not require the purchase and maintenance of inventory.
There may be the need for supplies or tools but, since they are not the thing commodity being sold, the overall costs are much lower as a percentage of business costs. Instead of maintaining a proper level of inventory, service marketing providers must focus on maintaining the quality of their offerings.

5. Greater Customer Contact
While not necessarily true for every service provider, many services offer far more opportunities for regular customer contact. Doctors see patients. Electricians visit homes and businesses.
Caterers interact with clients for planning and at events. Service marketers should look for opportunities to make these interactions part of an overall marketing strategy.
6. The Importance of Relationships
Relationships with B2B customers are vital for any type of high-growth business. However, they take on added importance with service providers. Consumers may be pleased with and continue to purchase a product that matches their needs and price expectations, even if they don't have a good relationship with the seller. However, in the service sector, there is a higher level of reliance and a more substantial need for trust.
---
Services Marketing Strategies
It is not enough to simply modify typical service marketing strategies to fit with the differences in services. It takes an entirely different approach. Here are some of the key marketing for services strategies necessary for any campaigns or ongoing marketing.
1. Niche
Research
Research is not unique to services marketing. It is at the top of the list for product marketing as well. Given the unique characteristics of service already mentioned, research can be far more critical in service marketing.
Mainly due to the intangible nature of the offering and the often low price sensitivity, market research is essential to understand the market and what may drive consumers to make decisions about service providers.
This can be especially important when the service is non-essential. Services like plumbing and healthcare may, in some ways, be seen as more of a commodity.
Experiential services such as vacations and concerts require not only market differentiation but an understanding of what it takes to convince someone to purchase an intangible item that is not a necessity.
2.
Sales-Ready Website
There are very few businesses that can carry out effective marketing without a professional website. However, the importance is magnified with service marketing strategy due to the intangible nature of the offering. Without a physical product on the market, the site becomes the visible presence of the provider.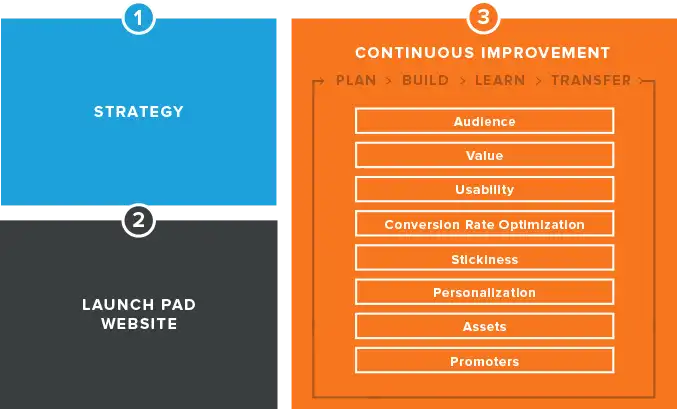 A well-created and maintained website can build trust, demonstrate expertise, and become the way the business is found. Searching online is becoming the default way people find service providers. Since it is so easy to hit the back button and review another provider, making a solid first impression on a website is critical.
It is also essential that the site serves as the front-line sales force for service businesses. It must be designed around a sales funnel appropriately designed for service. Thought must be given to the way site visitors are nurtured and led deeper into the funnel.
3.
Customer Focused SEO
Given that a growing percentage of consumers search for services online, search engine optimization is especially critical in service marketing.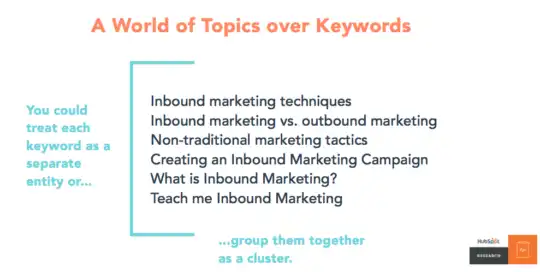 A service provider who can't gain a good position on SERP (search engine results pages), based on relevant search keywords, will have trouble attracting new customers via web searches.
65% of consumers have cut ties with a brand over a single poor customer service experience.
Marketers must ensure that websites are optimized using all of the latest SEO best practices. Attention must also be paid to offsite SEO through guest blog posts and other means to create backlinks and increase domain authority.
4.
Reputation Management
We will get to the importance of referrals and even customer advocates, but it is essential to start with the fundamentals of reputation management. Referrals are an integral component of service marketing.
However, while the advice of a trusted friend or colleague remains the most trusted source for choosing a service provider, the rise of review sites like Yelp, Angie's List, Home Advisor, and others, is making it more essential than ever for service providers to pay close attention to their online reputation.
*86% of people would pay more for services from a company with higher ratings and reviews
Review sites may be the first stop for someone seeking out a new provider. But, even when a referral comes from a friend or colleague, consumers may seek out reviews to back up the recommendation.
Effective service marketers must monitor and keep up with these sites and respond when negative reviews appear. Responding to negative comments gives providers the chance to show potential customers how they react when something goes wrong. As shown in the chart below, prioritizing customer success through proactive client engagement efforts can not only reduces churn but also ensure your team is aligned internally on customer-centric objectives so customers stay happy and refer new clients to your company over time.
Demonstrating that you are responsive to customers who may have a bad experience can demonstrate a customer focus and a desire to work with customers to resolve issues.
The best way to deal with the occasional bad review is to be sure that there are plenty of good reviews. Inviting customers to share their positive experiences can help ensure that potential customers see the positive side when reviewing a business on a webpage.
5. Ask Customers For
Referrals
A positive impact of society's dependence on the internet to seek out information is the way it has changed referrals for the service industry. Even as recently as a decade ago, incentive-based customer referrals used to be a completely low-tech method to get current customers to recommend the service to new customers. Now with the web and savvy services marketing, referrals can be made by people who have not yet been a customer.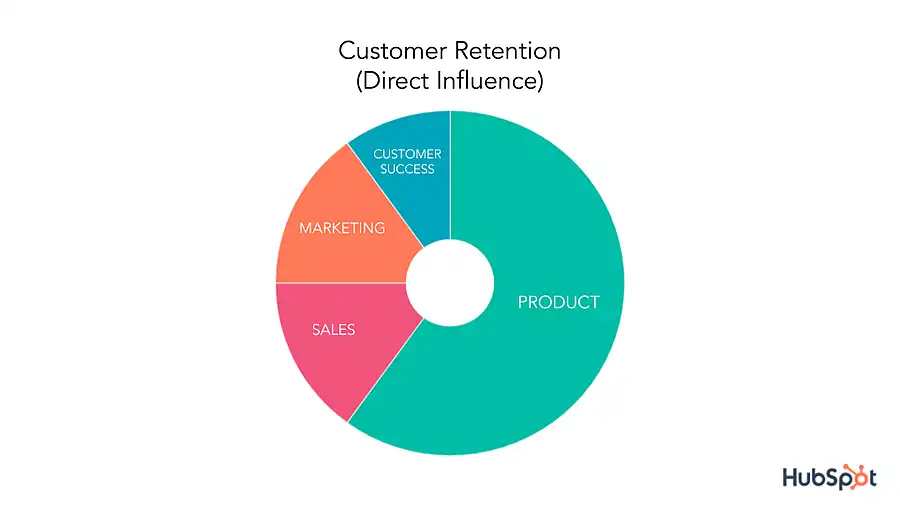 Through inbound marketing strategies that are also found in product marketing, service providers can demonstrate their expertise in the field, reputation, and name recall. For instance, a plumber may offer branded videos to help people with minor plumbing issues that they can take care of themselves.
Someone who is comfortable making these repairs may come to appreciate that service provider's expertise. When a friend asks for a plumbing referral, that provider will be top of mind.
services marketing should also focus on traditional referral models. This is where the service industry should leverage the necessity of customer contact to increase referrals. It should start with underpromising and overdelivering in such a way that leaves the customer delighted.
It should be followed up with a clear way to ask for referrals and a simple way for customers to offer them. Whether it is merely trying to turn regular customers into brand advocates and service evangelists or creating a program for referral bonuses, current customers are one of the best marketing tools available.
---
Services Marketing Value Propositions
Compared to products, services need to pay much more attention to value propositions, given services are centered around outcomes, not product features or tactical deliverables. When a customer cannot see and touch a product, it may be more difficult for them to assess value. Consumers want to know what a service can do and what benefits they will receive.
Effective service marketers that want providers to stand out need to consider the value propositions that work best with services. They need to continually answer the customer's question, "Why Should I hire you?" Not all of these value propositions will work with all service providers.
However, they can all help us to determine how to present any service to potential customers through marketing channels.
1. Results of Services
When purchasing certain types of services, consumers may be entirely focused on the outcome. If someone needs a new roof, they may be most interested in getting an installation that is done right and causes them no additional issues like damage during installation or leaks in the future.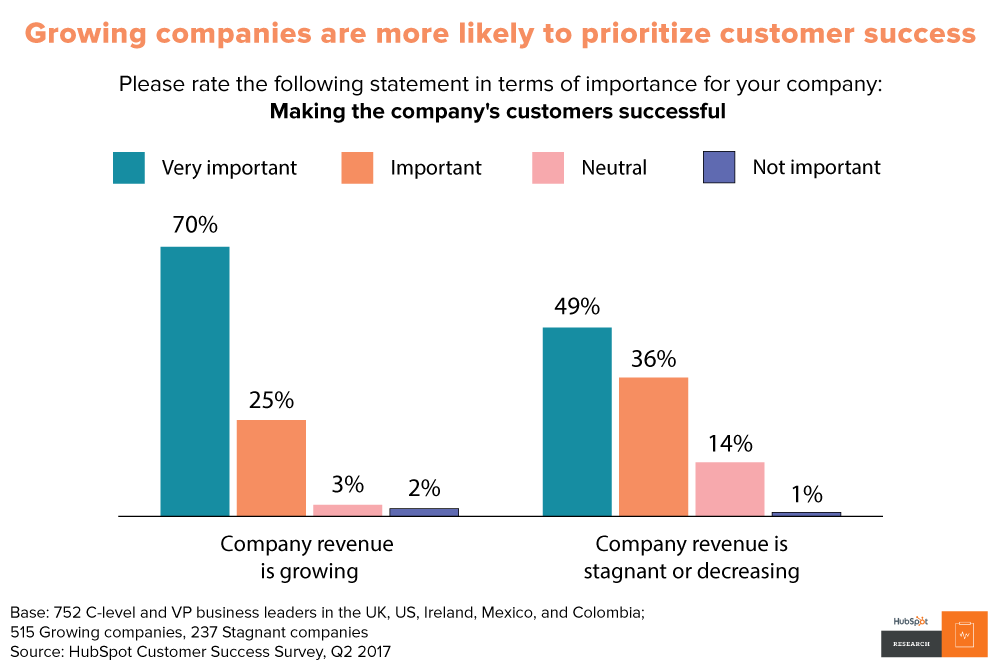 In this case, the marketer would find it useful to create copy and content that focuses on past results and why this provider can do the job better.
2. Speed of Services
With some services, when customers need it, they need it right away. For example, heating and air conditioning services may be critical at the peak of summer or dead of winter. If a provider can fulfill a promise of getting the problem fixed the same day, marketing may make that a priority.
As another example, emergency clinics and hospitals are now offering their wait times online or even on outdoor signage to demonstrate how quickly a patient can be seen. For customers, the promise of fast response time may not be the only criterion, but there are moments when it is at the top of the list.
3. Approach to Services
When service providers face a saturated market, it becomes especially important to create value propositions that help them stand out. This may speak to potential customers who feel they have a unique need.
Windshield repair and replacement services that perform repairs at a customer's home or business will want this unique feature to be a critical part of their marketing efforts.
4. Trust of Services
Trust is a crucial component of service marketing. However, too many providers include this benefit in marketing with no way to back it up. Providers who have built reputations may find ways to demonstrate the trust they have grown by featuring a large number of customers served or using testimonials of highly satisfied customers.
---
Services Marketing Channels
services marketing uses many of the same channels as other types of marketing. Of course, the best way to find the right channel is to carefully consider the product, conduct research, and find the best way to communicate with potential customers. However, some may lend themselves especially well to this segment.
1. Email Marketing
Email marketing might be overlooked by many service providers since, in many cases, customers may not need service regularly. However, even with services like home inspectors, mortgage brokers, and other businesses that customers may only need every few years, email can still be a powerful tool.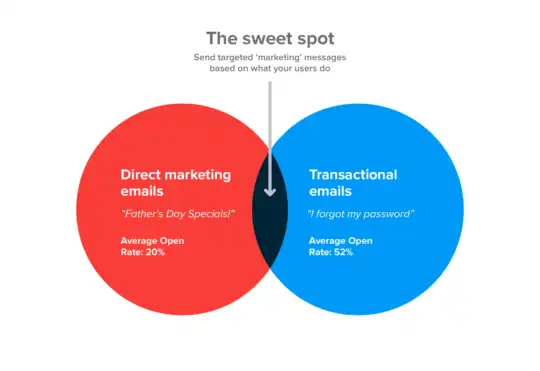 It can keep the provider in the mind of a previous customer for the next time they are needed or for a referral when a friend or colleague requires the service. For instance, a home inspector may only be required when someone is buying or selling a home.
However, they could still send out occasional emails with tips on how to avoid common home repair issues. If the content is valuable, customers may remain on the list and even share the emails with others.
2. Reviews
As mentioned earlier as a part of reputation management, reviews can be a channel of their own. Customer reviews for service providers are a growing industry. Customers can leave reviews on Facebook, Yelp, Google, and a variety of other sites.
*86% of people would pay more for services from a company with higher ratings and reviews
Not only can reviews help potential customers make decisions about placing their trust in you, but they can also have an impact on SEO and help people find you in the first place. Getting customers to write reviews takes some effort. The best time to ask for a review is at the moment a service is complete.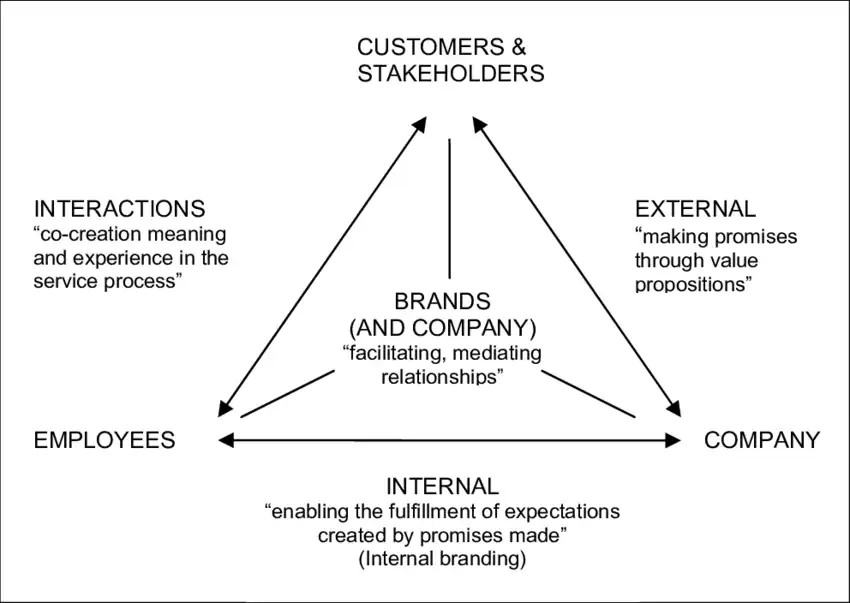 Some service providers including insurance agents provide specially designated computers in their offices and offer the chance for new customers to leave reviews right away.
3. Social Media
Social media seems to be a part of nearly every modern marketing strategy. Still, in the intangible and trust-based world of the service industry, it may be even more critical.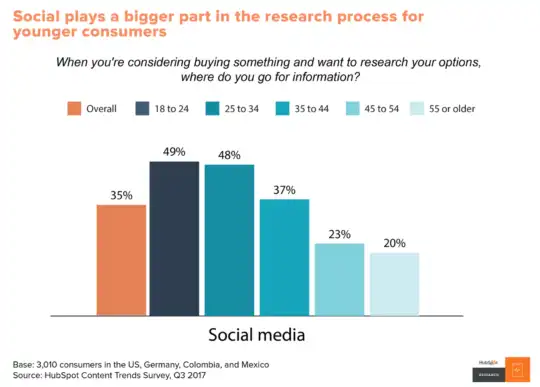 Social media platforms like Facebook, Twitter, Snapchat, YouTube, and Pinterest can help customers get a better understanding of a business's reputation and personality. Done right, it can also build a name and brand recognition.
Even better, on platforms like Facebook, viewers can see which of their friends have interacted by following or liking a business, offering instant credibility.
4. Pay-Per-Click (PPC) Ads
Some service businesses may find great success in investing in Google PPC advertising. This is especially true for services that are often needed in an emergency.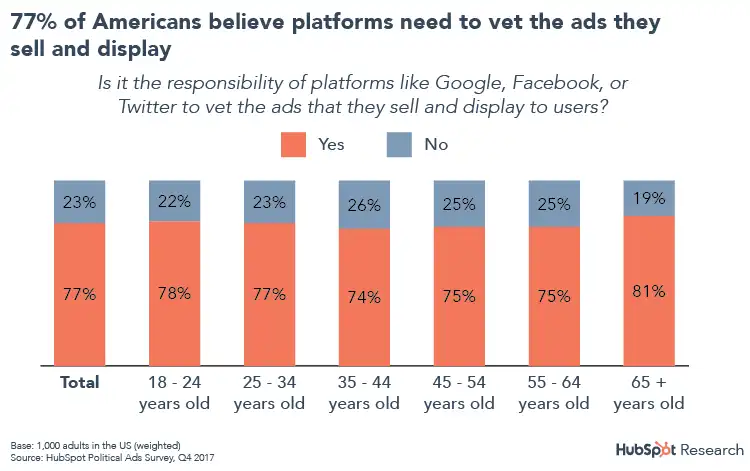 If someone's heater stops working in the middle of winter, and they don't already have a relationship with a repair service, they will often start with Google. PPC ads with the right keywords can get a business right at the top of the results page.
5. Continual Testing and Optimizing
Whatever approach service marketers take, data collection, testing, and optimization are just as critical here as with product marketing. Reviewing the analytics available on web traffic, social media engagement, email opens and clicks, and how they all tie together will provide insight into what is working and not working.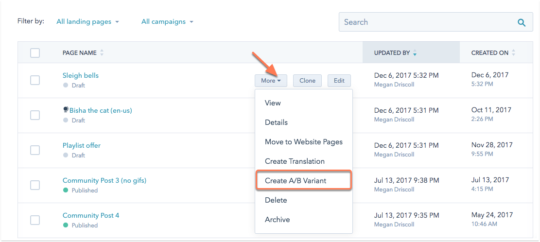 A/B testing of email campaigns can demonstrate the best tactics to increase clicks and conversions. Similar to other marketing approaches, services marketing can analyze data from every part of the sales funnel to look for bottlenecks and areas of improvement. Even the best strategy can benefit from improvement and, a plan that works well today may not perform as well next year, next quarter, or even next week.
Bottom Line On services marketing Strategies
As you can probably tell, services marketing is not entirely different from product marketing. However, some of the unique benefits and challenges of service providers call for a different approach.
While some of the same tools are in play, the playing field is very different. Marketers need to understand what makes service providers unique, what strategies lend themselves to services, and the various unique value propositions that help providers stand out.
Marketers also need to stay on top of the ever-changing world of digital media and customer preferences and leverage data and analytics to continually improve marketing efforts.