B2B company websites carry a heavy load of responsibility. The competition for B2B web design of all kinds is pretty fierce, with potentially millions of B2B companies already running and new ones starting up every month.
38% of people will stop engaging with a website if the content/layout is unattractive.
Statistics indicate that buyers search for their target online 8-12 times before they even begin to interact with a particular website. So the importance of an effective B2B website starts from the website, and continues on through follow-up for maximum customer retention.

Of course, not all websites are set up at an optimum level for this start-to-finish approach. It's recommended to take the time to reassess your website including your brand identity on a regular basis, ensuring that it stays up to date, truly relevant, and runs at optimal efficiency for your business.
These days, a reputable B2B company needs a sales ready website to reach consumers who are using mobile devices. To that point, if done correctly by partnering with B2B website designers, your website should be your top sales person.
The use of tablets and smartphones increases every day, and searches and purchases online are increasingly being conducted through smartphones and tablets. So if a company doesn't already have a mobile-friendly website, it'll lose many potential customers, because they aren't able to easily navigate your company's website from a mobile device.
48% of people cited a website's design as the number one factor in deciding the credibility of a business.
It's one thing to have a professional-looking website or e-commerce platform, but that's only the tip of the iceberg. The next step is to define MQL vs SQL to align your sales and marketing teams, which is vital attracting more quality leads and improve conversion rates.
This is where tactical growth-driven Web design is critical. And trusting leading Web design agencies that have been around for 10 or more years is the best option to getting closer to achieving the sales goals that you've proposed.
85% adults think that a company's mobile version of their website should be better than their desktop version.
The optimal result that you want from your companies B2B website strategy is increased website conversion optimization in real time. This is achieved by having your company's redesigned website generate more qualified leads through an intelligent and compelling B2B website content.
5 Reasons For B2B Website Designs

Traditional web design for B2B companies often relies heavily on reaching those "in the know," such as through trade journals, both in print and online. But digital accessibility is ever more important.
More and more B2B buyers — and regular consumers, as well — look to online sources to fill their needs. A report by Sirius Decisions states that as much as 67% of the "buyer's journey" now takes place online. So even when buyers are not directly purchasing from your site, they are likely to be researching your site as an option. Your website should be the primary source of information about your business.
Follow these B2B website tips to ensure more traffic converts into leads:
Load quickly for all devices

Include structured data and schema markup

Provide actionable tips and valuable insights

Leverage content personalization across buyer's journey

Offer frictionless website user experience

Focus around one keywords to maximize content relevance
1. User Experience Is Key
Veteran experience in designing and developing a website is an important factor, but that does not take into account your companies value proposition and user experience from a marketers perspective focused on conversions. Don't try to save money and do it yourself or hire a friend to redesign your company's website.
86% of website visitors expect to see a product or service on the homepage. (HubSpot)
It may look great, but it will most likely NOT convert website visitors into actual marketing-qualified leads. Not only will a professional Web design agency plan your growth-driven design objectives, but it will implement them when redesigning your company's website.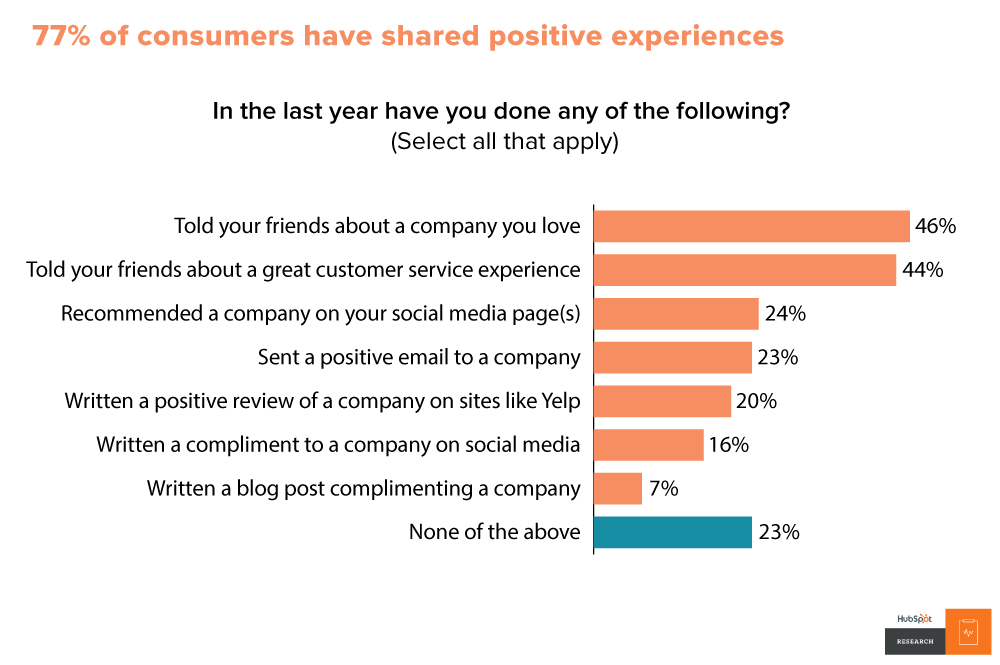 This is critical in order to increase targeted B2B website traffic and enable your company's new website to appropriately convert leads. That way, you can achieve an additional boost and achieve a greater amount of traffic.
2. Professional UI/UX Design
The development of an impactful user experience must rely on your company's buyer personas in order to ensure your B2B website redesign focuses on optimizing lead-conversion rates. User research is one of the most vital elements of UX design. Most B2B companies focus on a layout that the executive staff likes as opposed to following great b2b website design best practices that prioritize getting more website traffic to convert into am marketing qualified lead.
User research is how companies determine what their customers and users want and need. At its core, your website should solve a problem, and so this is an important step in determining what exactly your users require. Without it, your designs are simply guesses.
Even the most well-planned website user experience will be muted without an impactful user interface that appropriately conveys the corporate brand identity in support of inbound marketing efforts and an inbound sales funnel.
3. Multi-Platform Developers
Web design agencies have a team of numerous professionals capable of designing on any CMS platform. This is not a matter of considering WordPress vs HubSpot, because they are apples to oranges. If you're trying to sell online or sell subscriptions to a SaaS platform, the CMS platform you choose to power your website is paramount.
The name of the game in this regard is scalability. Your company will be best served by leveraging open sources platforms like WordPress so your team can easily make updates internally without ongoing developer expenses. Alternatively custom built solutions like building in PHP platforms such as CodeIgniter or even highly customizable e-commerce platforms such as Magento.
47% website visitors check out a company's products/services page before looking at any other sections of the site.
Separately, if you want to redesign your company's website on a user-friendly CMS such as WordPress, one key benefit is that your company will not need to hire Web design agencies to later add or update content to your company's website.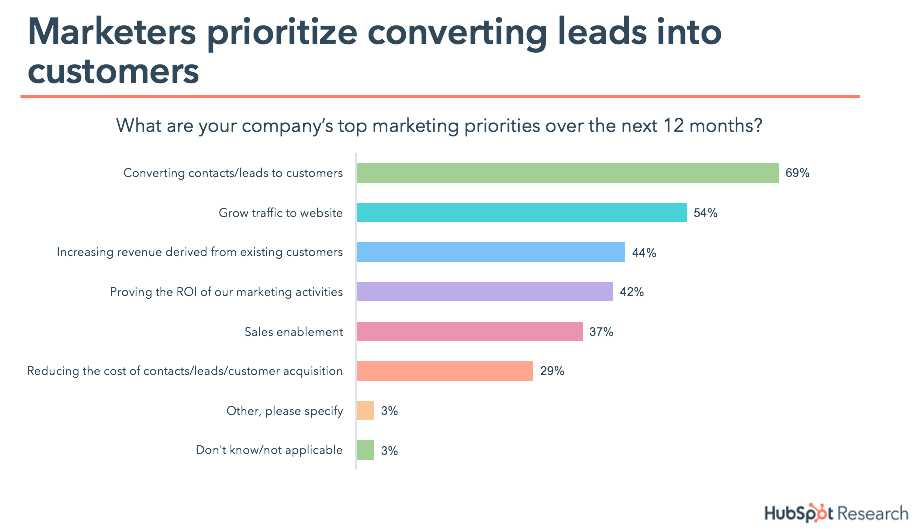 If you want a corporate website without running any ongoing inbound marketing program, then your company will be best suited using a free CMS such as WordPress. This website design approach will get you a professional page that you can modify and manage yourself after your Web development agency prepares it.
4. Save Time and Money
Ideally your website should be your best performing sales rep. To that point, if your company is spending more money on your website, then it generates every month, that is an important factor to take into consideration when planning your next B2B website redesign.
Another great advantage of hiring a professional Web design agency instead of having it done by a novice in-house is saving time and money. No reason to pay a team member to learn web design. With people dedicated to the development of every aspect of Web design simultaneously, the delivery time is drastically reduced so that you can meet your deadline for your website's redesign.
5. Maintenance and Support
All professional Web design involves a lot of technical elements that, for various reasons, may fail at one time or another. When these failures occur, you need a timely response, which is what a Web design agency can provide, allowing you to focus on your core business instead of trying to figure out what went wrong.
Tips for Redesigning Your Website
To a certain extent, redesigning your B2B website will benefit from many of the suggestions and how-tos that are presented for any business web design best practices. For example:
Make sure to keep "user friendly" as a priority. The user experience is sometimes passed over in favor of personal preferences or the desire to cram more information into the site. But according to

Marketing Profs, 37%

of your viewers will back right out if the site is poorly designed or difficult to navigate.

Make sure your message is clear. There should be no doubt about what your business site is all about. According to the same results from MarketingProfs, nearly 50% of viewers back out of a site because what the company does is not clear from the site content.

Make sure you create content aimed at your target audience. This is a different proposition for a B2B than it is for most regular companies, as your audience is made up of other businesses, rather than individuals. This often means that you can create more specialized content, using terms and references that are recognizable to your market, rather than "dumbing down" content by taking the time to explain every little thing. (Of course, there's also the chance that your customers could be new to the game, so a Frequently Asked Questions page which explains key terms isn't a bad idea, either.)

Make sure you keep your previous branding in mind. Sometimes a website redesign is more about the look of the thing, rather than the content. Updating your look is great, but make sure that you don't completely throw your current customers off by changing everything all at once. They should still be able to recognize where they are at when they click on your home page.
Checklist For B2B Website Redesigns
Is your website properly branded?

Does the design make good use of negative space, or does it feel crowded?

Does the layout make sense and lead the visitor to the next point of interest?

Do you use video content and other graphics?
Is your navigation easy to use?

Are the font size and type, color palette, etc., in accord with Web Content Accessibility?

Is the design responsive and optimized for mobile use?

Do you update and maintain the site regularly?

Does it include a live chat feature?
Does it contain updated, relevant information?

Is the information demonstrably useful to your audience?

Does the content maximize SEO keyword use?

Does the content showcase your company as an authority and expert in your field?

Are your products easily available for review?

Does it include multiple CTAs?

Does it include a clear method to contact you for further information or questions?
Is there a FAQ page?

Have you included an engaging company blog which is regularly updated?
Does your site include links to your social media profiles?

Is it up to date with current promotions?

Does it include lead generating features?

Does your email marketing include links back to relevant articles and products?
B2B Website Redesign Takeaways
If you haven't redesigned your B2B website for some time, it's definitely recommended to take the time to analyze its performance, function, user experience and content for optimization.
And if the answer to any of the questions on the checklist is, "No," then it's time for a website redesign.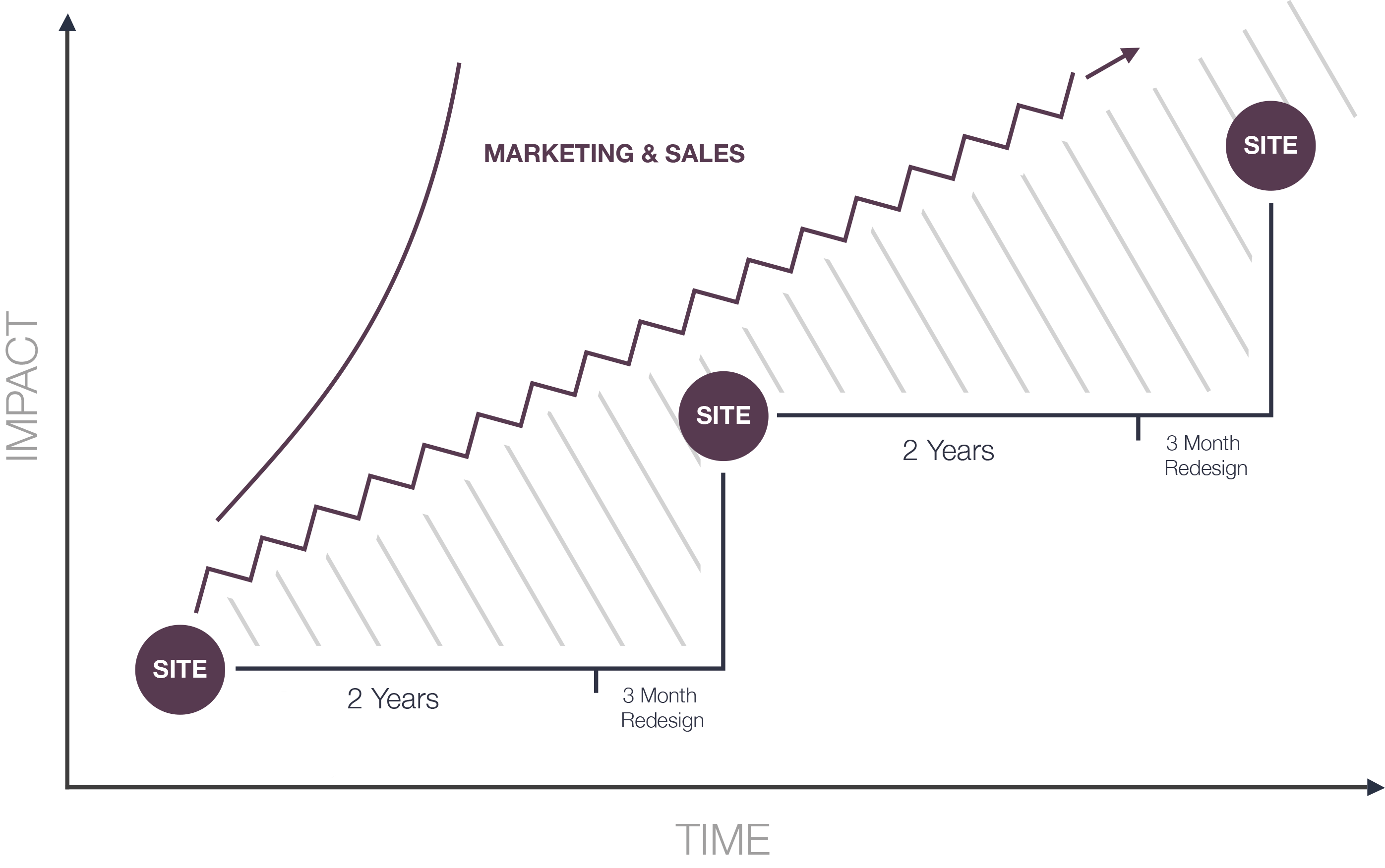 Even if you only redesign a portion or feature of your site, keeping it up to date and fresh will optimize it for web searches, and maximize the overall impact.
To ensure a successful experience, download this free B2B website redesign workbook for the right playbook to increase the amount of website visitors that convert into leads. There are many Web design agencies, but few have been around for more than a decade and have worked with top-tier brands.
These experienced website designers and developers are most capable of planning and creating impactful online user experiences geared toward generating new leads and ultimately improving website conversion rates.
If you want to start the redesign of your corporate website, your company must partner with a veteran, reputable Web design agency that knows your potential customers, the latest B2B website design trends in website design and web architecture, and SEO positioning to grow organic traffic.
Ultimately, the latest digital marketing technologies and strategies are needed to more effectively attract, convert, and nurture visitors into actual paying customers.
At the end of the day, the quantity and quality of new leads generated by your company's website should be your main concern when redesigning your company's website in 2021.