There is no question that the software as a service marketing strategy (SaaS) industry is booming. In fact, Gartner predicts that the global SaaS market will be worth $75.8 billion by 2021.
In 2023, the broader Strategic SaaS market is growing over 600% faster than the rest of the global economy.
But with so many savvy SaaS entrepreneurs across many verticals, how can you make sure your company stands out? Wondering how to promote SaaS products? or how to market your SaaS product?
In this blog post, we'll take a look at some of the most effective SaaS marketing strategies to leverage in 2023, including, but not limited to:
Grow your business with SaaS marketing techniques that are tried and tested
Get expert advice on the most effective ways how to market SaaS product or how to promote SaaS?
Save time and money with tips that are designed to help you grow your business quickly
Gain insights into the latest trends in SaaS marketing agencies or SaaS marketing organization, SaaS marketing courses, SaaS

marketing team

so that you can stay ahead of the curve
We'll also provide tips on how you can implement these strategies for your own business. So whether you're just getting started in the strategic SaaS world or you're looking to take your business to the next level, read on for some valuable insights!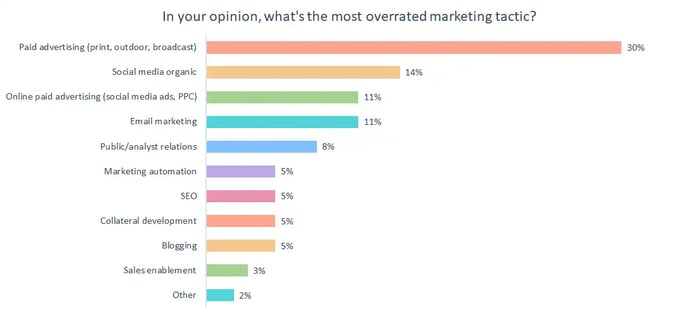 No SaaS marketing platform is ever complacent with its current growth rates or customer churn rates, even at peak performance. SaaS in Digital marketing objectives for SaaS companies is a wildly different approach for scaling SaaS marketing programs than compared to other types of companies. How do you attract SaaS customers effectively? How to advertise for SaaS?
52% of SaaS companies increased their spending on customer retention last year.
In 2023, you need to take a step back to assess the effectiveness of your current B2B SaaS marketing strategy to find potential course corrections and areas to improve your best marketing strategies for SaaS companies and B2B SaaS-based marketing plan. We commonly see the following marketing objectives for SaaS companies
Since most SaaS platforms are so obsessed with lead generation and top-line revenue growth, they often hinge on closing sales based on features and price instead of focusing on selling value and solutions.
This is where refining your B2B SaaS marketing funnel based on industry-standard best practices and SaaS growth hacking tactics to minimize customer churn, optimize SaaS pricing, marketing strategy for SaaS company, SaaS marketing courses and grow your SaaS subscription business end-to-end.
55% of SaaS companies rate Customer Retention Cost as the key metric to measure. (Totango)
The more you are sales-ready messaging focused on the future state of your ideal customer and how your best SaaS marketing results platform solves those problems, the more likely your brand is to stand out from the crowd and convert a website visitor into a free trial on your SaaS marketing platform.
The traditional digital marketing objectives for SaaS companies from the 2010s was ineffective. In 2023, SaaS strategies match the level of innovation found in these new services marketing SaaS solutions. While SaaS growth hacking tactics may stem from more traditional marketing methods, the overall b2b SaaS growth stratgy deserves a fresh look given B2B SaaS marketing plan template and the SaaS marketing team or SaaS marketing organization is different.
SaaS Marketing Strategic Considerations
It's important to keep a few things in mind before developing and implementing various SaaS marketing strategies. Even the best marketing strategy SaaS in the world won't work if you don't know your customers, competition, and selling points.
Know Your Ideal Customer
The first step in any sales and marketing strategy for SaaS is understanding who your target audience is. One key aspect of SaaS marketing is understanding your customers' needs and pain points. These contours frame your SaaS value proposition.
This means doing extensive research into what drives their purchasing decisions, and identifying the features, and benefits that are most important to them. It's crucial to understand where they spend time online and what types of content they respond best to.
A great way to learn more about your ideal customers is to create buyer personas. These are fictional representations of your ideal customers based on real time data and market research. To create a buyer persona, start by outlining the key demographics, such as age, gender, income level, location, and job title.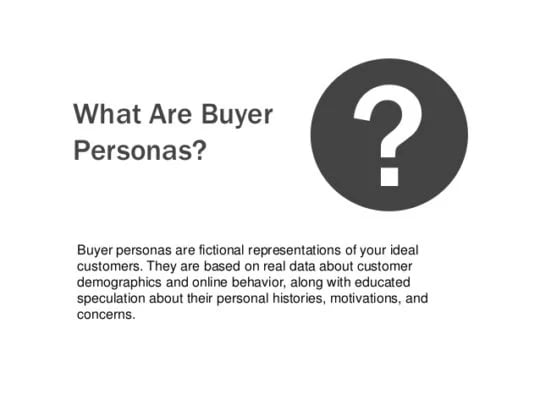 Next, write down the common challenges and goals they face in their work or personal lives. Finally, identify the types of content they enjoy consuming and where they tend to spend their time online.
Once you have a solid understanding of marketing objectives for SaaS companies of who your target audience is, you can then begin using SaaS marketing strategies that will help you reach and engage them effectively. How to market SaaS Product? Some examples include updating your website with engaging content that provides value to your users, creating targeted social media ads for specific customer segments, and partnering with other brands or influencers.
Understand Your Competition
In order to stand out in the SaaS industry, it's important to understand what your competition is doing. Take a look at their marketing materials and see what they're doing well and where they could improve. You can also use this information to position yourself as the better option for potential customers.
Some best practices for researching the competition include:
Analyzing their website, blog, and social media profiles to get a sense of their messaging and positioning. This can help you identify areas where you want to emphasize your strengths or improve upon any weaknesses.


Reading up on industry SaaS marketing trends and news, as well as monitoring competitor activity online to stay on top of emerging developments in SaaS marketing strategies.


Learning from the successes and failures of other SaaS companies by reading case studies and white papers that provide insights into how they achieved success or encountered obstacles in reaching their target customers.
By taking the time to research your competition, you can develop a SaaS marketing strategy example that will help you better reach and engage your target customers.
Develop a Unique Selling Proposition
Often times the most effective value proposition is leveraged for SaaS outbound lead generation campaigns In order for your SaaS company to be successful, you need to have a clear understanding of what makes your product or service unique. This is commonly referred to as a unique selling proposition (USP).
Your USP should be something that SaaS marketers sets you apart from the competition and resonates with your target customers. It should be clear, concise, and easy for potential customers to understand.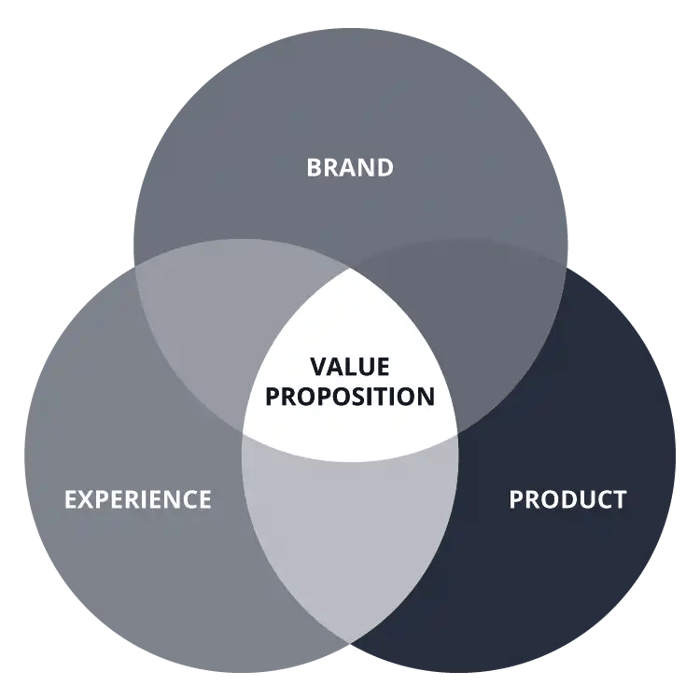 Some examples of unique selling proposition in the SaaS industry include:
A focus on customer success: Customers want to know that they'll be able to get the most out of your SaaS product or service and that you'll be there to help them every step of the way.


Cutting-edge technology: If your SaaS product or service makes use of innovative technology that other competitors don't have access to, this can be a key differentiator for potential customers.


Superior customer support: Providing top-notch customer support is essential in helping SaaS companies stand out from the competition.
By developing a clear and compelling USP, you can further refine your SaaS marketing strategy with SaaS marketing team or marketing objectives for SaaS companies and reach more potential customers in today's crowded marketplace.
Top 15 SaaS Marketing strategies
Once you have a clear understanding of your target customer, competition, and selling point, you can begin crafting your SaaS marketing strategy accordingly. This may include developing targeted website copy, creating engaging social media content, or launching targeted email campaigns.
By focusing on the following ten key aspects of SaaS growth marketing for SaaS companies, your team can further refine your SaaS marketing playbook to scale customer acquisition, streamline customer onboarding and further reduce customer churn.
#1. Embrace SaaS Content Marketing
SaaS is uniquely positioned to take advantage of SaaS content marketing as a primary strategy for growth. Potential customers are most likely to adopt a new SaaS marketer who may already be searching for a solution for their pain point online.
They often focus on features instead of outcomes. Today, B2B SaaS marketing firms take a much different and strategic approach to align pertinent content to answer the main questions potential customers are asking through our SaaS buyer's journey.
When developing your content strategy, it is important to focus on creating quality, relevant, and engaging content. This content should be designed to appeal to your target audience and help them solve a specific problem. In addition, all of your content should be well-optimized for search engines in order to improve your visibility.

Unfortunately, this isn't as simple as creating a few blog posts. To compete in the crowded SaaS marketing mix, you need to be churning out consistently high-quality, persona-driven content that is not only keyword optimized and offers value to your potential SaaS customers SaaS marketing solutions to help them sell your SaaS platform to their boss.
If you have done the work to create persona-driven content that speaks to relevant pain points, your best B2B SaaS marketing ideas help campaigns are uniquely situated to write as a thought leader on the topic.
You should already know what questions ideal customers are asking because you researched their pain points and created a solution that helps them solve them.
When developing a b2b SaaS marketing strategy, think clearly about conversion rates and acquisition costs, and associated downstream conversion nurturing for your SaaS customer onboarding processes.
When someone finds you as a source for information and a solution to their problem, how do you continue the conversation and draw leads deeper into your sales B2B SaaS marketing strategies without annoying them with cookie-cutter email marketing automation? Are you personalizing sales-ready messaging to industries or personas?
One option is to give away some of your more valuable content in exchange for contact information, through persona-driven content offers. As part of any effective b2b SaaS marketing plan template, it has become standard for high-growth marketing SaaS companies to offer free infographics, eBooks, videos, white papers, and other resources in exchange for an email address. This allows you to convert the potential customer in your sales funnel as a marketing qualified lead.
Finally, don't forget to promote your content through social media and other b2b SaaS marketing channels. By getting your content in front of as many people as possible, you can generate leads and convert more customers.
#2. Offer Free SaaS Trials
SaaS companies are in a unique position when it comes to using free trials, which can lead to new customers moving the needle with increasing monthly recurring revenue. Depending on the exact product you are offering there is often little to no cost in allowing a potential customer to try out your offering.
62% of SaaS companies get more than 10% of their business from free trials (Opt In Monster)
There are no shipping or return shipping costs, so there is little to lose in this SaaS customer acquisition strategy. This is an opportunity to show off, not just your product, but your customer service and support. If the product is the right fit, you may see lead conversions to paid SaaS subscriptions happen with no additional effort.
The end of a trial period also offers the opportunity to reach out to gain valuable insights into likes and dislikes while they gave your SaaS platform a test drive and looked under the hood. This feedback is priceless, not just to your product team, but also to your sales and SaaS marketing budget help team.
Consider these best practices for free SaaS trials:
Make sure your SaaS free trial is easy to sign up for. SaaS companies often lose potential customers because their sign-up process is too complicated. Make sure that signing up for a free trial does not require users to input more information than absolutely necessary. The goal is to make the sign-up process as simple and straightforward as possible.


Consider not requiring the use of a credit or debit card to sign up. Some SaaS companies require a credit or debit card for payment to access their free trial, but this can be quite off-putting for potential users. Instead, offer the option of paying later through another mechanism such as a check or ACH transfer- or don't require payment at all.


Offer a risk-free trial. Risk-free trials are becoming increasingly popular as customers become more sophisticated and demanding. In a risk-free trial, customers are not charged until after they have had a chance to use the product and decide if it's right for them. This type of trial removes any perceived barriers to signing up for a SaaS free trial and can help you attract more customers.


Finally, SaaS companies should also think about how they will convert users from their free trial to a paid subscription. One way to do this is to offer a discount for signing up for a paid subscription within the trial period. Other SaaS companies choose to send reminder emails or notifications as the end of the trial period approaches, informing users of the impending expiration date and what they will lose access to if they don't sign up for a paid subscription. Still, others use a combination of both methods. Whichever method you choose, make sure that you give users enough time to try out your product and form a decision about whether or not it's right for them before requiring payment.
With these SaaS best practices in mind, you can create a free trial that is enticing to potential users and helps drive sign-ups and conversions. And by continuously iterating on your SaaS pricing model and offering new features and capabilities over time, you can continue to grow and improve your SaaS business strategy for years to come.

#3. B2B SaaS SEO Strategy
While optimizing your blog posts for relevant, high-value keywords is essential, you also need to evaluate your entire website for SEO. It is important to understand that SEO for SaaS platforms has the ability to drive leads into your SaaS sales strategies funnel organically without having to rely on ads. With that said, SEO does nothing to nurture leads into customers, which is where lead nurturing comes into play.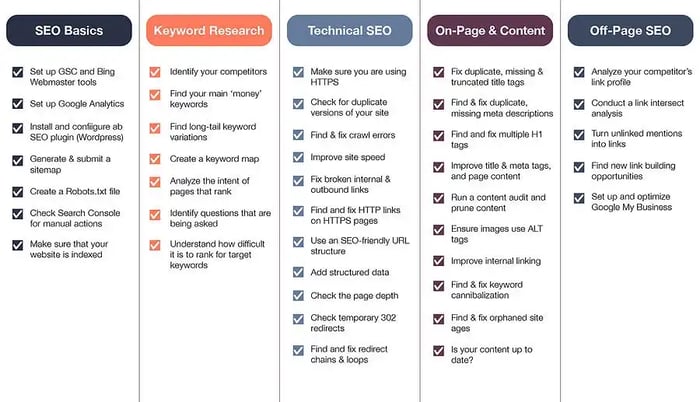 From that point of view, the ideal goal of SEO down the road is to increase rankings to get into the top three spots of Google search so that your SaaS company will not need to buy ads for those specific search phrases.
Understanding your primary audience and researching keywords is the first step, followed by reviewing all of your content and meta-data to improve your ranking. Also, don't forget about the importance of backlinks to your search engine ranking.
Improve your domain authority by creating high-quality referrals and links. Instead of operating on assumptions, lean heavily on running A/B testing experiments to be armed with insight and visibility that allows you to make data-driven decisions in support of your B2B SEO strategy broader content SaaS b2b marketing strategies.
Ways to Improve Domain Authority
When it comes to increasing your brand's visibility and increasing its popularity, one of the most effective ways to do so is by creating high-quality referrals and links to your site.
One of the best ways to create high-quality referrals and links back to your site is by investing time and resources into creating engaging content that people will want to share with their networks.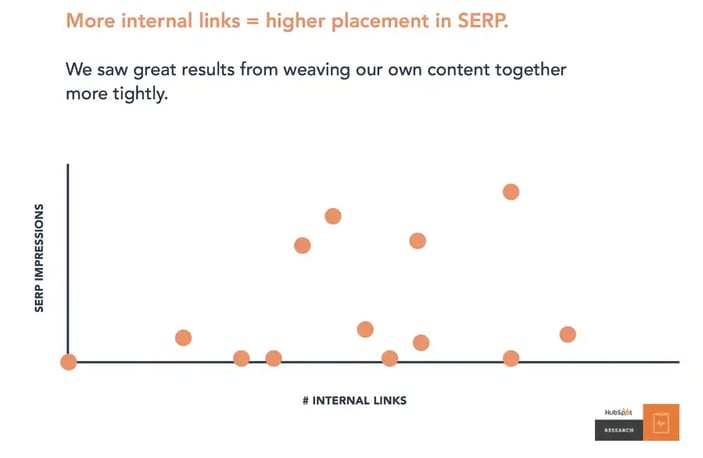 This may include creating useful guides, white papers, case studies, or other detailed content that offers value for a specific audience. Additionally, you should be sure to distribute this content widely across different b2b SaaS marketing channels, such as social media sites and industry-related blogs and forums.
Another effective strategy is to partner with other companies or professionals in your industry who also have established sites, social media accounts, or publications. By linking to each other's content as well as participating in joint SaaS lead generation campaign and events, you can help increase the authority of both your own brand and those of your partners.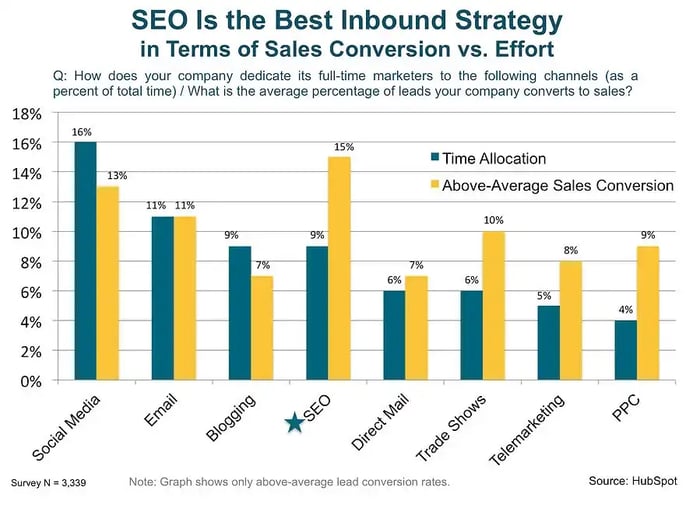 Finally, it's important to remember that increasing brand awareness isn't something that happens overnight. It takes time and effort to build up a consistent stream of high-quality referrals and links back to your site and continue promoting your brand on an ongoing basis.
However, by using these SaaS SEO strategies consistently over time and monitoring the results closely, you can make significant progress toward achieving this goal for your SaaS marketing insights efforts.
How to Run A/B Tests
Website A/B testing is an important digital advertising strategy for SaaS companies to improve their conversions.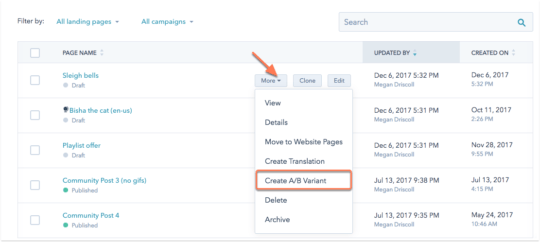 The first step in running an effective A/B test is to identify what elements on your website should be tested. Some of the most common elements include options such as:
Calls to action (CTAs)

– Does a different CTA lead to higher conversion rates? Or do certain CTAs perform better than others? These are questions that can be answered through A/B tests. For example, if the "Sign Up" button on your website performs better than the "Contact Us" button, then you might want to consider making a change.



Website copy

- This includes things like headlines, product descriptions, and body text. A/B tests can help you determine which version of each piece of content results in more conversions – whether it be newsletter signups or sales of your product or service.




Headlines

- You can use A/B tests to determine which headlines result in more clicks, and then make changes accordingly. For example, if your A/B test shows that a headline with a strong benefit sells better than one without it, you may want to incorporate more benefits into all of your future headlines.



Opt-In Forms

- Does your opt-in form have a significant impact on the number of leads you receive? If not, then A/B testing can help you identify ways to improve it.
To run an effective A/B test, it's also important to have clear goals for what you're trying to achieve with your testing efforts. This will help ensure that all of your tests are focused on improving key metrics – such as click-through rates, conversion rates, average revenue generated, and revenue generation – rather than simply making random changes to your website.
When running your A/B tests, it's important to keep the following in mind:
Test one element at a time – Trying to test too many things at once will make it difficult to determine which changes are having an impact.


Make sure you have enough traffic – You need a good amount of traffic in order for your A/B tests to be effective. If you don't have enough traffic, consider using a tool like Google Analytics' Experiments feature to get more data.



Be patient

– Don't expect results overnight. Give your A/B tests time to run, and be sure to analyze the data carefully before making any changes.
With these tips in mind, you can start running effective A/B tests on your website and see real improvements in your conversion rates.
If you're looking for more tips on how to run effective A/B tests, be sure to check out the resources available online. There are many articles and guides that can help you get started with your testing efforts, as well as tools such as Optimizely and VWO that can make it easier to manage your A/B tests.
Overall, there are many benefits to using A/B testing for your SaaS marketing solutions efforts. By identifying which elements of your website drive higher conversions, you can optimize your site's performance and grow faster in the long run.
So if you're looking for effective strategies to improve your website's performance and boost your company's growth, consider running A/B tests to help you get started.
#4. Actionable SaaS PPC Campaigns
Are you aware of your Google ad quality score? If not, this could be costing you tons of money. If your content marketing strategy b2b SaaS and SEO rankings are still not generating enough organic search traffic and leads, consider a PPC campaign to:
Get in front of your target audience more efficiently with paid media
Spend more time on product development and less on marketing
Scale your marketing efforts faster and easier than before
Achieve a higher ROI with paid media.
Not all paid media channels are worth the effort, especially with B2B SaaS platforms, as shown in the follwoing data chart from HubSpot. Due to the cognitive bias that regulates a the degree of trust that a prospects has when viewing paid ads on social media, often times SaaS companies see higher levels of trust on Google, both with retargeting ads, as well as text-based organic search ads.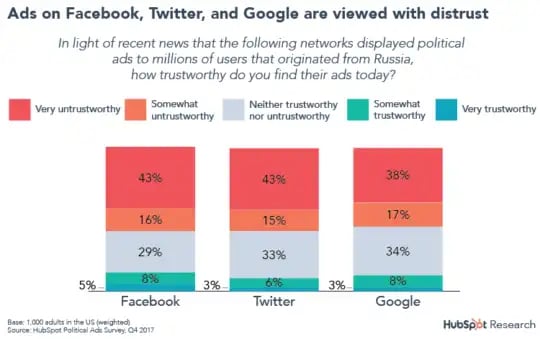 Again, do your research to make sure you are using the right keywords, long-tail keywords, and variations to get your links in front of the right people at the lowest cost-per-click.
This is where your B2B SaaS marketing strategy 2023 needs to look at PPC vs SEO, meaning your SEO efforts should partially be in support of achieving top rankings for your top-performing PPC keywords or phrases.
Also, pay attention to your ad quality score. Most SaaS companies throw up some ads and a few landing pages, then wonder why they pay so much money on PPC keywords that have the highest level of buyer intent.
PPC for SaaS marketing insights can be an effective way to reach your target audience and generate traffic to your website. With the right strategies, you can create ads that are targeted to users who are most likely to convert into paying customers.
Some of the key elements to include in your PPC strategy for SaaS marketing insights include choosing the right keywords, creating detailed ad copy, and running A/B tests on your landing pages.
Below is a few key best practices that you should keep in mind. These include:
Choosing relevant keywords that are specifically targeted to your ideal customer base. This means including keywords that your customers are most likely to use in your ad campaigns.



Create detailed and compelling ad copy

that speaks to the needs of your target customer. Make sure to include a strong call-to-action that encourages users to click through to your website.


Testing different landing pages and offers to see what converts best. A/B testing is essential for optimizing your PPC campaigns and ensuring that you're getting the most out of your investment.
By following these best practices, you can create an effective PPC campaign for SaaS marketing that will help you reach your business goals.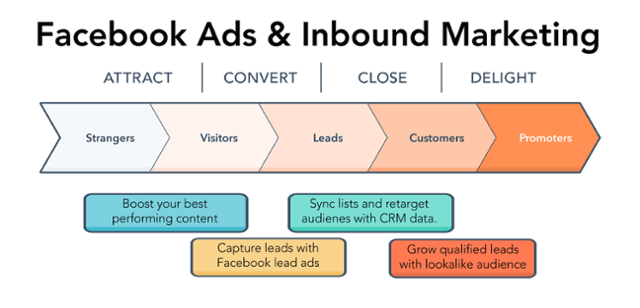 No in-house team member will be able to do this effectively, as they are wearing many hats within your SaaS organization. This is a place where your SaaS platform should look to hire SaaS marketing agencies that only focus on conversion rate optimization.
If your SaaS company is not offering a compelling value proposition to potential customers, those ads may not perform as well as you would like and they will sign-up on your competitor's platforms.
#5. Leverage SaaS Review Sites
One of the best SaaS marketing strategies is to harness the power of SaaS review sites. These platforms allow you to connect with potential customers and showcase the quality and value of your products or services.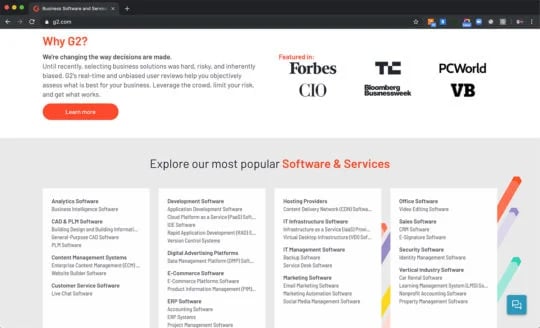 With SaaS review sites, you can build trust with potential customers by giving them real, honest feedback about your offerings. You can also share product details, as well as case studies and testimonials from other satisfied users.
Additionally, SaaS review sites offer valuable marketing tools such as search optimization and paid ads to help you reach even more potential customers.
The number of SaaS review sites continues to grow as consumer confidence in online reviews remains steady. You may find that potential customers are looking at these sites to find solutions to their software needs.
77% of buyers conduct their own research before even talking to salespeople. Customer research is a critical part of the purchasing process
Therefore, you want to be sure your solution is represented on those sites. If this hasn't been part of your SaaS growth strategy you will want to review the top websites like Capterra or G2 Crowd featured below to ensure you are listed and well-represented.
If your SaaS platform is not already on top review sites like G2, reach out to the site editorial team with your specifications and value proposition. Some sites also offer premium features that spotlight your SaaS platform's key value propositions and how exactly it helps others.
With SaaS review sites, you can provide potential customers with detailed product information and reviews from other users. This helps them feel more confident in their decision to sign up for your SaaS platform, as well as gives them a sense of what to expect once they start using your service. And by taking advantage of SEO tools available on these platforms, you can also drive more traffic and visibility to your SaaS company.
6. Incentivize Referrals
If you're a marketer, you know that referral programs are an essential part of any successful marketing strategy. But if you're new to the world of SaaS, building a referral program might seem like a daunting task.
Don't worry - we're here to help! In this post, we'll teach you how to build a referral program that will help you attract more customers and grow your business. Keep reading for the Best SaaS branding tips and tricks on how to create a Referral Program that works for your SaaS company!
You would be surprised at what SaaS customers would do for a free month of service, including referring a friend or colleague. Best SaaS branding help tactics are similar to other marketing in one way, referrals are the most effective ways to reach new customers.
Ideally, a long-term customer loves your SaaS platform, so they are ripe to ask for referrals. Whether it is in the form of subscription discounts, free premium features, or a full-fledged SaaS referral program, find ways to encourage your current SaaS customers to spread the word and be compensated accordingly.
SaaS companies rely heavily on their referral programs in order to grow and maintain their customer base. A successful SaaS referral program relies on effective marketing strategies that can help to attract new users and engage existing ones.
Steps to Create a High-Quality SaaS Referral Program:
Define your goals and target audience. - Before you can create an effective SaaS referral program, it is important to clearly define your goals and the demographic you are trying to reach. This will help guide your marketing strategy and ensure that your incentives are tailored to meet the needs of your users.


Design compelling incentives for both referrers and referees. - Your incentive should be enticing enough to encourage existing customers how to promote SaaS product or service, while also being attractive enough that new users will want to sign up through a referral link. Some popular incentive options include free trials, discounts, coupons, or premium features or content access.


Develop targeted messaging that resonates with your target audience. - In order to generate interest in your referral program, you will need to develop messaging that resonates with your target audience. This could include social media posts, blog articles, or email marketing campaigns.


Create an efficient tracking and reporting system. - It is important to have a system in place that can track referral activity and conversions in order to measure the success of your program. Additionally, having a reporting system in place can help you to identify areas for improvement and optimize your referral program over time.


Monitor key metrics and adjust accordingly. - In order to ensure that your SaaS referral program is successful, it is important to monitor key metrics such as user acquisition costs, conversion rates, and ROI. Based on these metrics, you may need to make changes to your program, such as revising incentives or tweaking your messaging strategy.
With sustained effort and ongoing optimization, you can leverage your SaaS referral program to grow your customer base and boost revenue.
Make sure to watch the video above outlining how leveraging granular UTM tracking codes has have a significant impact on the visibility your company has, as a relates to granular sources of traffic to your company's website
#7. Make SaaS Sign-Ups Easy
It's no secret that a well-designed signup flow can have a big impact on the success of your b2b SaaS marketing channels or best marketing channels for SaaS. But what does "well-designed" mean, exactly? And how do you go about designing your own signup flow?
We'll start by discussing the key elements of a successful signup flow, then we'll share tips for designing your own flow. Finally, we'll provide a few examples of well-designed signup flows. So read on to learn everything you need to know about designing your SaaS signup flow!
Speed up time to market – get your SaaS signup flow designed and up and running in record time


Improve customer experience – design a signup flow that is smooth, easy to use, and guided by best practices


Increase conversion rates – make it easy for users to sign up for your SaaS product and get started right away


Gain a competitive edge – quickly get your SaaS signup flow ready while your competitors are still struggling


The first step in the b2b SaaS marketing plan for SaaS product is to make it easy for people to sign up. This might seem like an obvious statement, but you would be surprised how many SaaS products make it difficult for people to sign up.
If someone has to jump through hoops just to create an account, they are likely to give up and move on to a competitor. Review your signup process and see if there are ways to shorten or streamline the process to get them using your product quickly.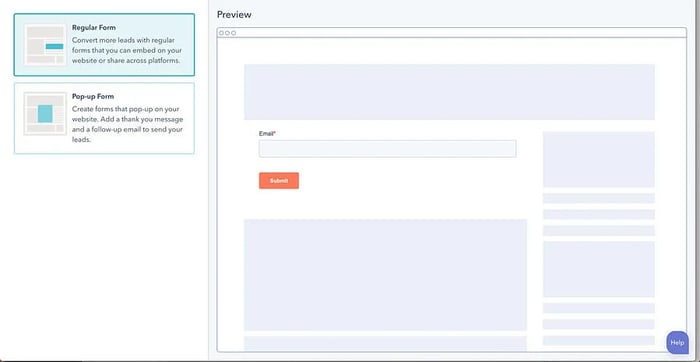 There are a few things you can do to make sure your sign-up process is as smooth as possible:
Keep the form short and simple. Only ask for the information that is absolutely essential.


Offer a free trial or money-back guarantee so that people can try out your product with no risk.


Have a clear and concise call-to-action on your sign-up page so that people know exactly what they need to do
#8. Refine Call To Action
One of the most reliable ways to get more SaaS customers to try or purchase your product is simply to ask them. Review your overall marketing strategy and clarify the next steps you want your site visitors to take.
The first and most crucial step to a successful call to action is understanding what you want your users to do. This may seem like common sense, but without a specific goal, your CTA will likely be ineffective. Every element on your website or landing page should have a purpose that supports the overall goal of converting visitors into leads or customers.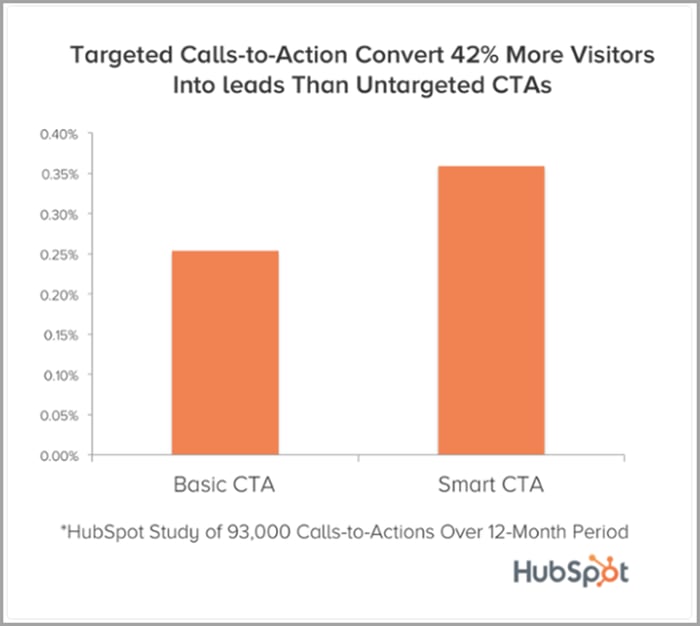 Your CTA should be placed in a location that is visible and easily accessible to users. The text should be clear and concise, with a strong verb that encourages the desired action. The button itself should be prominently displayed and use color contrast to stand out from the rest of the page.
Make sure your CTA is relevant to the user's current position in the buyer's journey. For example, if they are browsing through your product pages, an effective CTA may be to "Learn More" or "Sign Up."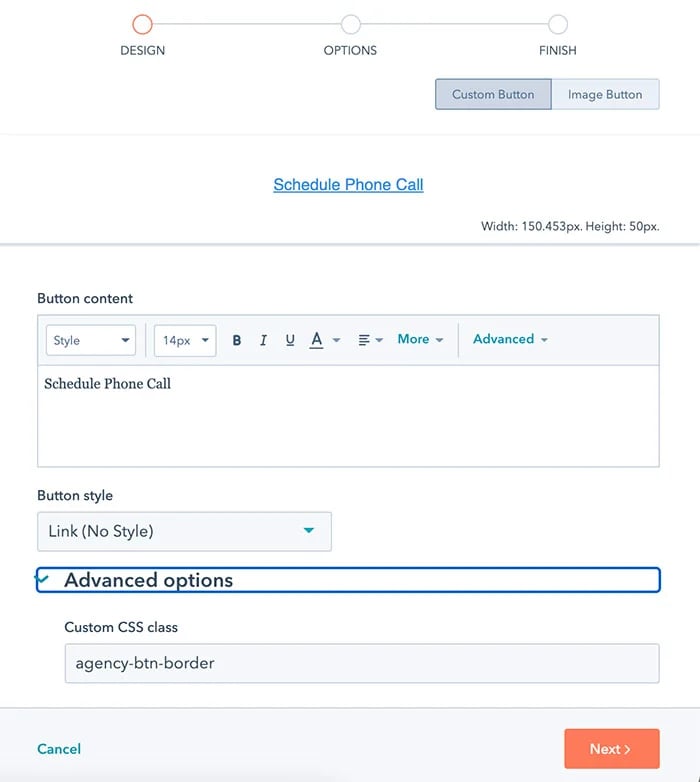 However, if they have already purchased your product and are simply looking for support information, a more targeted CTA might be to "Download User Guides" or "Schedule a Training Session."
Overall, the key to a successful CTA is knowing your users and understanding what actions you want them to take. With strategic placement and strong wording, you can increase your conversion rates and grow faster in the SaaS industry.
#9. SaaS Social Media Strategies
Both B2B and B2C SaaS companies can leverage social media marketing to reach their ideal audience, increase brand awareness, boost loyalty, and increase sales as well as MRR or ARR. Social media is a powerful marketing tool for SaaS products, but it is often underutilized. In order to maximize its potential, you need to have a solid social media strategy in place.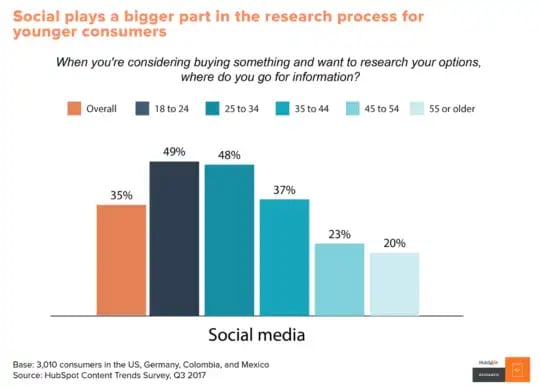 Here are a few tips:
Identify platforms your target market is using and focus your efforts there.


Post engaging content that will encourage people to interact with your brand.


Use social media ads to reach a wider audience.


Take advantage of influencer marketing and partner with popular social media users to promote your product.
#10. SaaS Email Marketing Strategies
Email marketing can be an effective part of your SaaS marketing strategy. By sending out regular emails or newsletters to your subscribers, you can stay top-of-mind and build long-term relationships with potential customers.
Email marketing generates $42 for every dollar spent, which is an incredible 4,200% ROI, making it one of the best SaaS marketing strategies available.
Additionally, you can use email marketing tools to track the performance of your campaigns and make adjustments as needed in order to maximize ROI. If you are looking for help with SaaS email marketing, a SaaS marketing agency or consultant can help you develop an effective strategy that meets your unique business needs.
There are a few key things to keep in mind when sending out SaaS email marketing communications:
Keep your emails short and to the point. No one wants to read along, rambling email – focus on getting your message across succinctly.



Use engaging visuals.

In addition to text, include images or other visuals in your emails to capture attention and break up the monotony of text-only messages.


Use an eye-catching subject line. This is your opportunity to make a good first impression – use keywords or questions that will pique curiosity and encourage recipients to open your email.


Personalize your messages. Whenever possible, address your emails to specific recipients by name rather than using a generic "Dear Subscriber" greeting.


Include a call-to-action. What do you want recipients to do after reading your email? Make it easy for them to take action by including a clear and concise call-to-action button or link.
By following these best practices, you can ensure that your SaaS marketing campaigns are successful in driving leads and sales.
#11. SaaS Account-Based Marketing
Account-based marketing (ABM) or also referred to as target account selling is a great way for B2B SaaS companies to increase leads, personalize marketing materials, and close bigger accounts. Most SaaS companies focus more on paid traffic and organic traffic to fuel net new funnel prospects.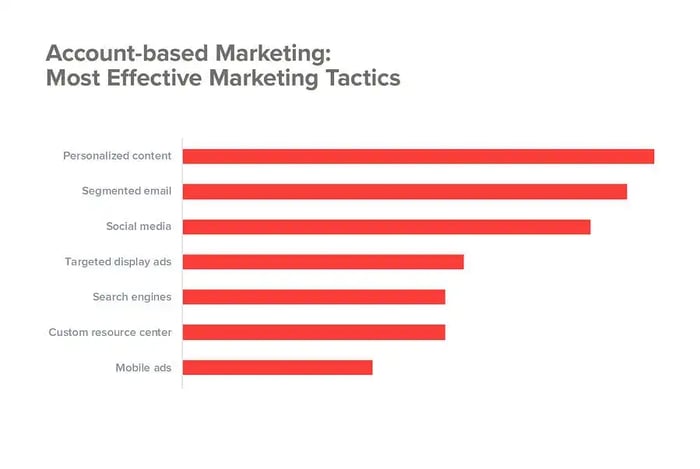 This outdated playbook does not sit well with high-growth SaaS executives who also prefer a third approach of targeted account selling, or ABM. Not all SaaS marketing agencies specialize in SaaS account-based marketing programs due to to the team of niche specialists in the following five areas:
Content
Messaging
Automation
Reporting
Data


Only 22% of companies report having a measurable ABM strategy in place.
ABM allows you to tailor your marketing messages and content to the needs of each individual account, increasing the likelihood of conversion.
Additionally, ABM provides SaaS marketers with valuable insights into what is working and what isn't, so you can make necessary adjustments to your campaigns.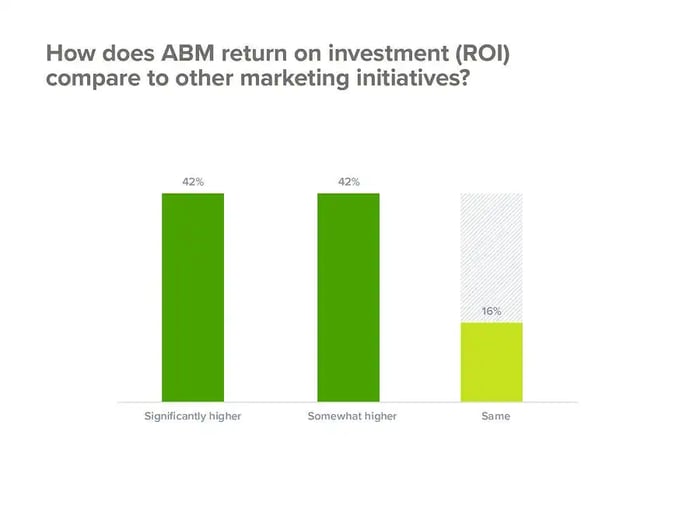 If you are new to account-based marketing, there are a few things you need in order to get started:
Identify your target accounts. Find companies that match your ideal customer profile in terms of size, industry and location.

Research your target accounts. Once you have identified potential target accounts, take the time to learn more about each one. What are their specific needs? What challenges are they facing? How can your SaaS product or service help them?


Develop personalized content and messages. Create content and messages that are tailored to the specific needs of each target account.


Create a multi-channel approach. In order to reach decision-makers at your target accounts, you will need to use a variety of marketing channels, including email, social media, online ads, and more.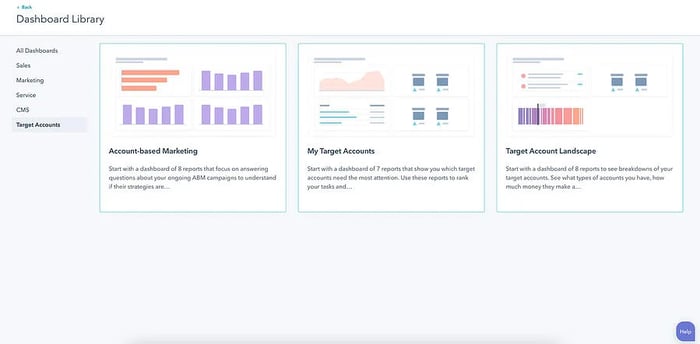 Working with a B2B SaaS marketing agency with experience in account-based marketing can help:
Reach more potential customers by targeting companies with a similar profile to your best customers.
Generate more leads and sales through account-level marketing automation.
Increase your close rate and shorten your sales cycle by targeting the right accounts at the right time.
Save time and resources by automating marketing efforts across channels, including email, social and ABM campaigns
Account-based marketing is one of the best ways to secure high-revenue large accounts. However, it does take a great deal of time and knowledge. You'll have to conduct a great deal of research and engage in intensive preparation for the amount of personalization required for an SaaS ABM campaign.
#12. SaaS Video Marketing Strategies
If you are looking to take your best marketing SaaS platforms to the next level, one strategy best marketing SaaS you may want to consider is gating your demo video. By gating your demo video, you can ensure that only users who have signed up for your SaaS product or service can access it.
This can help to encourage more referrals, as well as improve the quality of leads by filtering out those who are not genuinely interested in your SaaS offering.
To get started with gating your SaaS demo video, you will need to create a sign-up form that includes information such as name, company email address, and phone number. You may also want to offer a free trial or other incentives in order to encourage users to sign up. Once you have collected this information, you can then add a video gate to your SaaS demo video using a video hosting platform such as Vimeo or Wistia.
There are a number of benefits that come with gating your SaaS demo video, including:
Improved lead quality:

By gating your SaaS demo video, you can ensure that only serious leads will be able to access it. This can help to improve the quality of leads, as well as increase conversions down the line.

More engaged viewers:

Users who have gone through the effort of signing up for your SaaS product marketing plan or service are more likely to be engaged viewers who are interested in learning more about what your SaaS offering has to offer.
Increased referrals: By making your SaaS demo video accessible only to registered users, you can encourage more referrals as users will need to share your video in order for others to view it.

Boosted SEO:

Gating your SaaS demo video can also help to improve your SEO, as you will be able to add keywords and other metadata to the sign-up form that can help improve your search ranking.
If you are looking for a way to take your SaaS marketing to the next level, gating your SaaS demo video is a strategy worth considering. Implementing an effective gate for video content can greatly help to improve your lead quality and engagement, while also encouraging more referrals and boosting your SEO. With a bit of effort and ongoing optimization, you can leverage your SaaS demo video to grow your customer base and boost revenue.
Always be Ready to Adapt
These sales and marketing strategies for SaaS products are designed to create more quality leads and generate more SaaS customers. But remember, the market is always changing in high-churn industries like SaaS, so these days your team needs to be on top of SaaS marketing trends and focus on client engagement to minimize churn.
Download this free guide to see how you can generate more leads, increase MMR and ARR, and exceed your customer's expectations- all with one stack of tools.
Continual review of your MRR attribution to see what is working, leading to conversion rates where you are most effective at the top of your SaaS lead generation funnel. Next benchmark this performance data against your SaaS growth strategy. This will give excellent visibility into the effectiveness of your sales-ready messaging and marketing content across your buyer's journey.
#13: Raise Prices
Cheap is bad ad reflects an unsophisticated SaaS project journey. If you have the best in class SaaS platform, you can charge more. This might seem like completely counter-intuitive, but hear us out.
By raising prices, you will need to sell fewer units to reach your goals. Moreover, increasing your price will make your service feel premium, and it will attract different kinds of customers. It is best to revise your SaaS pricing model annually for SaaS marketing trends, customer churn trends, among other factors.
Ideally, you can snag bargain hunters through a heavily discounted annual commitment. For example, you will find that a potential customer will be willing to pay for an entire year up front, if they can save 30%.
Keep in mind that we are not talking about a 5% price rise, but rather a significant one. You want to change your ideal customer profile completely, through the lens of data points on your oldest clients to uncover nuggets of lead intelligence for your sales team.
Raising your prices seems awkward, risky, and counterintuitive, but might actually be what your company needs in order to break plateaus. This tactic is simple to implement, but it can have so many benefits.
First, operating on razor-thin margins is always risky. When your SaaS profits are slim, you need to make many sales every month just to hit the green. And when the new month starts, you need to do it all over again, which creates an enormous amount of stress on your whole company.
Seconds, while making more agile sales seems reasonable, in the SaaS world, it will lead to more support tickets as well, simply because you will have more customers. That will mean more work for your support team, and more expenses, again leading to thinner margins.
Also, if the low price is the biggest benefit your software has, you will attract the wrong kind of customers: bargain hunters. This type of SaaS customer will only show loyalty if you continue to be the cheapest, and as soon as your SaaS trial period ends, they will be likely to find another tool one of your competitor makes, only because they have a lower price or a free trial.
Raising prices fixes all of that. First, your margins will be much bigger, and you won't be forced to sell more only to keep the company going. You can use the profit to make the product even better, which will attract more sales, and allow you to raise the prices further in the future.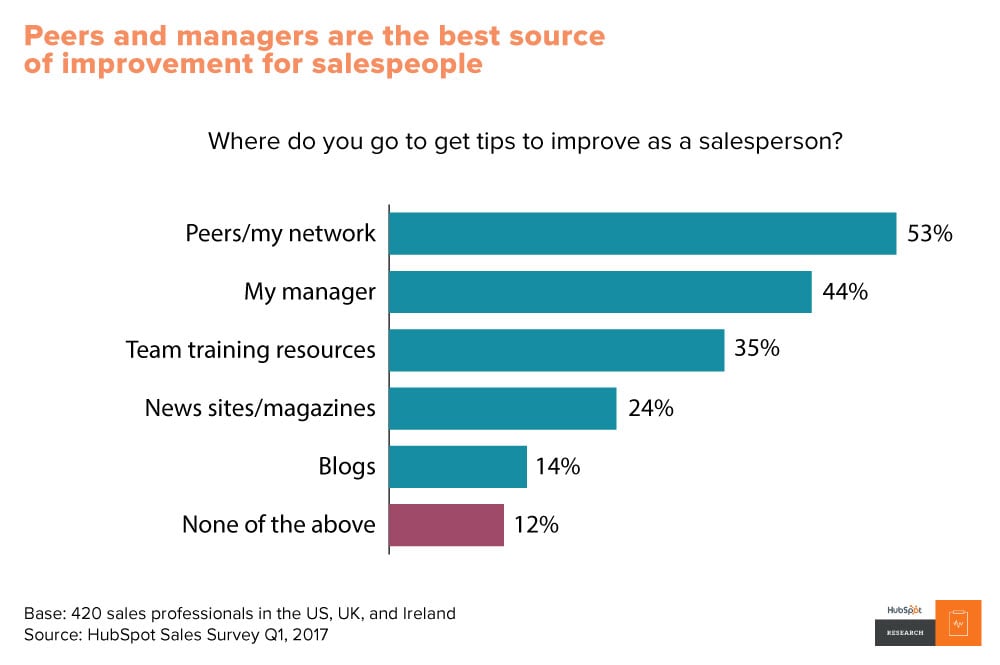 Second, the fact that you don't have to sell as much doesn't mean that you won't sell more. If your business goes good, you won't feel pressured, and the bigger margins will allow you to hire more people for your support desk while still turning a profit.
Thirdly, higher prices will chase away bargain hunters who are only looking to buy cheap. Don't get us wrong, your app still needs to provide excellent value for money. But, if it does, and you are giving it out for next to nothing, you are underselling your value proposition and attracting the wrong SaaS customers. Start raising your prices and watch the number of sales vs. the profit you make. That relation will tell you when you are becoming too expensive.
#14. Avoid Multi-Seat Discounts
If you want to gain the trust of your potential customers, don't try to trick them. Forget about hidden fees or similar sneaky ways to get more of their money. Those will only get short term gains and will ruin your reputation, making you look cheap and unethical. Discounts are one of the oldest tricks in the books when it comes to luring people into buying things. Yes, discounts work, and they will increase the number of sales.
However, discounts will result in you attracting the wrong kind of customers. We have already covered why you should raise your prices in Strategy #1. The same reasons go behind not giving SaaS discounts in any circumstances outside of annual payments.
You want your software to be perceived as a premium SaaS platform, and discounts will put you closer to customers who are not looking for quality, but for bargains. That type of SaaS customers is more likely to cancel the subscription once the promotion is over, and go to your competitors.
Also, bargain hunters essentially buy things they can't afford because the discount seems like a good deal. That means they will be quite picky once they start using your product, making it more likely to contact your support often.
As explained above in #1, that will lead to too much time-wasting of your developer team, and increasing support wait times, which is never good. That's why you should make it, and keep it premium.
Offer transparent pricing models and clear terms. You want your customers to know exactly what they can expect for the invested money. They want to relax, and trust your service, not worrying about surprises. If you build that kind of relationship, they will appreciate it, which will show in comments on review sites.
#15. Obsess Over Churn Reduction
While it is always great to attract more customers to the business, retaining existing ones is even better. However, most SaaS fail here and loose too many customers within the first month.
To keep SaaS customers happy, don't hesitate to be proactive with your client engagement efforts. This can take on efforts across many marketing channels to send them reminders, politely asking them why they stopped using your services.
You want to make the whole customer journey from finding about you to signing up for your services as simple as possible. To do that, everything should look clean and clutter-free, and it should be evident to your customer what to do next.
Don't overcomplicate things from the get-go; make the signup process on your SaaS platform straightforward. Customers will deal with settings and customizations later, for now, just let them use the product.
Your software should be self-explanatory too. We have a whole article dedicated to customer onboarding, and we recommend you read it. In short, SaaS onboarding is what follows the purchase, and it is the first experience a customer has with your product. Naturally, you want to make it as painless as possible in all circumstances, by not overwhelming them with too many options.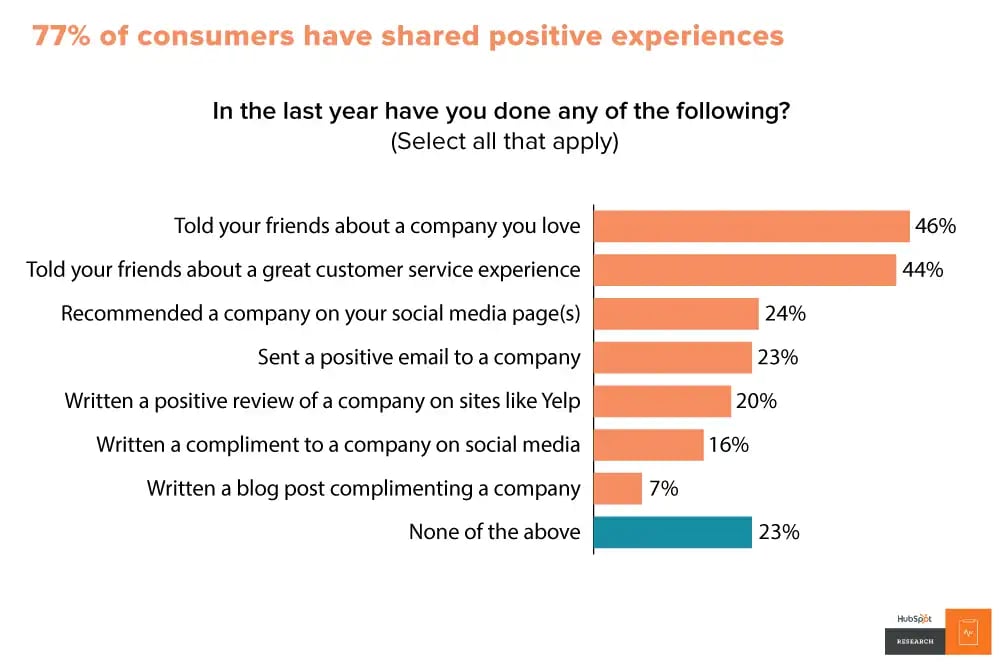 In the SaaS world, the "deliver" part isn't one-time, it needs to be a continual effort. Yes, you've convinced someone to buy, but the story shouldn't end there. You want that same person to be your customer at the same time next year, and ideally, for years to come.
To do that, you need to offer an app that is continuously updated and competitive. You need to provide the best support and to solve customers' problems ASAP. You need to introduce new features, and to make sure your app is staying simple to use even as the feature list expands.
That is the only way to keep the existing customers happy and loyal in the long run. And not only that a loyal customer will be willing to continue to use the service, but they will also be willing to buy more from you.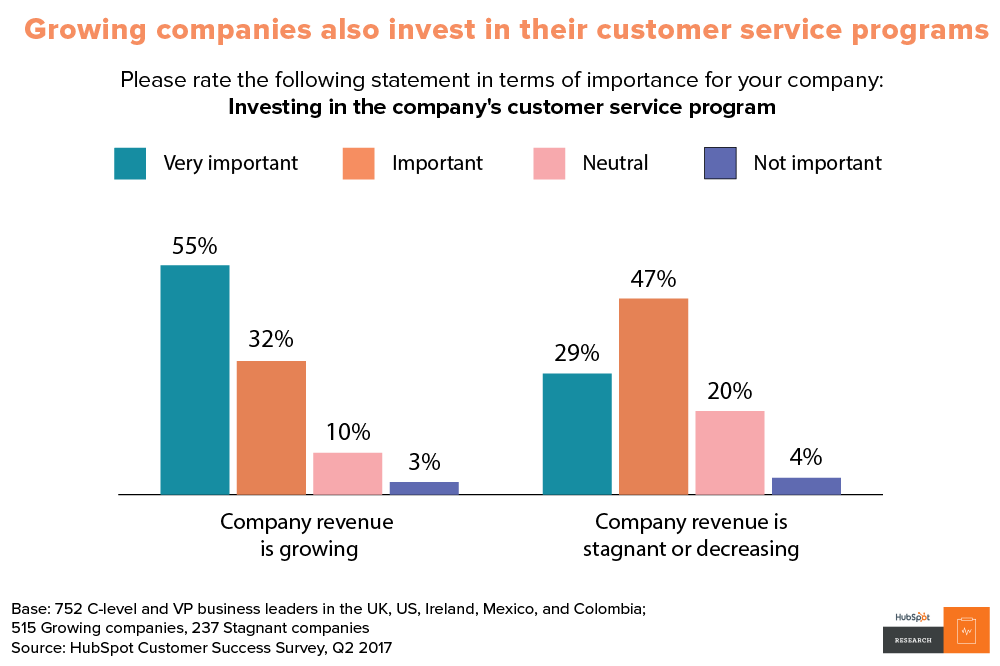 If you notice that a customer is using their plan to its max, several months in a row, offer them an upgrade at a discounted price. Send them a custom email letting them know how the better plan can help them, and how the discount will save them XYZ amount of money over the year.
Also, if you are selling other tools as well, that are similar to the one the customer is using, offer them a free trial, explaining how the tools work together, which can save them both time and money. Again, because they are a loyal user of the first tool, they will be much more likely to try the second one and continue using both in the future.
Final SaaS Marketing Strategy Takeaways
SaaS marketing strategies are essential to the success of any SaaS company. In order to effectively market your SaaS product or services, it is important to understand what SaaS marketing encompasses, as well as key tactics that can help you achieve your goals.
Some key SaaS marketing strategies include building a strong brand presence online, creating clear and engaging content for your target audience, optimizing your website for search engines, and leveraging social media platforms to build relationships with potential customers and stay top-of-mind. It is important to monitor and analyze your SaaS marketing efforts, making adjustments as needed in order to maximize ROI.
If you are looking to implement effective SaaS marketing strategies, contact a SaaS marketing agency today. An experienced b2b SaaS digital marketing agency can help you develop and execute a customized marketing plan that meets your unique needs and objectives.
When it comes to SaaS marketing, there is no one-size-fits-all solution – the best approach will vary depending on your specific target market, product or service offering, and overall business goals. However, by keeping the above tips in mind, you can be well on your way to developing a successful enterprise SaaS marketing strategy for your company.
Implementing these strategies can help you grow faster in the SaaS industry by attracting more users and converting them into paying customers.